In today's world, doing outdoor activities is important to be healthy. With almost 80% of modern jobs are desk jobs, the human body needs to do outdoor chores. Outdoor activities mean sweating, and sweat means dehydration. Having fresh water at your disposal is crucial when doing these outdoor activities. However, having a water bottle on you at all times is not the best convenient way to move. Especially if you are hiking or climbing. That is when Hydration Bladders come in handy.
A hydration bladder is like a hydration system that is designed in the form of a backpack or waist pack, which contains a reservoir or "bladder". It is usually fabricated from rubber or flexible polymer plastic. The reservoir contains a capped mouth for filling with liquid and a hose that enables the user to drink hands-free.
Here we are going to list the 10 best hydration bladders in 2021.
Table Of Contents
Top 10 Best Hydration Bladders in 2021
| Image | Name | Features | Price | Buy Now |
| --- | --- | --- | --- | --- |
| | Platypus Big Zip LP Hydration Bladder | 1.5, 2, 3 Liters options, Taste-free, Leak-proof bladder, 1/4-inch drinking tube | $$ | |
| | Aquatic Way Hiking and Camping Hydration Bladder | It has an insulation hose, It comes with its cleaning kit, 2-Liter reservoir | $ | |
| | Source Widepac Hydration Bladder | 1.5, 2, 3 liters options, Taste and Odor-free system, Glass-like technology | $$ | |
| | Deuter Streamer 2.0 Hydration Bladder | 2 and 3 Liters options, Taste-free and Odor-Free, Easy to clean and dry | $$ | |
| | CamelBak Antidote Reservoir | 3-Liter option, Antidote reservoir, Quick link system | $$ | |
| | Source Tactical WXP 3-Liter Hydration Reservoir | Leakproof wide slide opening, 3-Liter option, Covered tube | $$ | |
| | Badlands Hydration Reservoir | 1, 2, 3 liters options, Hydrafusion technology, BPA and PVC free | $$ | |
| | MSR Dromedary Water Bag | Heavy-Duty, 4, 6, 10 liters options, No-hassle attachment, BPA-Free | $$$ | |
| | Geigerrig Hydration Engine | 1.5, 2, 3-liter option, Slide top and wide mouth, Spray to drink, and cool | $$$ | |
| | Unigear Water Bladder | 2, 2.5, 3 liters options, Premium quality, Large opening for easy cleaning | $ | |
The Big Zip LP is one of our favorite bladders for several reasons. It is very well designed, with safe and BPA-free materials. It additionally includes a silver-ion antimicrobial layer for extra protection.
You will be able to select from three different sizes, and it weighs around 0.3lbs once empty. You will notice that it is extremely straightforward to use since it has a quick-release hose, a shutoff valve, and a mouthpiece with good flow.
The bag has markings so you recognize the quantity of water you have. Finally, it has a large gap with Slide lock closure, which permits quick filling and straightforward cleansing. It is very sturdy and durable, and simply one of the most effective hydration bladders you will be able to find on the market.
Pros
Easy to clean
Lightweight
Durable
Slim
Cons
The plastic clip is not of the best quality on the market
The hose lacks insulation
Color choice is limited to only one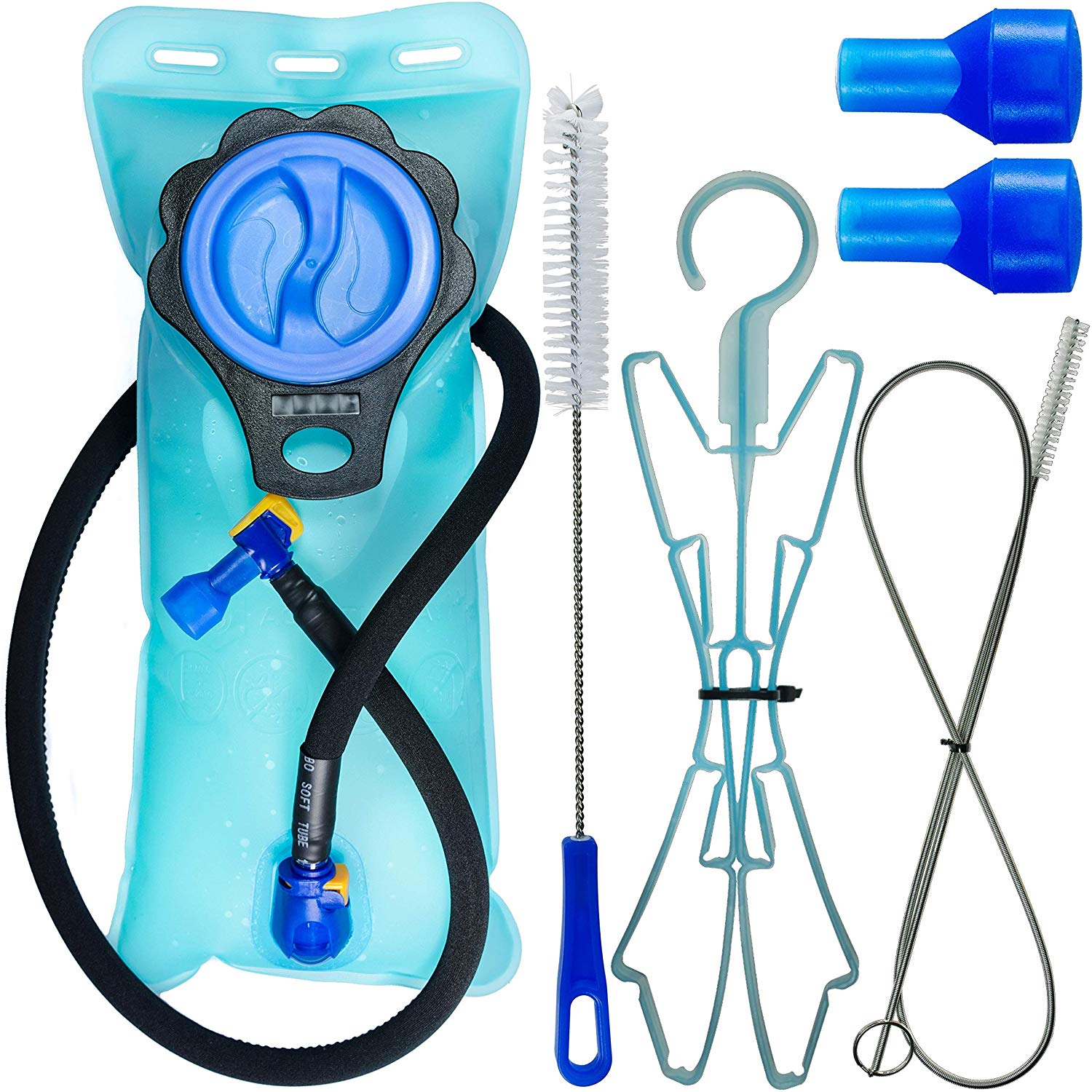 This is a very popular two-liter hydration bag. It has a relatively large screw-cap gap that is leak-proof. The bag is made of TPU and the material has been tested and approved by the FDA to be non-toxic. The hose is long and insulated so the bladder is great for winter use too. You get a cleaning kit and two replacement bite valves as a gift. On top of this, it is very affordable too.
It comes with a 100% money back-guaranteed policy if you are not satisfied with the product. The bite valve in this hydration bladder is anti-bacterial, sturdy, and soft. It is made from high-grade Silicon.
The large opening of the reservoir makes it easier for you to add ice to your water. You will definitely be refreshed throughout your outdoor activity. The easily accessible shutoff valve makes it leak-proof and prevents water from dripping when stored in a non-vertical position, and while doing vigorous activities.
Pros
It has an insulated hose
It comes with a cleaning kit
It comes with two replacement bite valves
Sturdy and Durable
Cons
Sometimes there is a leakage in the end attached to the bite valve
Harder to clean than other hydration bladders
You need to suck hard to get water out of it
Some customers complain that it is not very durable when doing vigorous activities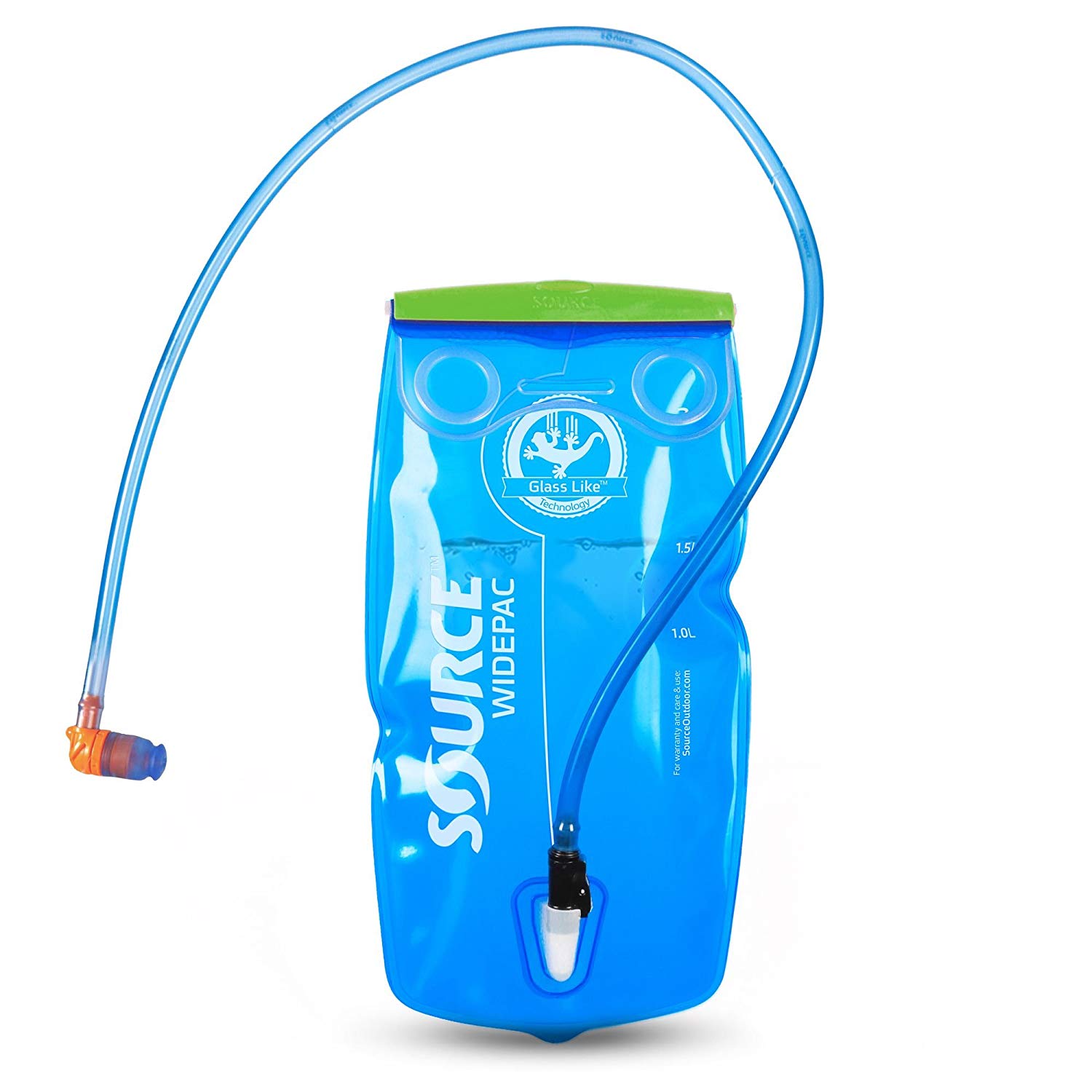 Available in three completely different sizes of 1.5L, 2L, and 3L, source Widepac hydration bladder is without a doubt one of the most effective water bladders.
It is constructed from the favorable coextruded polyethylene and features a glass-like liner inside of its reservoir and tube. This technology, apart from putting at bay the loathed plastic taste in water, also confers the self-cleansing ability to the reservoir. As such, bio-film buildup and bacterial growth in the reservoir are effectively deterred.
Its rounded helix bite valve features a safety shutoff mechanism that completely prevents leakages even under pressure or with prolonged use. Biting it softly delivers a sufficient flow of water into your mouth. The dirt-shield protective covering protects the bite valve from dirt and other forms of physical contamination.
A technology that utilizes FDA-approved and EPA-registered anti-microbial agent effectively inhibits bacterial growth inside both the reservoir and the suction tube. This agent lasts the entire lifetime of the bladder. Therefore, if your health is of great concern to you (we think it should be), this is the reservoir meant for you.
Several options allow the low maintenance of the Widepac reservoir to be possible. First off, its glass-like film liner, smoother than standard TPU films by about 2000% (20 times), makes it self-cleansing. What this means is that you can confidently refill this reservoir repeatedly before you can finally clean it. Your water remains fresh for several days.
The Widepac wide fold-top, made in a way that enables easy refill, ice-insertion, and makes cleaning an easy chore. The high-quality slide-closure puts prevent leaks from happening.
Pros
BPA free material
Keeps water sterile and usable for a long period
No taste nor odors
Easily to be maintained
Cons
The size of the suction valve is relatively huge
Some users complain about the placement of the hanging point at the top slide bar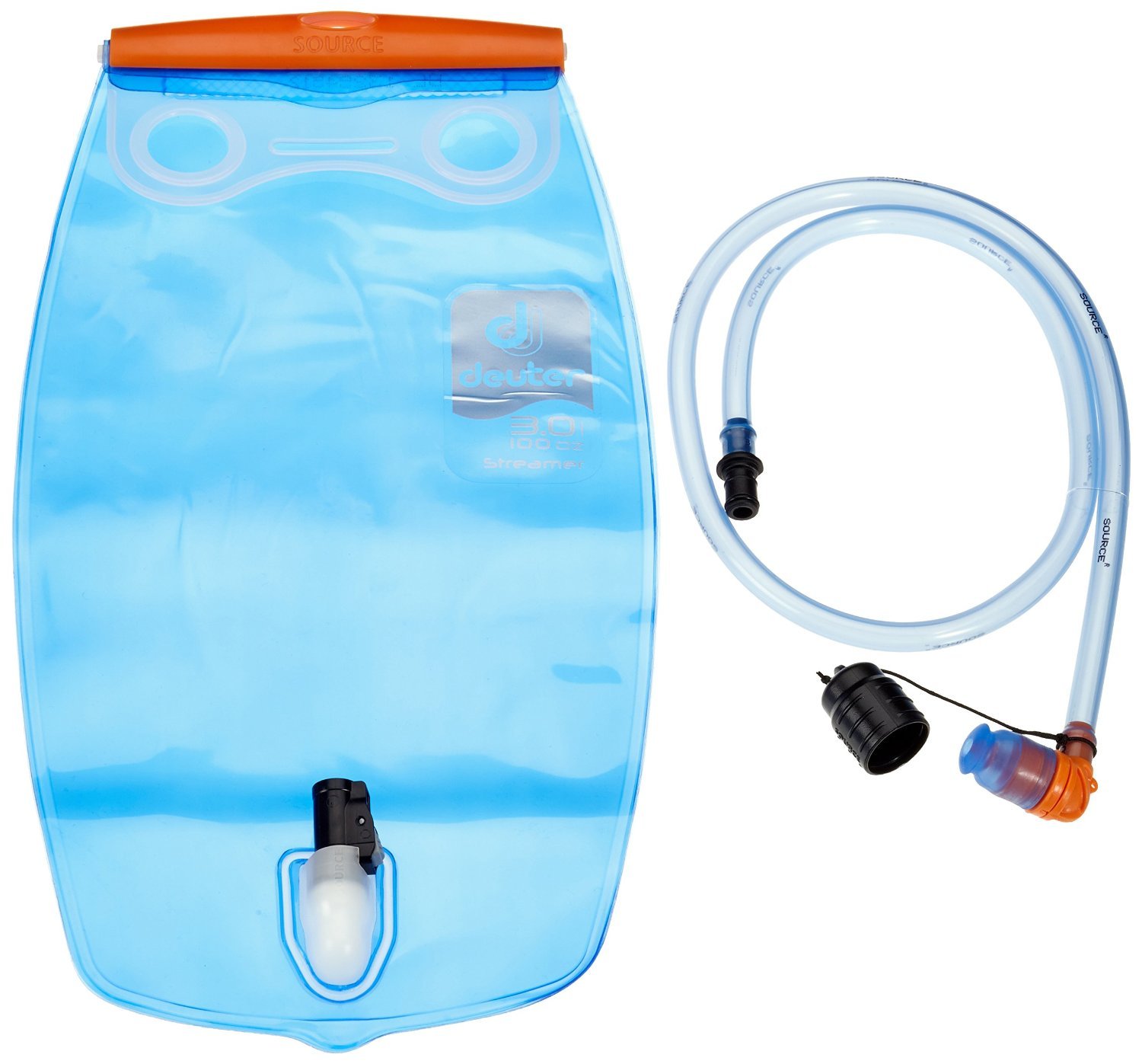 Made of thick polyethylene material and coming in sizes of 2 liters and 3 liters, the Deuter Streamer hydration bladder offers an odorless flow of water that will see you stay hydrated throughout your hikes for more than just a couple of years. Now we all hate that putrid taste of water stored in those hydration bladders made of polyurethane.
One striking feature about this hydration bladder is the location of the quick connect for the hose. Right at the base of the bladder, the quick connection will enable an extended flow of water until the bladder is almost empty. This is unlike most other hydration bladders, which have the hose connector at about one-third of the distance from the base.
The bite valve is just about the perfect size and has a nicely fitting removable cap for deterring dust and other contaminants. Therefore, your water is kept sterile and you open the valve only when you want to sip the water. The twist-to-lock valve, together with the closing cap, ensures the absolute absence of leaks via the mouthpiece.
Even then, some people hate the fact that one has to remove the bite-valve cap every time they want to sip from the bladder. I am not one of those people since I value my health more than comfort.
Pros
Odor and taste-free water
Easily to clean and dry
Leak-Proof Design
Can be used even with a small amount of water
Cons
Every time you need water, you have to open the bite valve and then close it
The plastic clip is not very durable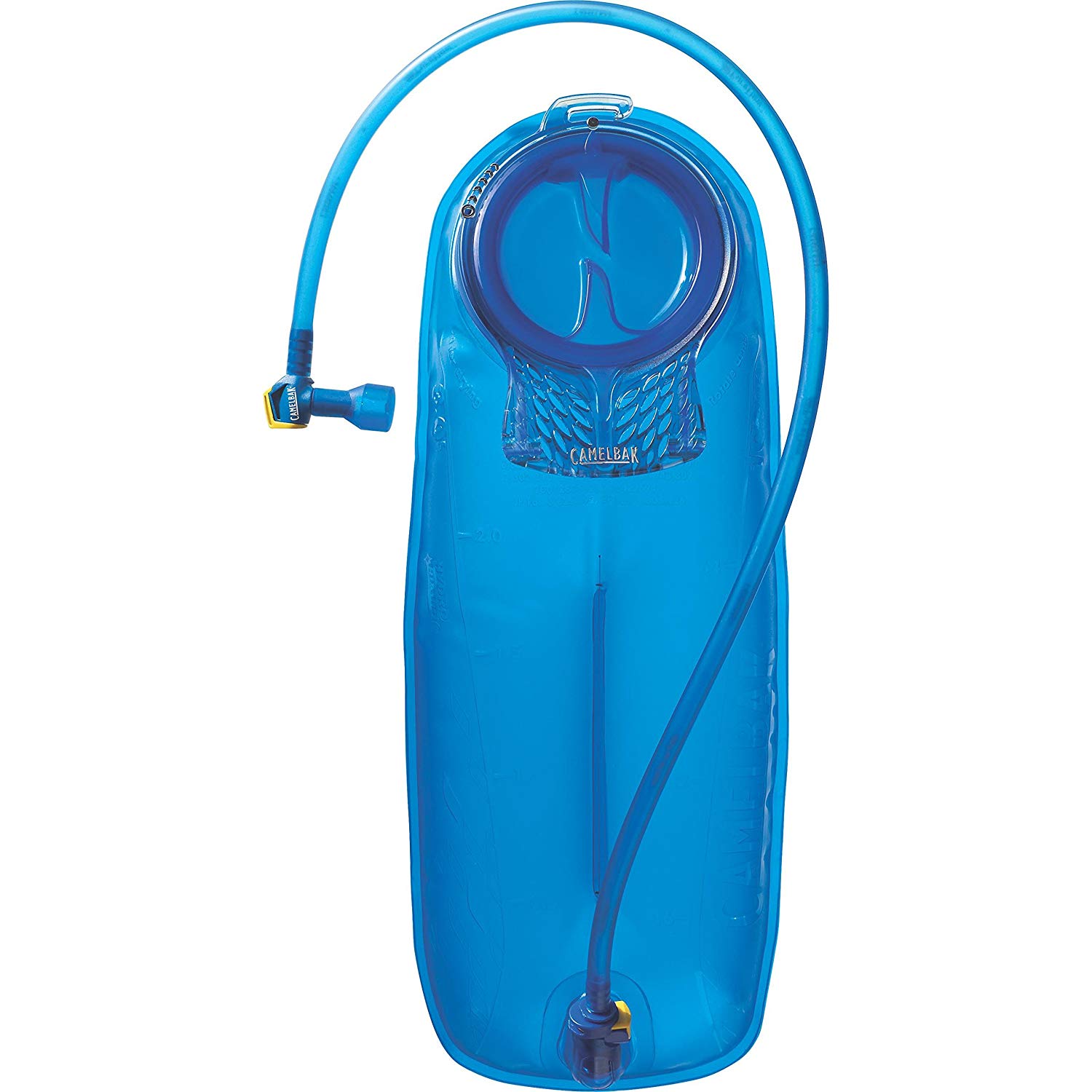 If not for anything else, you will want to make this 3-Liter (100 oz.) hydration reservoir your choice for its trustworthiness. Made of strong polyurethane material and introduced into the market decades back, this hydration bladder has stood the test of time.
Free of BPA and BPS, this water bladder has maintained its high ratings and positive reputation. Several quality-enhancement features have been carefully crafted into the CamelBak and you will be buying into nothing short of a proven hydration system.
Over time, CamelBak has been modifying its hydration bladders in response to feedback received from users worldwide. The CamelBak Antidote Reservoir is the newest of their reservoirs that date back years ago.
Compared to the older versions, the newer Antidote has an array of performance-enhancement features that see it outperform its predecessors in several ways. Its wider mouth gap, together with its larger grab handle, enables easy refilling and cleaning. Its baseline hose connector allows complete draining of water from the reservoir.
The two water chambers are a clever feature that, apart from welding the bladder into a slim-profile reservoir, reduces the sloshing of water within it. Other further features include a removable hose, integrated foldout dryer arms, and a Quick Link system, which makes changing the reservoirs seamless.
Pros
Easily fill and refill system
Its bite valve is medium-sized to accommodate most clients
It prevents sloshing of water inside via the midline zipping
Durable product
Compatible with different pack backs
Cons
Water has a plastic taste; however, it dissipates over time
Hard to clean and maintain, that it requires the usage of hydration bladder cleaning kits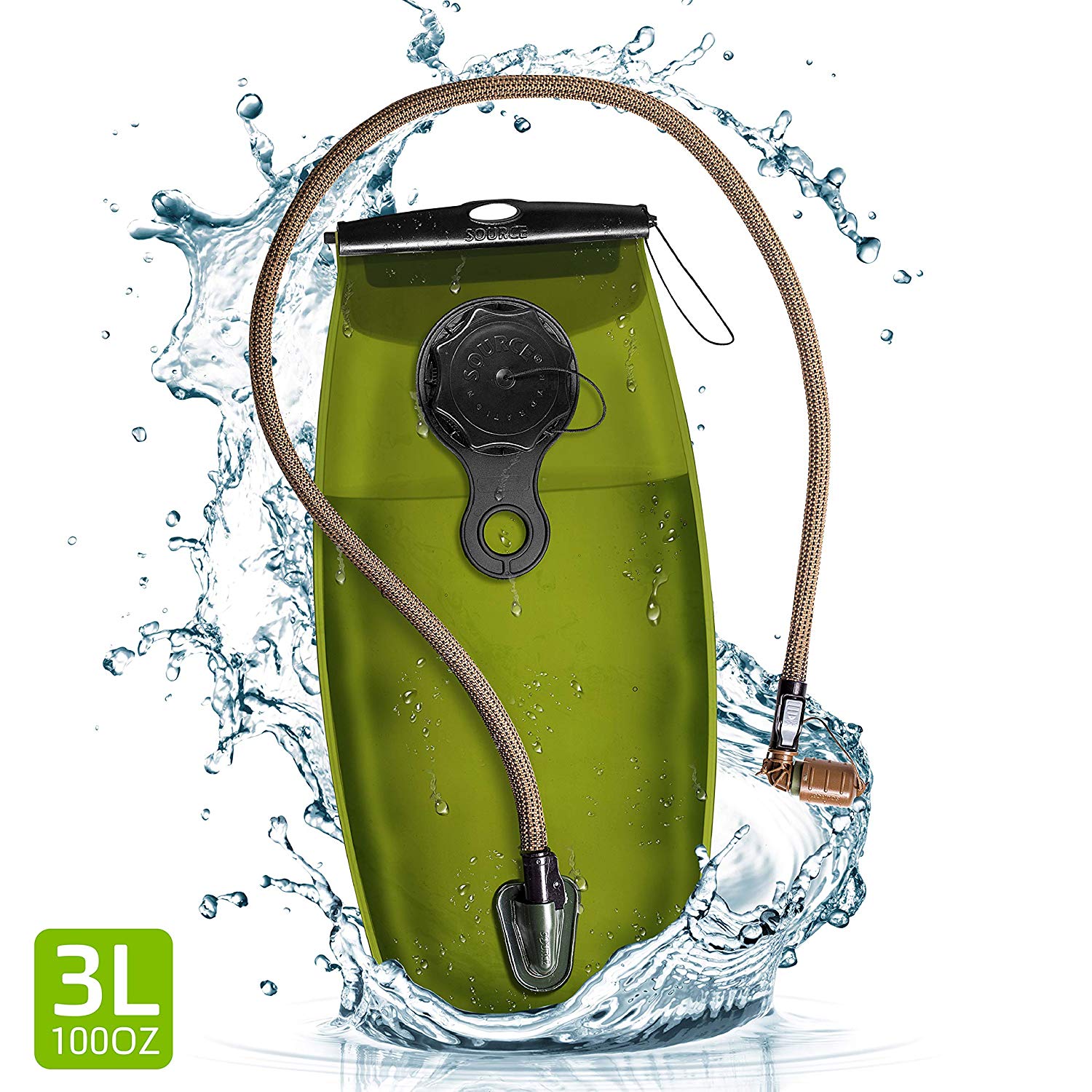 The WXP offers an array of irresistible features to anyone who knows what to look for in a hydration bladder.
First off, this hydration bladder comes in sizes of 2 liters and 3 liters each featuring a combination of both the screw cap and the fold-top design for opening and closing. Both of these closures are watertight and leak-proof.
Since this feature caters to both preferences, it has seen the WXP so quickly rise the popularity scale to become a favorite of a wide group of hikers and outdoor-savvy individuals.
The folding top permits this reservoir to open wide for straightforward cleanup, refilling, and ice insertion. In addition, if you like only water in your hydration bladder, the screw cap offers a quick way to refill the WXP.
This high-performance hydration reservoir is constructed with topnotch coextruded polyethylene, a material that is not only low maintenance but also free from chemicals and toxins.
The interiors of the reservoir and tube feature a glass-like liner, which serves a crucial role of acting as a mechanism to prevent biofilm build-up, which in turn prevents bacterial growth in the reservoir. Additionally, this liner prevents the kept water from developing plastic flavor.
The WXP is further enhanced with Grunge-Guard antimicrobial technology that prevents bacteria and other microorganisms from thriving. This technology encompasses an anti-bacterial agent that is permanently embedded into the inner walls of the reservoir and its tube, to last the entire lifetime of the hydration system.
Pros
Have both screw cap and sliding mechanisms
High-quality design
Sturdy material
Has a self-cleaning mechanism
Keeps for water cool for long periods
Cons
Design is relatively tall that it does not fit in most backpacks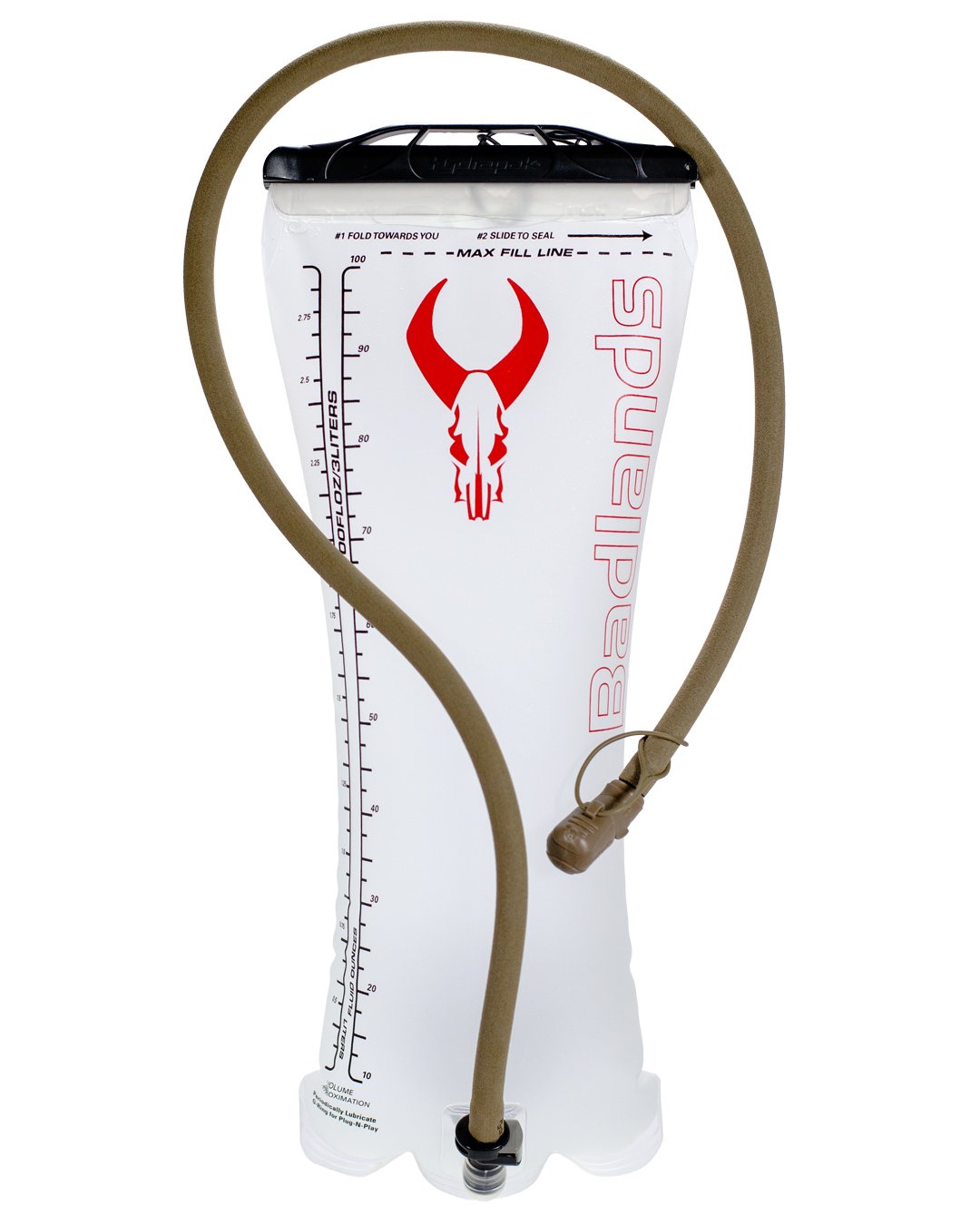 Specifically designed for hunters, the Badlands is both convenient and reliable. It is a spectacular product whose birth was a result of the collaboration between Hydrapak and Badlands.
It is sturdy, leak-proof, practical, and quieter than any other water reservoir out there. Constructed with 0.25mm thick Thermoplastic Polyurethane (TPU), the Badlands is available in 3 different sizes of 1L, 2L, and 3L and rectangular and square shapes. With the renowned Badlands Unconditional Lifetime Warranty enhancing its life-long value, there is nothing better you could ever wish for.
One of the few water bladders that can be turned inside out, the Badlands is easy to clean and dry. Its full-width slide-top opening allows for wide access to its interior for a thorough cleaning. When flipped inside out, the bladder is dishwasher-safe.
Durable but lightweight and with a perfect length, the Badlands TPU hose is remarkable in two ways. First, the Plug-N-Play™ tube connector lets you easily attach and detach the tube from the reservoir. This, apart from enhancing the flexibility of the bladder when cleaning, also allows for easy refills.
Secondly, the hose sports a built-in foam insulation mechanism, which keeps water within the tube colder for longer. If you have ever sipped warm water during blistering-hot temperatures, then you know why this Hydrafusion™ insulation technology is a great feature of this reservoir's drinking tube.
The Elite Surge Valve permits lots of water to flow into your mouth with easy suction. To keep the bite valve sterile, a freely dangling dirt cover is connected.
Pros
The reservoir flips inside out
Lifetime warranty
Durable product
BPA and PVC free material
Cons
It is not see-through
Water has a rubbery taste at first then it dissipates over time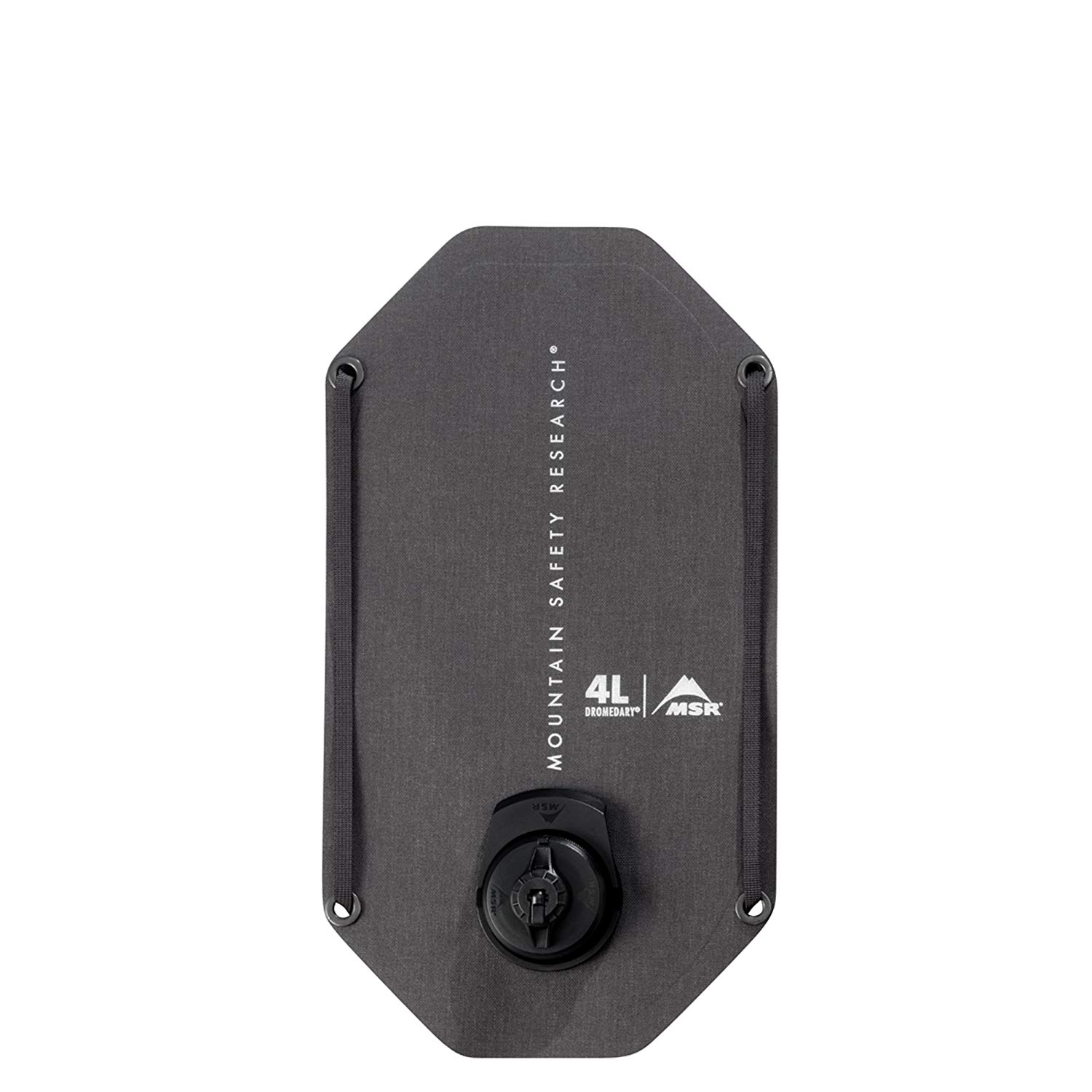 Hiking, cycling, backpacking and especially camping demand more than just quenching your thirst. It is thus perpetually obvious that you simply will want a lot of water than your standard bottle will carry. Let us check out the features that create the MSR dromedary Bag the most effective hydration bladder for camping.
MSR manufactures 2L, 4L, 6L, and 10L Dromedary bags. A bigger bag provides a capacity for more water and this saves campers and hikers the hassle of moving to a water source every time they need water. The bag has a lid that reliably prevents any spillage; there is a wide opening for easy refilling or pouring of water.
And if you thought your drinking needs are not considered then you are all wrong. This water bag comes with a detachable mouthpiece for simple sipping when there is a need for it.
Space is an essential factor for campers, hikers, and all other adventurers. This water bag is collapsible hence space and storage are not an issue. Collapse the Dromedary Water Bag and keep it in a travel bag or backpack and fill it with water only when necessary.
It is also important to note that the collapsible water bag comes with webbings and straps for easy storage and hanging when necessary.
Pros
Durable and strong material
Easy to carry
Ergonomic handle
BPA-free
Cons
Relatively heavy especially when filled with water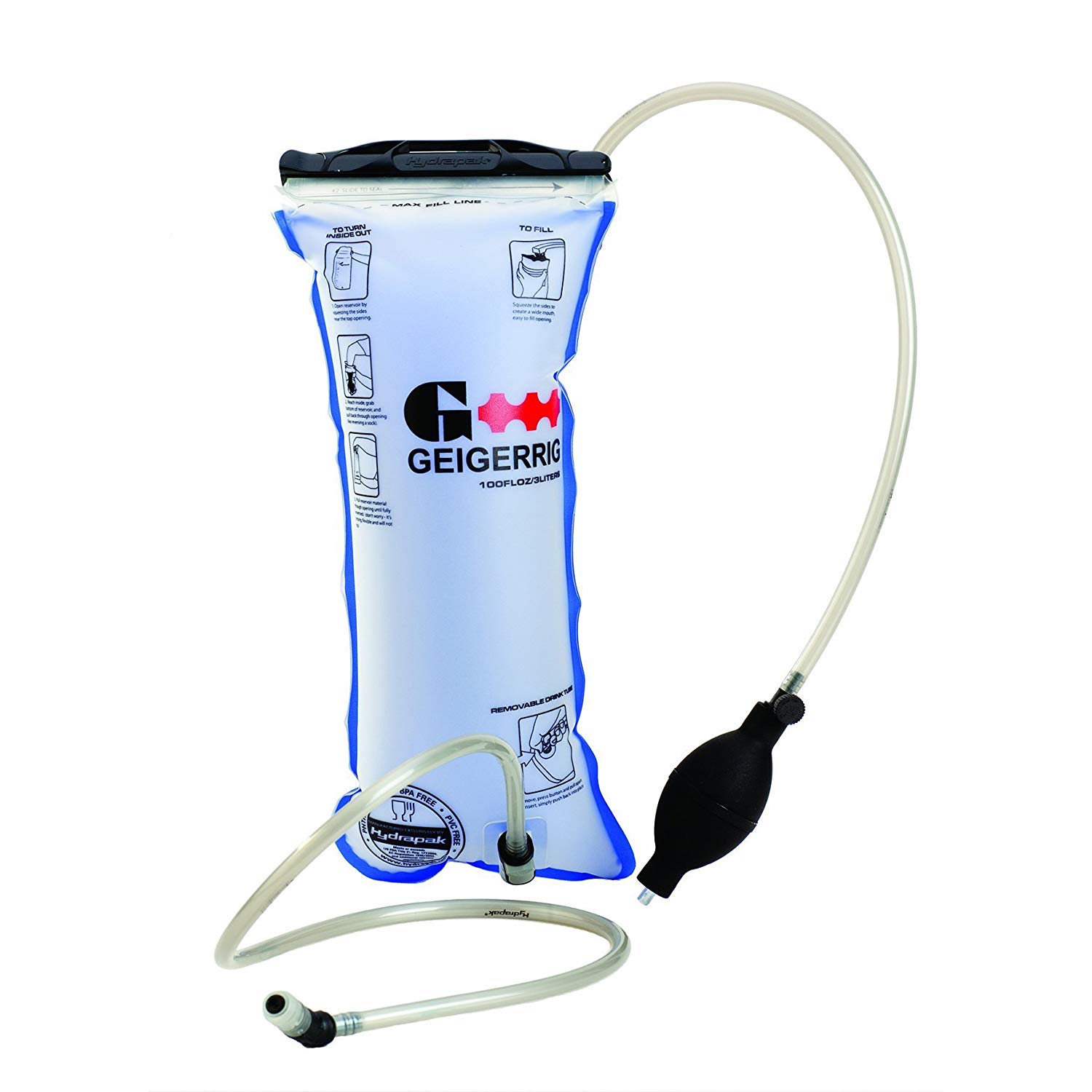 The only pressurized hydration bladder we have tested, Geigerrig performs stunningly and is the most reliable. Its most striking (and indeed innovative) feature is the pressure system. It has an ellipsoidal air pump that looks like that one you find in the old-school blood pressure machines. This pump connects to the reservoir's air compartment.
Pumping it fills the air compartment creating a pressure that forces the water to squirt out through the suction hose. Thus, not like the other water bladders which require suction and propulsion of water into your mouth, Geigerrig does the pushing for you.
Initially, the Geigerrig was designed for tech-savvy outdoor adventurers. Its popularity over the years has however proven that it indeed is a favorite of everyone; both the tech-savvy and the ordinary outdoor lovers.
Sufficiently leak-proof, Geigerrig is designed of sturdy TPU and is BPA-free. It is a zip-top reservoir that opens full-width like a pouch and comes in three different capacities of 1.5L, 2L, and 3L.
Due to its pressure system, the Geigerrig water bladder has amassed for itself a plethora of uses and functions. This very system has seen it shift from being an exclusively thirst-quenching device to a versatile water system.
Pros
Dishwasher safe
Contains a pressurized system
Slim profile
Easy to use and refill
Cons
Expensive
Has a learning curve to it
Excessive pumping may lead to damage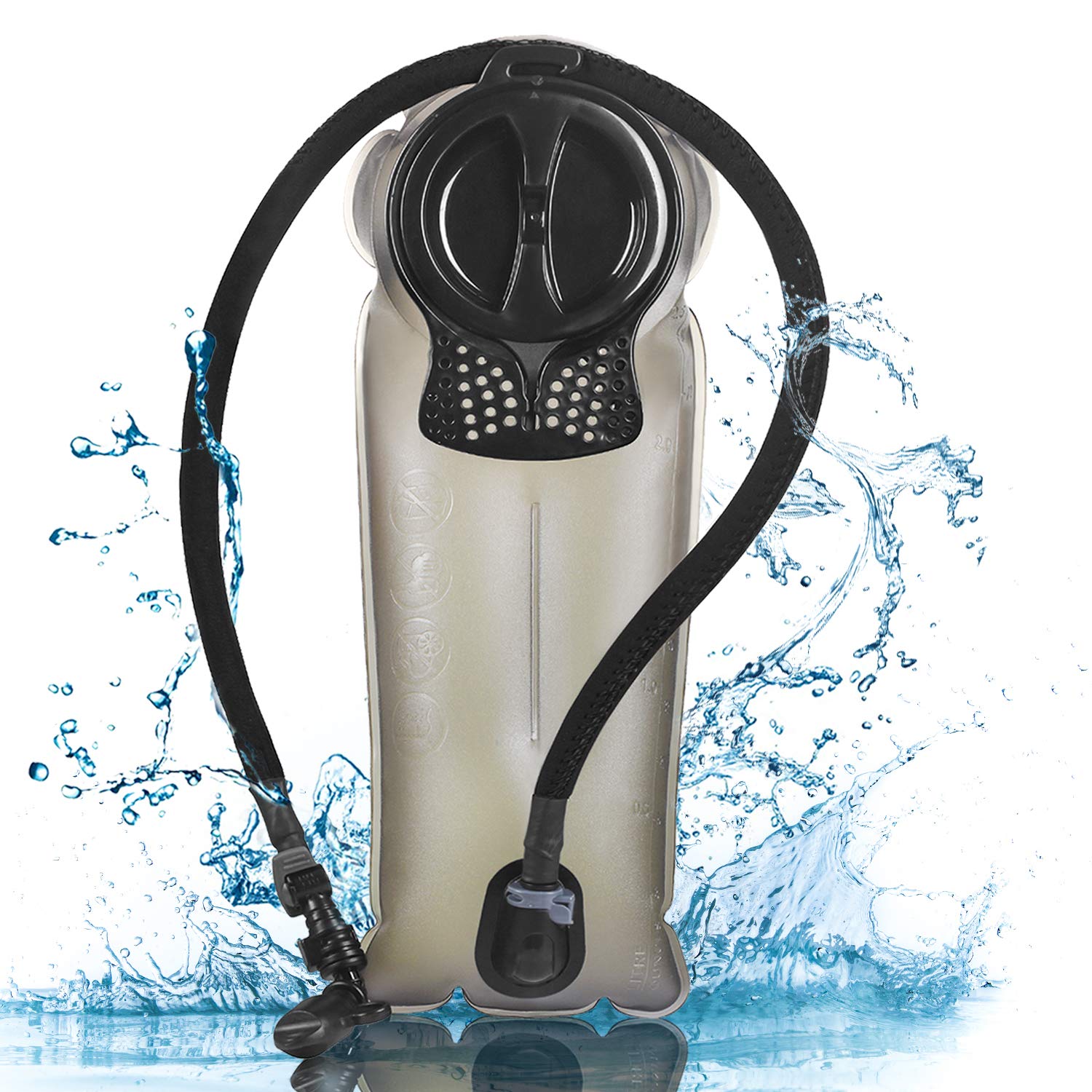 Sporting a sleek low-profile style, the Unigear water bladder prides itself in its distinctive double-welding that confers an enormous pressure resistance thereto. It can sustain a pressure of up to 60-kilogram equivalence without tearing at the seams. Still, its three different capacities of 2L, 2.5L, and 3L are a great versatility feature that offers many choices to its users.
When you initially place your hands on the Unigear water reservoir, the one thing that will instantly strike your attention is the super-comfy, lightweight material it is made of. The food-grade Thermoplastic polyurethane (TPU) has a flexible feel, is BPA-free and FDA-approved.
At full width in diameter, its large screw-cap opening allows easy accessibility to the bladder's inner surfaces hence seamless cleaning and drying. Ice-cube insertion and refilling are all made easy due to this large opening. If something, Unigear is a perfect hydration bladder for backpacks.
Its quick-disconnect hose enhances flexibility especially when refilling and cleaning the bladder. Instead of removing the entire bladder with its tube from your backpack, just disconnect the tube and remove only the bladder. The neoprene cover on the hose acts as an insulator maintaining the water temperature within it.
It features a mouthpiece cap to prevent dust and other contaminants from getting in contact with the suction piece. As such, you will be able to drink clean water with each sip.
Pros
Affordable prices
Minimal sloshing of water
It comes with a cleaning kit
Leakproof design
Cons
The suction valve is not easy to use
Initially has a plastic taste to it that dissipates over time
Continue Reading: Best Ha​​ndheld GPS Devices