Handheld GPS units are extremely handy for remote navigation, but they can also be useful for a number of other reasons. Many units allow you to track mileage, set waypoints, and locate geocaches in your area.
The birth of the term 'geocaching' is largely attributed to Matt Stum, who first used it on the "GPS Stash Hunt" mailing list in May of 2000. Geocaching is essentially a real-world, outdoor treasure hunting game that requires the use of a handheld GPS-enabled device.
Our list of the Top 10 Handheld GPS units includes selections that give users access to preloaded topographic maps, detailed road networks, rural and urban land use distinctions, and much more!
Table Of Contents
Best Handheld GPS devices in 2021
| Image | Name | Features | Price | Buy Now |
| --- | --- | --- | --- | --- |
| | GARMIN GPSMAP 64st | 2.6 inches color display, 16 hours of battery life, 8 GB internal memory | $$ | |
| | GARMIN FORETREX 401 WATERPROOF HIKING GPS | High sensitivity GPS receiver, LCD easy to read display, Supports dual position readings | $ | |
| | DELORME AG-008727-201 INREACH EXPLORER | Weather resistance, Allow you to send SMS, SOS feature | $$ | |
| | BAD ELF 2300 BLUETOOTH GPS+GLONASS RECEIVER | Bluetooth, Adds barometric altitude and raw barometer readings, | $$ | |
| | BUSHNELL BACKTRACK POINT-3 PERSONAL GPS | HD screen, Easy use interface, Weather resistance | $$ | |
| | GARMIN OREGON 550T 3-INCH HANDHELD GPS NAVIGATOR | 3-inch display, Dual-band GPS, Dual battery system | $ | |
| | GARMIN ETREX 30X WORLDWIDE HANDHELD GPS | 2.2 inches display, 3.7 GB internal memory, Built-in sensors | $ | |
| | MAGELLAN SPORTRAK PRO WATERPROOF HIKING GPS | Entry-level GPS device, High contrast display, Waterproof and lightweight | $ | |
| | MAGELLAN MERIDIAN WATER-RESISTANT HIKING GPS | Color display, 16 MB built-in memory, Long battery life | $ | |
| | GARMIN MONTANA 680 TOUCHSCREEN GPS | 8 MP camera, Pre-loaded geocaches, Track manager | $$$ | |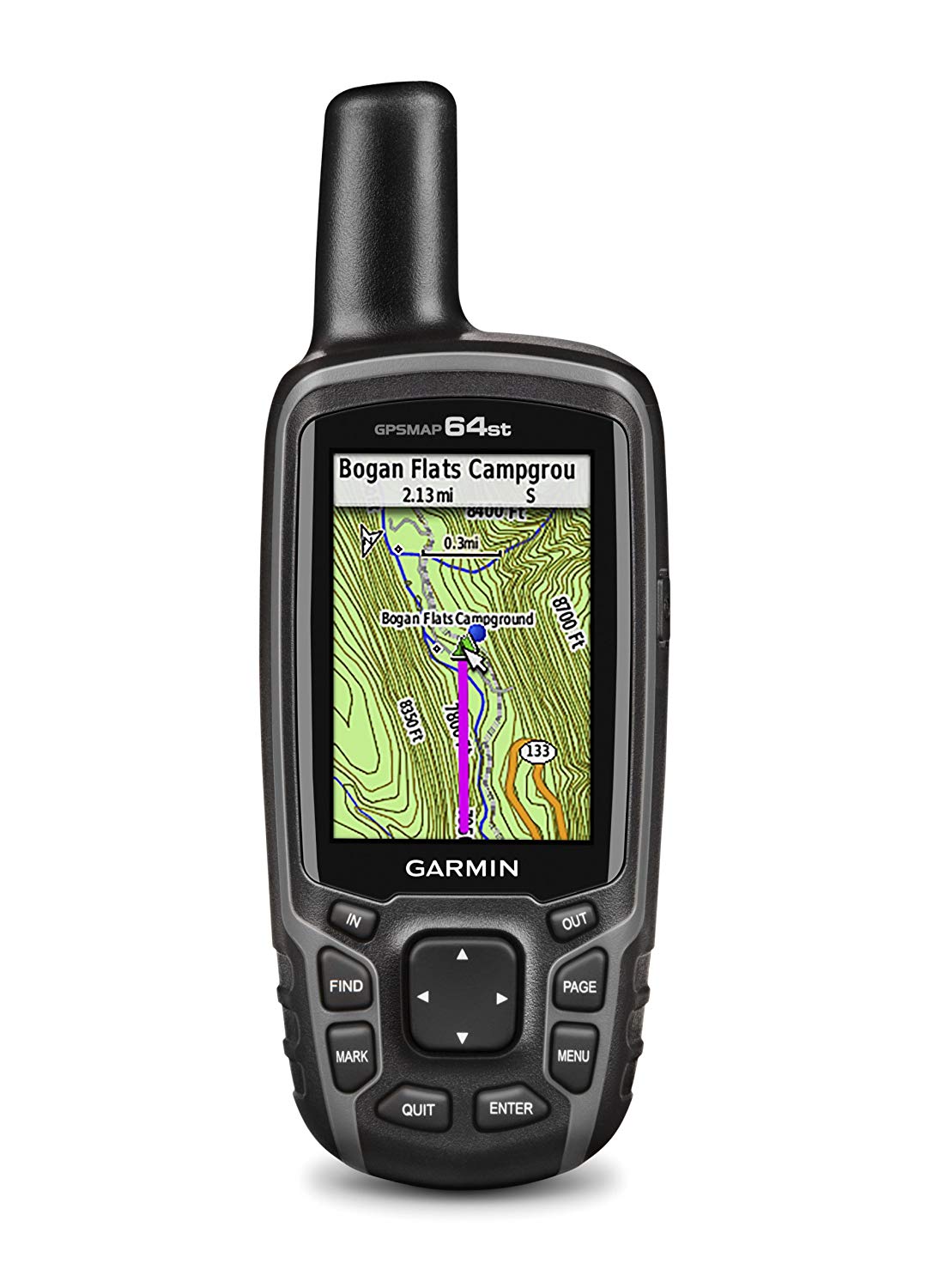 This Garmin GPS is perfect for users looking for a unit that provides accurate climbing or hiking information, as well as details on nearby trails, rivers, lakes, and other points of interest.
The GPSMAP 64th features a 2.6-inch sunlight-readable color screen and a high-sensitivity GPS and GLONASS receiver that offers superior reception. It also boasts a 3-axis electronic compass with barometric altimeter and comes with a yearlong subscription to BirdsEye Satellite Imagery.
Pros
Dual Battery System
A yearlong subscription to BirdsEye satellite imagery
Smart notifications
Pair with ANT+ sensors
Cons
Under extreme conditions, battery life is affected
Menus can be difficult to reset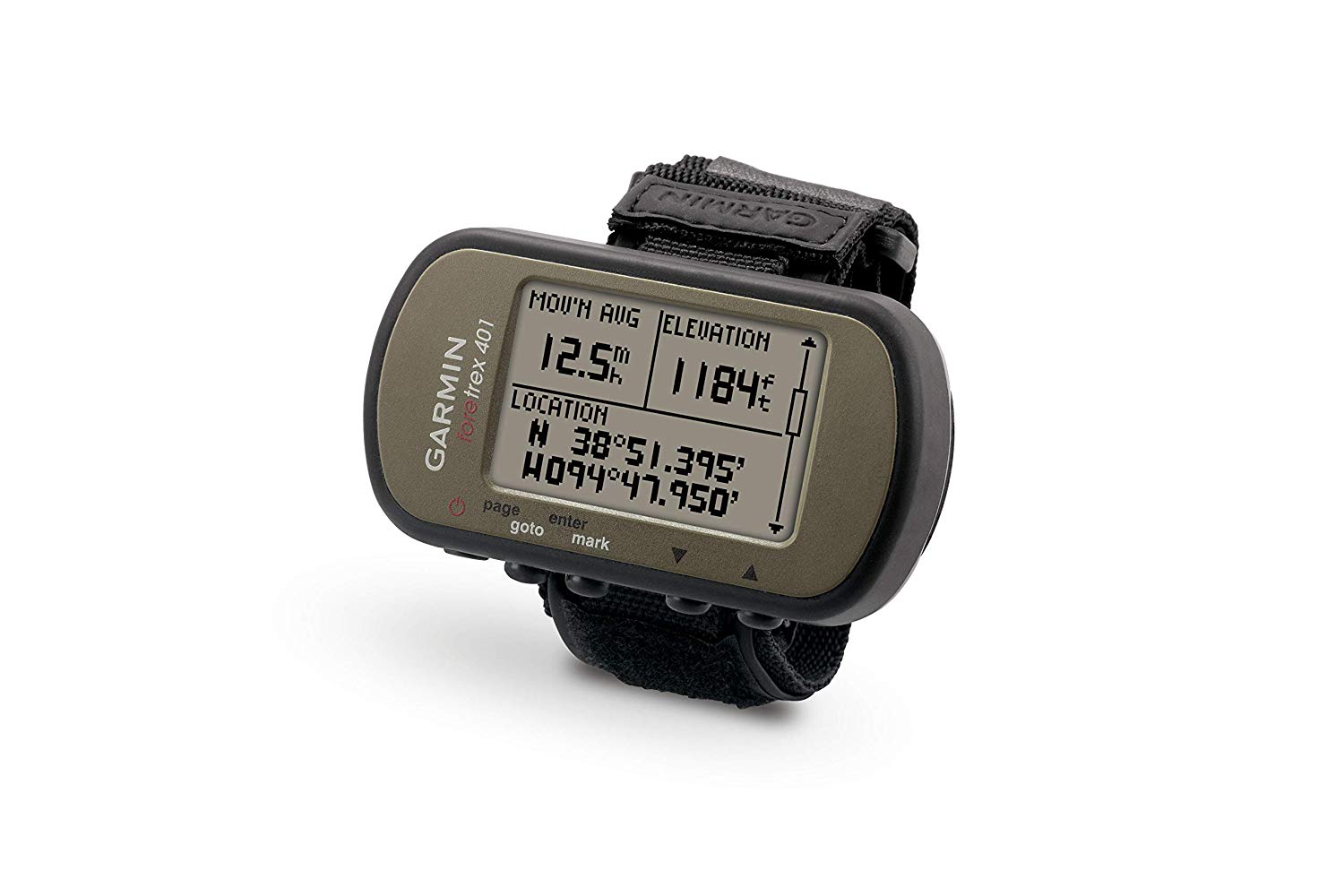 Are you embarking on your annual hiking escapades but you lack the necessary accessories to navigate unfamiliar tracks? If you are, you would possibly think about obtaining yourself the Garmin Foretrex 401 Waterproof Hiking GPS.
This small, impressive device is fitted with a high-sensitivity GPS receiver that features HotFix to assist it scan signals even when you are hiking beneath a deep tree cowl. You also do not have to worry about losing your way with this device as it records your routes, tracks, and waypoints.
When in GPS mode, this device has a battery life of up to 17 hours. Moreover, it comes with a good LCD display, which has a resolution of 100 x 64 pixels. Another impressive feature of this handheld GPS is the TracBack, which retraces your path and displays it on the LCD.
With a dual-position readout, this device allows you to view your current location in several formats. Extra options feature hunting/fishing data, a trip computer, electronic compass, sunrise, and sunset times.
Pros
Beaming waypoints from one GPS to another is easy
Extended Battery Life
Easy to use
Cons
Maps are downloaded at a low speed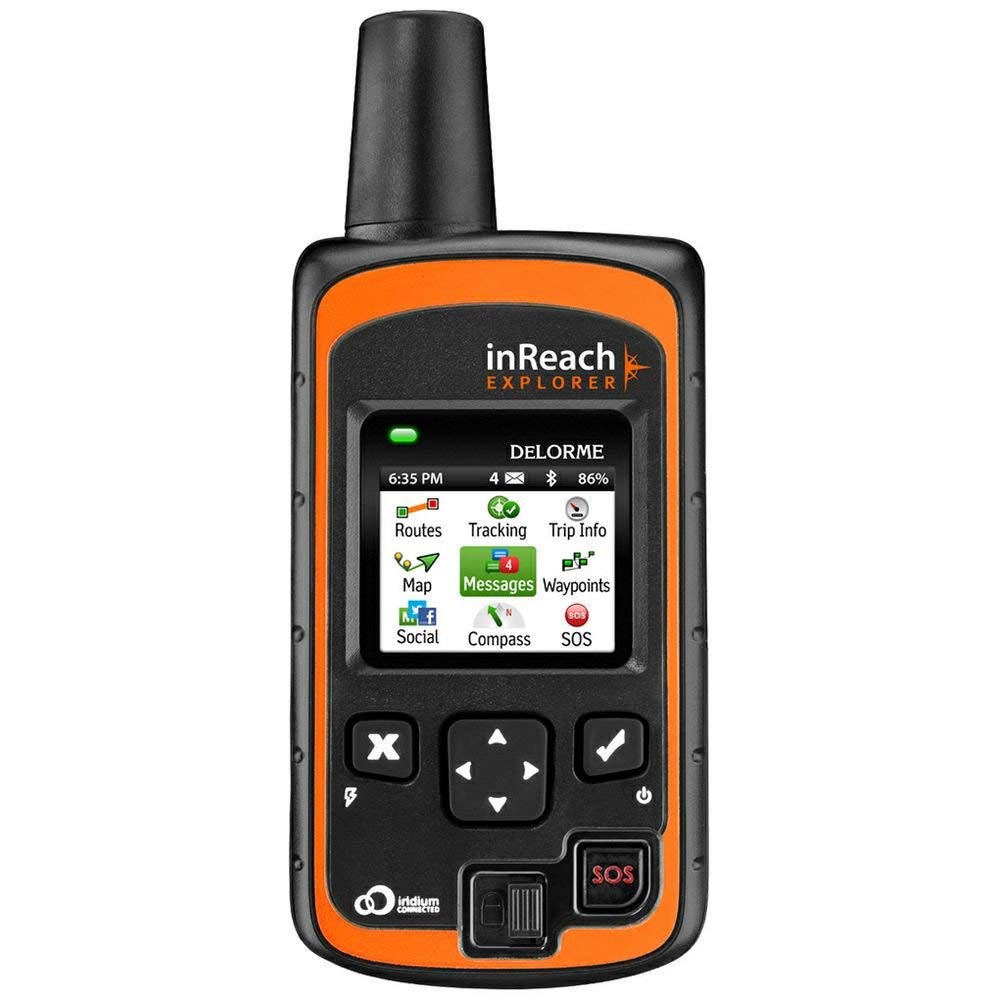 When it comes to navigation, you want to get yourself the best equipment in the market. The AG-008727-201 Inreach Explorer does not fall far from that tree. This device serves both as a satellite communicator and a navigator. It lets you plan your hikes because it allows you to create a couple of color-coded routes and waypoints before undertaking your adventure.
The AG-008727-201 Inreach Explorer also links you to the Earthmate mobile app that lets you download free topo maps or NOAA charts to your smartphone.
Interestingly, this handheld GPS lets you upload contacts, both phone and email so that you can send and receive 160-character messages. What's more, it lets you post updates on your social media accounts. This device also lets you see the details of your planned route.
If you are in an emergency situation, the AG-008727-201 Inreach Explorer lets you trigger an interactive SOS to communicate with the search and rescue center. Added features on this device include the barometric altimeter, a digital compass, and an accelerometer.
Pros
You can use the device to send SMS messages
Weather resistance
You can use it to post on your social media accounts
SOS feature makes it easier to call for help
Cons
Input text interface is not easy to work with
The device is very dependent upon the network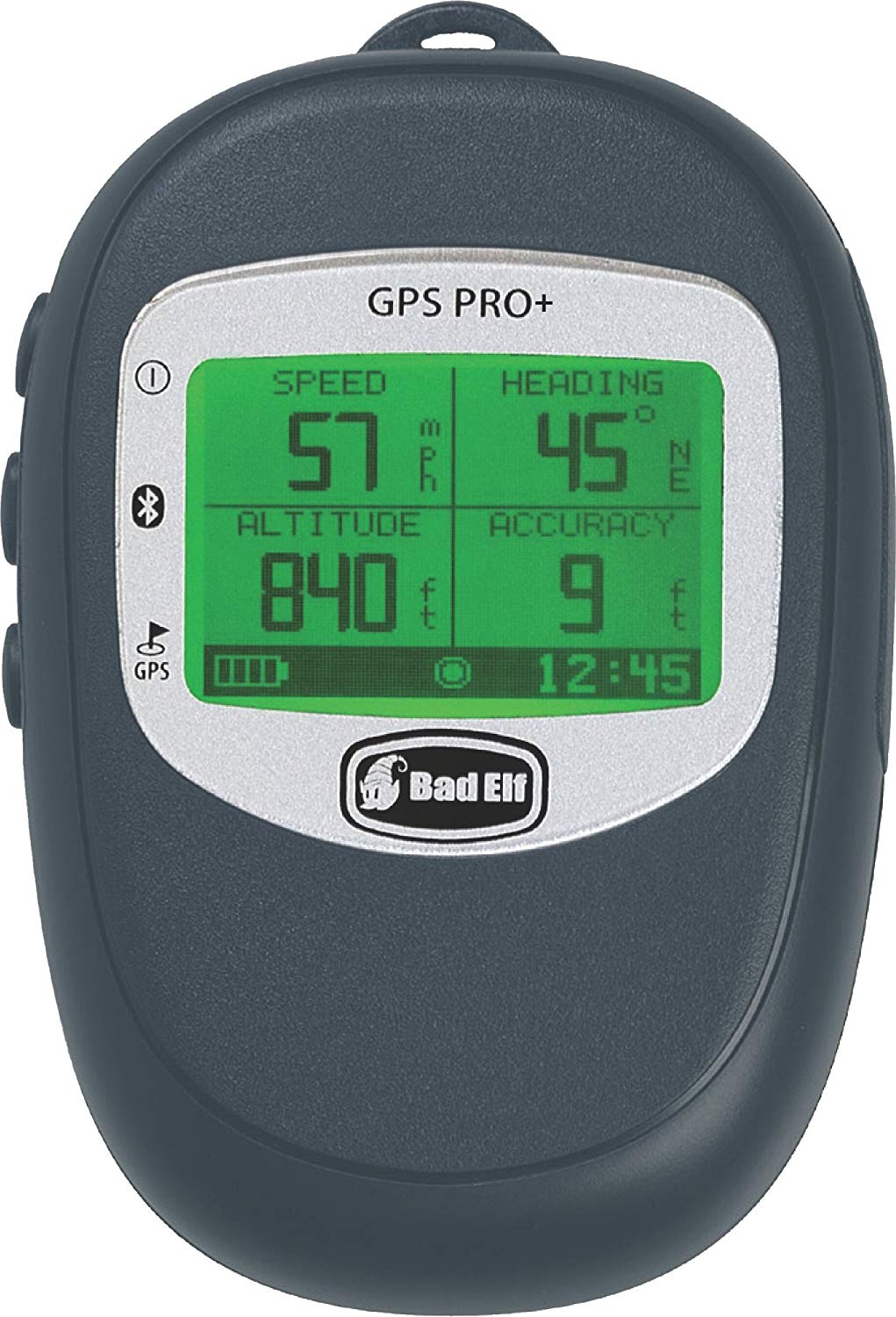 It is impossible to talk about the best handheld GPSs without mentioning the Bad Elf 2300 Bluetooth GPS. This device receives reverence because it includes a Bluetooth GPS plus a GLONASS WAAS Receiver with proximity of 2.5m. You can connect it to your Bluetooth-enabled devices, such as your iPhone or iPad, without having to rely on an internet connection or a subscription.
This handheld GPS is also fitted with digital barometric sensors that calculate the barometric altitude for pilots and raw barometer readings for boaters. It can also store recorded data logs of up to 200 hours.
Moreover, it is designed to have USB connectivity that lets you stream NMEA data directly into your laptop. This small but efficient device also has an excellent battery life of up to 24 hours.
Pros
No need for internet connectivity anymore
Lightweight design
Connects to all Bluetooth enabled devices
Cons
Compatible only with iOS devices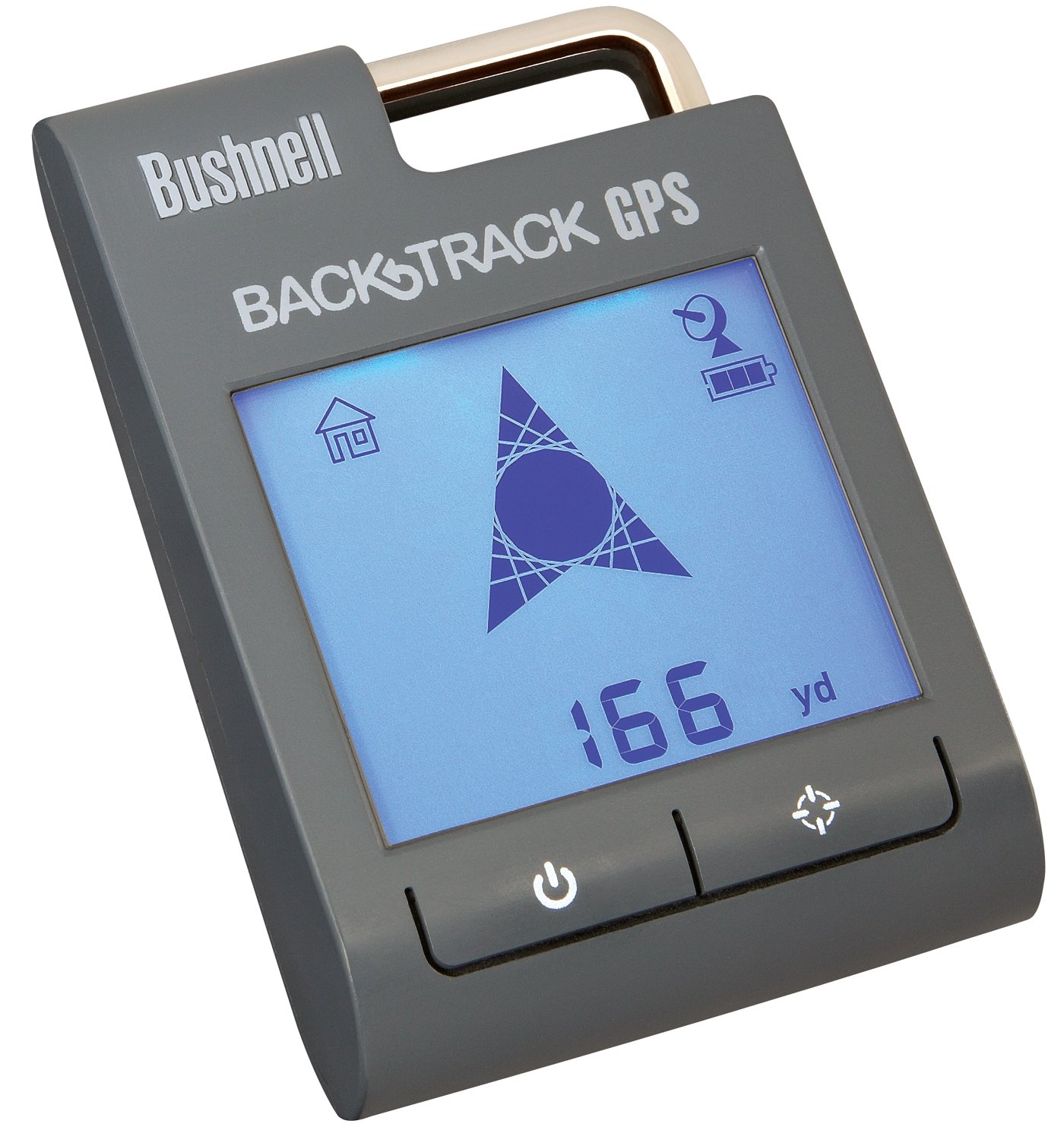 When you plan to go backpacking with a couple of your friends, you need to pack GPS equipment to help you navigate. Might we propose the Bushnell backtrack Point-3 Personal GPS Locator?
This handheld GPS is excellently constructed and has a beautiful design. It is made from quality materials that have been tested to increase its longevity. Moreover, it has an undeniably spectacular HD clarity that is enhanced by its quality optics.
The Bushnell backtrack Point-3 Personal GPS locator is additionally weather-resistant, and its compact design makes it fit into your pocket easily. An impressive feature of this hand-held GPS is its ability to store and find up to 3 locations. It also has a large LCD screen that has a backlight to increase visibility.
This hand-held GPS depends on 2 standard aaa batteries to work. An added feature on this device is the fastening ring that enables easy attachment, and it comes with a 1-year warranty.
Pros
Great battery life
Easy to use interface
Sturdy and beautiful design
Cons
The accuracy of the device is not very good
Very Slow in picking signals
One of the best handheld GPSs is the Garmin Oregon 650T 3-Inch Handheld GPS Navigator. This navigation equipment will enable you to enjoy your hiking and backpacking adventures. It has an impressive design, which is enhanced by its strong 3-inch diagonal display.
Interestingly, it is sunlight-readable and features a color touchscreen. A unique feature of this device is its 8-megapixel autofocus digital camera that has a digital zoom.
You do not need to worry about the longevity of the Garmin Oregon 650T due to its durable build. Moreover, it is water-resistant. You can also use it to check the barometric pressure and altitude of your tracks because it features a barometric altimeter.
This hand-held GPS additionally comes with a 3-axis tilt-compensated electronic compass to help make navigation easier for you. The 650T also has an internal memory to store the pictures you have captured. Alternatively, you can connect it to a USB to store the pictures online. It also has built-in U.S. topographic data.
Pros
Durable built
Waterproof
Easy to use interface
Good Topographic maps
Cons
Accessing the camera card is not an easy task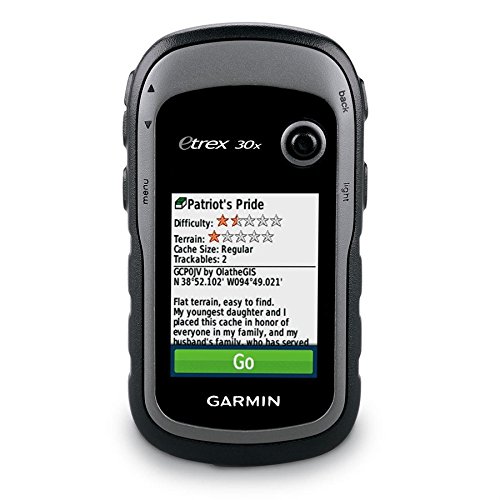 Rule the tracks the following time you're hiking or backpacking with the Garmin eTrex 30x Worldwide hand-held GPS Navigator. This device comes with a worldwide relief base map, which might be viewed through its 2.2-inch color LCD. It is also compatible with marine, topographic, and roadmaps to keep you on track every time you go on an adventure.
Its display is sunlight-readable, and it comes with internal memory and a micro SD card slot to offer optimal storage space. The eTrex 30x is also designed with a built-in altimeter and compass to help show the exact altitude and the direction you are heading to respectively.
The Garmin eTrex 30x Worldwide hand-held GPS Navigator additionally comes with wireless capabilities to share routes, waypoints, and geocaches with other GPS devices. The WAAS-enabled GPS receiver that has HotFix and GLONASS offers seamless satellite reception. It has an ergonomic design with an easy-to-use interface to make navigation a lot easier.
Pros
Good battery life
Great display
It has a battery saving mode
Cons
It does not charge the batteries when connected to a USB cable
Not user-friendly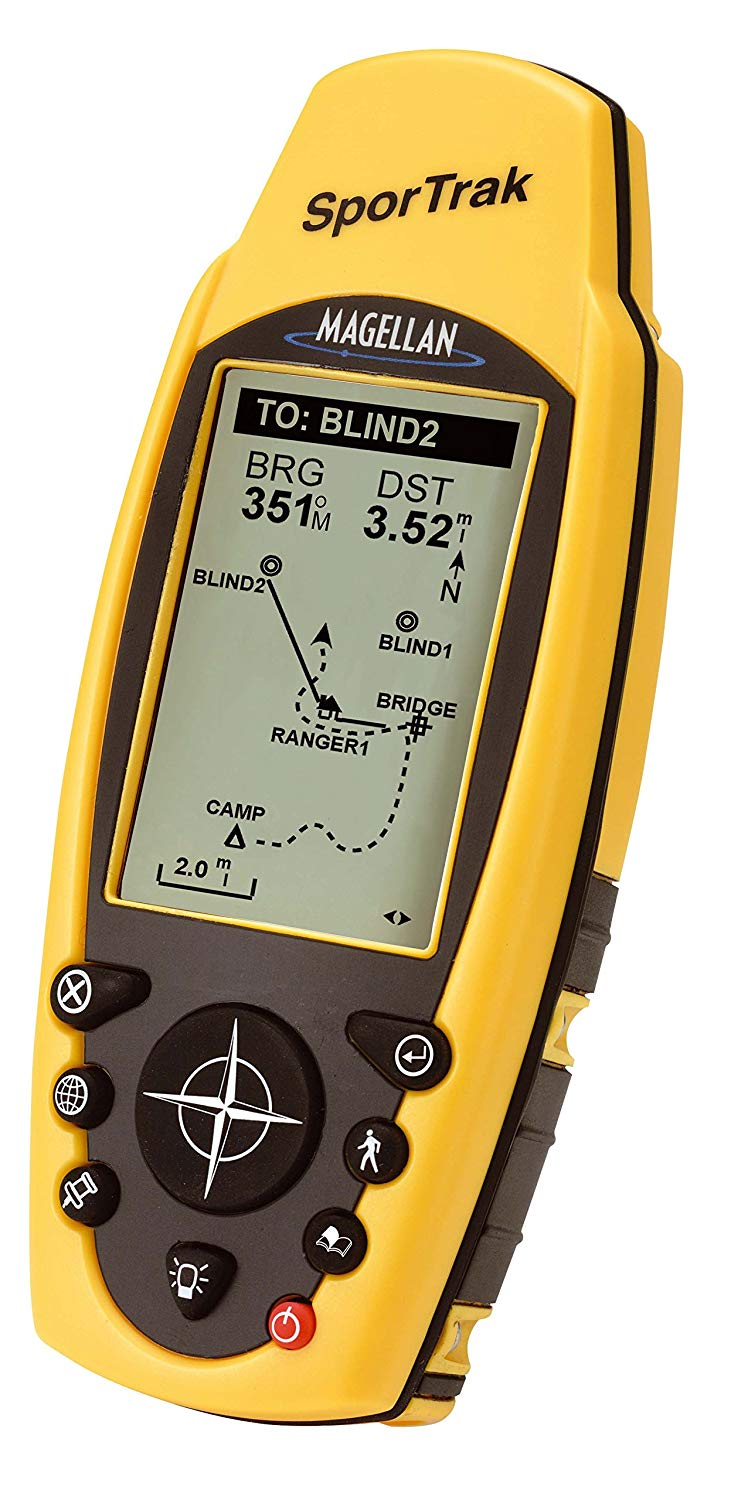 If you like hiking or are going to go hiking in North America, you will need to equip yourself with the Magellan SporTrak pro Waterproof Hiking GPS. This is because it features a 9 MB North American base map of parks, waterways, and roads.
This device also provides an extra 23 MB of memory to store additional maps. This waterproof device has a 12-channel GPS receiver. Moreover, it is WAAS-enabled and is accurate up to 3 meters.
Its large display makes it easy to read maps, ultimately making navigation easier. The SporTrak Pro additionally has an ergonomic design with a 9-key keypad that allows you to access the GPS options.
It additionally offers a rugged design and is fitted with an antenna for easier navigation in difficult terrains. The SporTrak Pro is covered in powerful rubber and impact-resistant plastic that permits it to float. It operates on two AA batteries.
Pros
Waterproof design
Can float in water
Can receive signals even in the harsh environment
Has a user-friendly interface
Cons
When the light is turned on there is a high pitched sound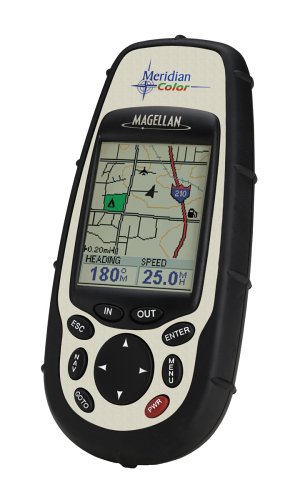 The Magellan Meridian Water Resistant Hiking GPS. This outstanding device will barely disappoint you when you are out hiking in any region because it comes with a worldwide database of major cities and political boundaries. What's more, the device is a 12-channel GPS receiver, and it includes a 2 MB base map.
It comes fitted with a digital memory-card slot to offer more storage space. Other spectacular options on this hand-held GPS are its rugged style and waterproof qualities.
Visibility is not a problem with the Magellan Meridian water-resistant Hiking GPS due to its large gray-scale monitor that features a backlight. It is also WAAS and EGNOS-enabled for better reception.
Pros
Durable Design
Waterproof
Lightweight
Cons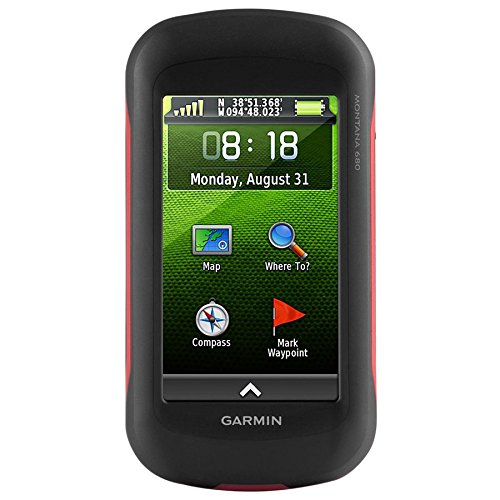 The Montana 680 has one of the easiest-to-read displays in any hand-held GPS with its spacious four-inch screen and 480 x 272-pixel resolution. Its colorful touchscreen is glove-friendly and has a dual orientation.
The handheld also features a digital camera that takes high-quality images, and although it likely won't snap pictures as nice as your smartphone, it automatically geotags photos with coordinates for your references. The purchase of the Montana 680 additionally comes with 250,000 preloaded worldwide geocaches and a one-year subscription to BirdsEye Satellite Imagery.
Other options are a tilt-compensated compass, barometric altimeter, and GPS, and GLONASS satellite access. A track manager also allows explorers to start and stop recording tracklogs to navigate waypoints and routes. Just keep in mind that all of the perks of this device do come at a cost, as this option is one of the most expensive selections on our list.
Pros
Offers a track manager
HD display
Preloaded worldwide geocaches
Cons
Continue Reading: Best Running Shoes For Flat Feet