With push bikes costing anywhere up to $20,000 for a high-end road bike, you are going to want to make sure they are safe and secure when you leave them unattended. So how do you do that? With a great, highly secure bike lock of course!
There are lots of different types of locks to choose from so what style is going to suit you? We have selected the top 10 best bike locks we have found for sale in 2020 and reviewed each of them so that you can get the low down on each product.
There are a few different types of locks that we have on our list. These include:
A U Lock:
The U lock (also known as a D lock) is a lock that is rigid in shape. You hook the U around your bike frame and lock it into place with the end bolts. These bolts usually have deadbolts, pry protection, and anti-drilling protection within them to keep any thieves from attacking your setup.
A Cable Lock:
A cable lock is a lock that uses a cord of steel cable to wrap around your bike and locks into either a key-operated bolt or a combination lock. These cable locks mean you can wrap the cable around your bike and around your wheels as well.
This means more of your bike is secure against theft, although thieves do target cable locks more than U locks because of their flexibility.
A Chain Lock:
A Chain lock is similar to the cable lock except the cable is replaced with a heavy-duty steel chain. This chain is usually quite thick which makes it quite heavy. This weight alone will deter thieves, but it also means that you have to carry the weighty lock around with you.
Overall there are lots of different types of locks with different kinds of functions, but which one will suit your needs best? Here is a brief summary of all the locks in our top 10 list.
Table Of Contents
Top 10 Best Bike Locks in 2021
Image
Name
Features
Price
Buy Now
Kryptonite Heavy Duty U Lock

Super secure
two keys
U shape

$$
DINOKA U Bike Lock

U bracket
4ft steel cable
Bike mountable

$
Master Lock 8170D U Lock

U shape
vinyl coated
pry-resistant

$
Via Velo Bike Lock

Foldable design
compact design
rubber-coated

$$
In-Gauge Bike Lock

Combination lock
steel cable
flexible design

$
UiiziC Bike Lock

Compact design
combination lock
multiple uses

$
Sportneer Bike Lock

5 digit combination lock
heavy duty chain
3.2 ft long

$$
LifeLock Bike Lock

Lightweight
innovative high-grade materials
easy to carry

$$$
Kryptonite Series 4 Disc Lock

Hardened steel
Pocket-Sized
comes with 3 keys

$$
XZSUN Bike Lock

Cable design
digit combination lock
available in a variety of colors

$
1. Kryptonite Heavy Duty U Lock – Best Overall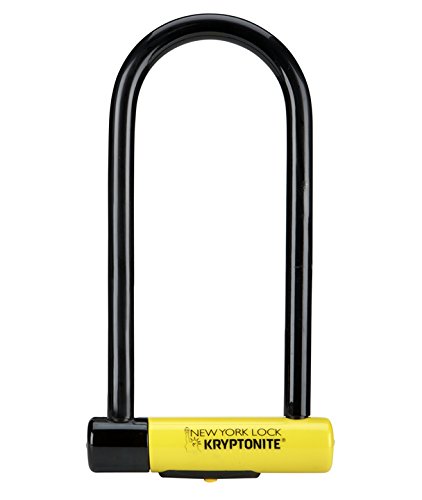 Kryptonite is one of the biggest names in bike locks and they are renowned for their high-security measures. The Heavy Duty U Lock does not disappoint and is by far our best overall bike lock available for sale in 2020.
This bright yellow lock is made from hardened steel and is resistant to all hand tools such as bolt cutters and saws. No matter how persistent the thief, they are not likely to get through the Kryptonite U Lock.
The locking dimensions are 4 inches by 10.25 inches and should fit your bike nicely. It comes with two keys (although Kryptonite will replace the keys globally should you lose them) and has an anti-theft protection offer of up to $4000 because they are so confident that no one will get through the lock.
Overall this is the best bike lock you are going to buy this year.
Pros
Large interior lock capacity
Hardened steel to protect against breakage
Comes with 2 keys
Anti-theft warrant of $4000
Cons
Only suitable for one bike
Not flexible
2. DINOKA U Bike Lock – Runner Up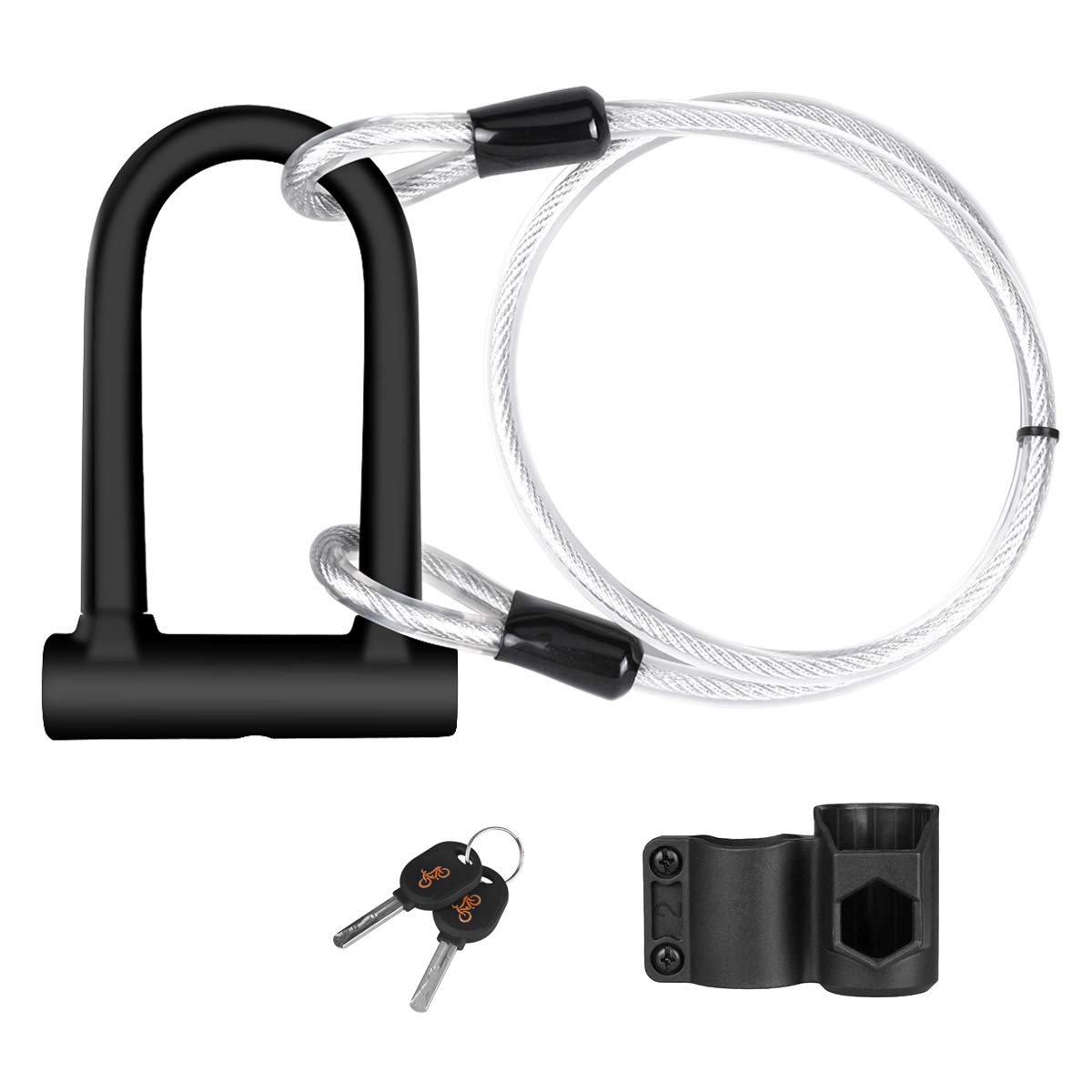 This heavy-duty lock is our runner-up because while it is still durable, it also comes with a 4ft steel cable making locking your bike up more flexible. If you aren't using a traditional bike stand or bike park, then the DINOKA is a good investment.
It comes with a larger U bracket which is situated underneath your saddle. Then, you simply loop the steel cable through this and onto something sturdy. You can also loop the cable through the bike itself if you are worried about people stealing your wheels.
This lock doesn't have the anti-theft warranty that the Kryptonite has but it does still have reinforced steel to reduce the likelihood of cuts and attacks.
This lock comes with 2 sets of keys and is completely waterproof, so the joints and mechanisms don't rust. Overall for under $30, this lock is really good value and definitely worth runner up on our list.
Pros
Reinforced steel Umount
4ft steel cable
Flexible
Comes with 2 sets of keys
Cons
Steel cable isn't reinforced
3. Master Lock 8170D U Lock – Best for Classic Cyclists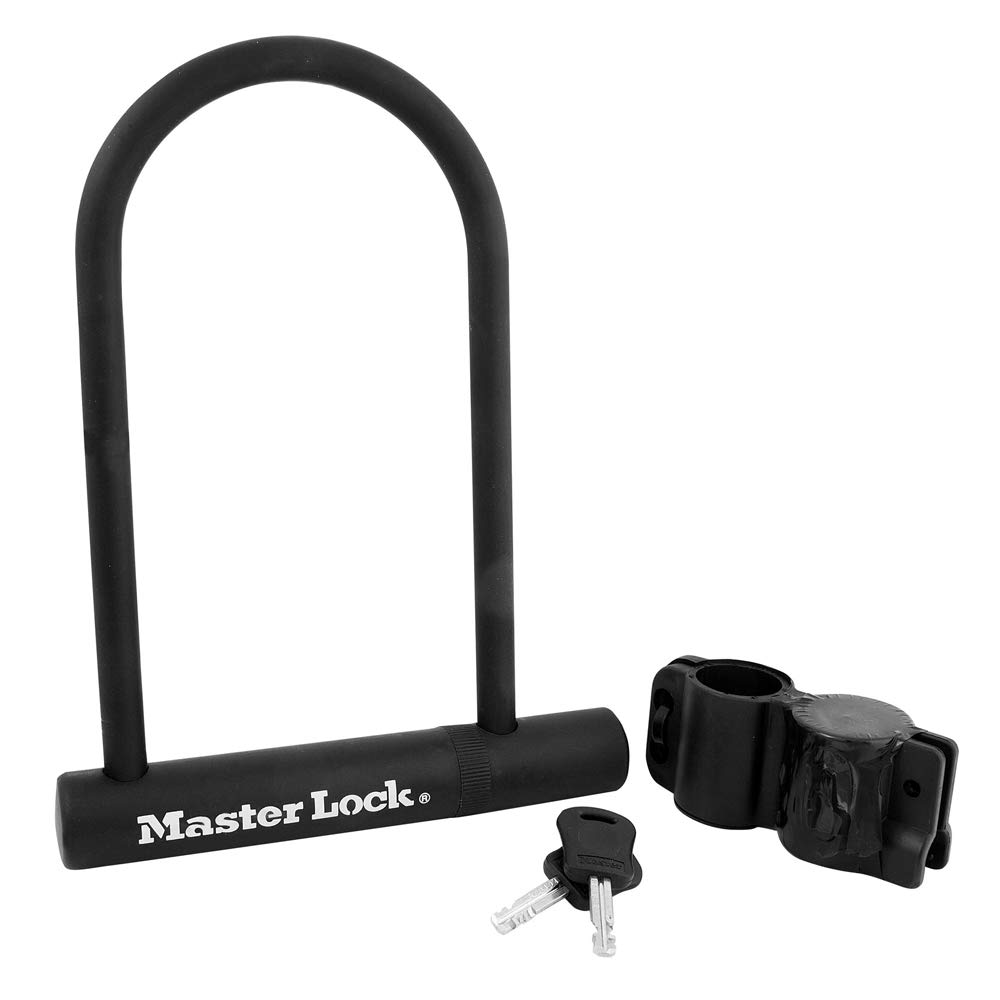 This classic lock is a straightforward but very effective bike lock that will help to keep your bike secure while you are at work or shopping. While Master Lock has been around for some time, this doesn't make the Laster Lock 8170D any less secure.
Made from heavy-duty steel with a vinyl coating (making it trickier for cutting), this lock also comes with pry-resistant mechanisms in the U bolts.
The lock itself is 16cm wide by 20cm in length so you can easily fit your classic bike inside and around a lamppost. It also comes with two keys but beware, these keys are high security and cannot be replicated, even if you lose one!
All of this comes in at under $10 which, for a reinforced steel U lock is amazing value.
Pros
Great value
Made from heavy-duty steel
Pry proof joints
Vinyl powder coating
Cons
Keys cannot be replaced
Not suitable for locking in obscure places
4. Via Velo Bike Lock – Best Folding Bicycle Lock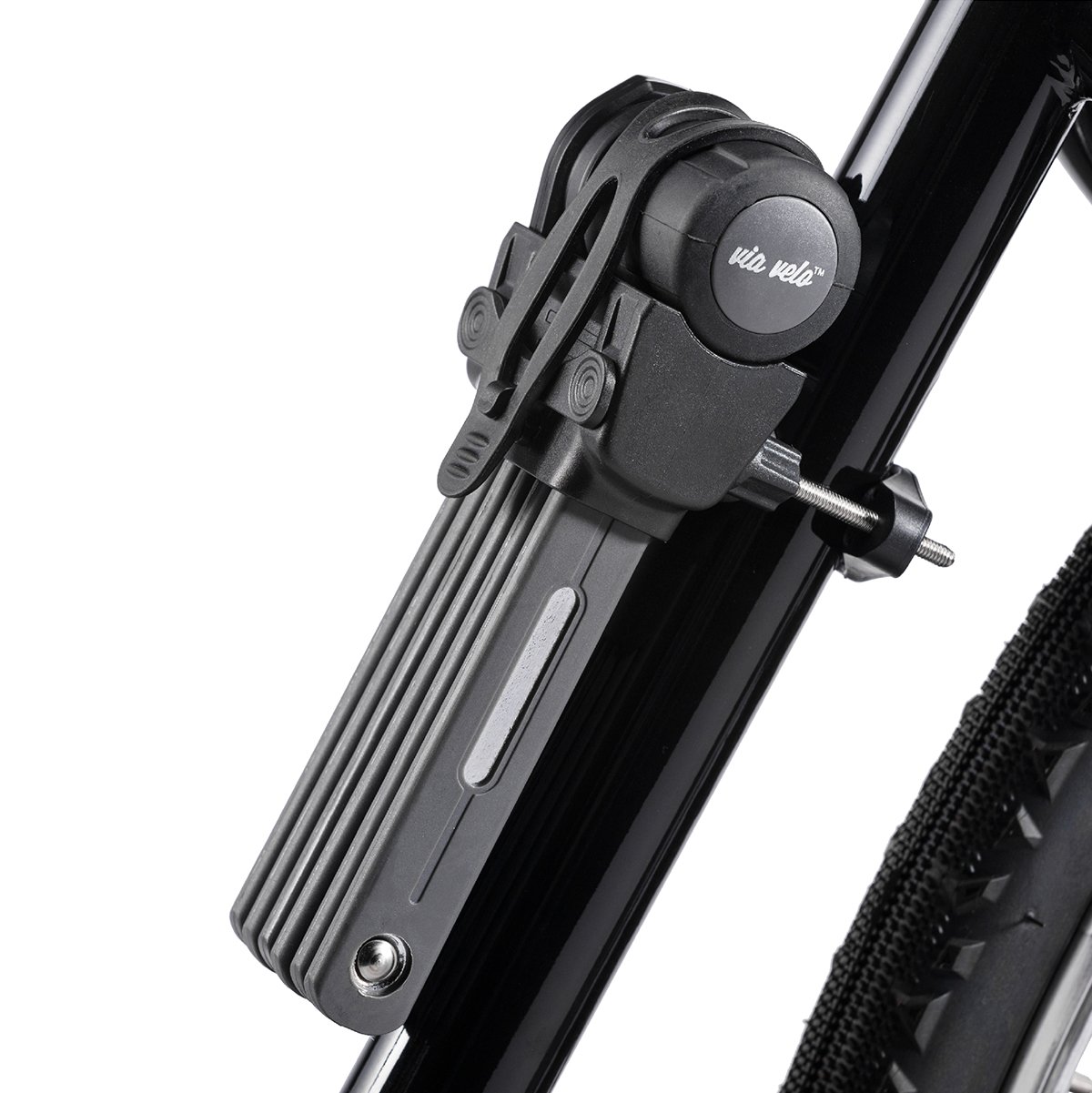 This clever little design is brilliant and gives you a lightweight compact package for your bike lock. The foldable design of the Via Velo Bike Lock has 8 separate plates that are connected together with reinforced bolts to create a space that will fit nicely around your frame and your wheel.
The steel itself is anti-rust and anti-drilling and is covered with a PVC coating so your bike won't get damaged when using it.
When folded, you can mount your lock onto your bike so you don't have to carry it and will always have it to hand. This lock comes with 3 keys which is more than the others on our list so far, but just be sure not to lose them!
Overall the Via Velo Bike Lock is a great piece of kit and will keep your bike nice and secure.
Pros
8 plated folding mechanism
PVC coated so it won't scratch your bike
Anti-rust and anti-drilling steel
Can mount onto the bike
Cons
Additional locks might be needed for securing
5. In-Gauge Bike Lock – Best Folding Bicycle Lock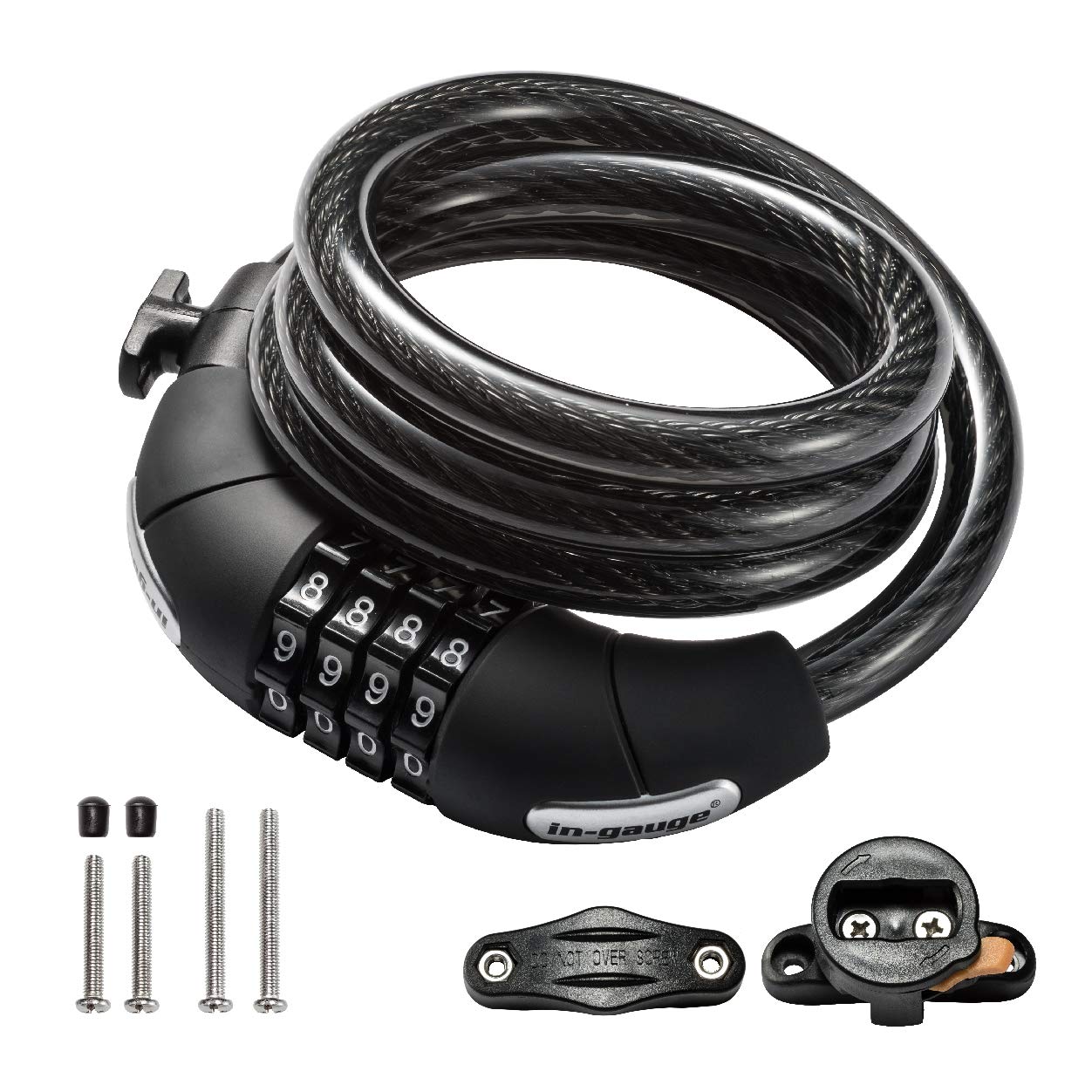 This cable bike lock is made from a flexible cable and a combination lock. The combination lock eliminates the problematic issue of losing your keys and allows you to share the lock with others by giving them the combination code.
The cable itself is 4 feet long and not only works well for bikes but also works well for other products that you might want to keep secured such as toolboxes and gates.
The lock itself is rust-proof, something that isn't always a given for cheaper bike locks. The in-gauge also comes with a mounting point to attach to your bike so you don't have to remember your bike lock every trip because it will already be attached to your bike.
This lock comes in at under $10 so is excellent value for money so it's worth getting a few.
Pros
Combination lock
4 foot of steel cable
Flexible uses
Brilliant value for money
Cons
Not as secure as some of the higher-end bike locks
No pry proof lock system
6. UiiziC Bike Lock – Best for Extra Security
If you are looking for some extra security for your bike, then the UiiziC Bike Lock will help you to fully secure your bicycle. Many people lock their bikes from the frame to a lamppost or a bike park.
But this leaves both of the wheels exposed and at risk of being stolen. So instead, using the UiiziC bike locks around your wheels as well as a lock from your frame will help keep ALL of your bikes safe and not just the frame.
This lock is a combination lock with a tightly wound steel cable that is nearly 6 feet long. This lock can be used for all sorts of security purposes such as locking your laptop bag, stroller, or suitcases up.
While the cable may not look strong, it is made from 1/8 in thick cabling which is covered in plastic so will deter most thieves before they even try to steal anything. A great option as a backup or for extra security.
Pros
Steel cable
Combination lock
Nearly 6 foot long
Cons
Not suitable for securing your whole bike
Steel cable is not as strong as others on our list
7. Sportneer Bike Lock – Best for Extra Security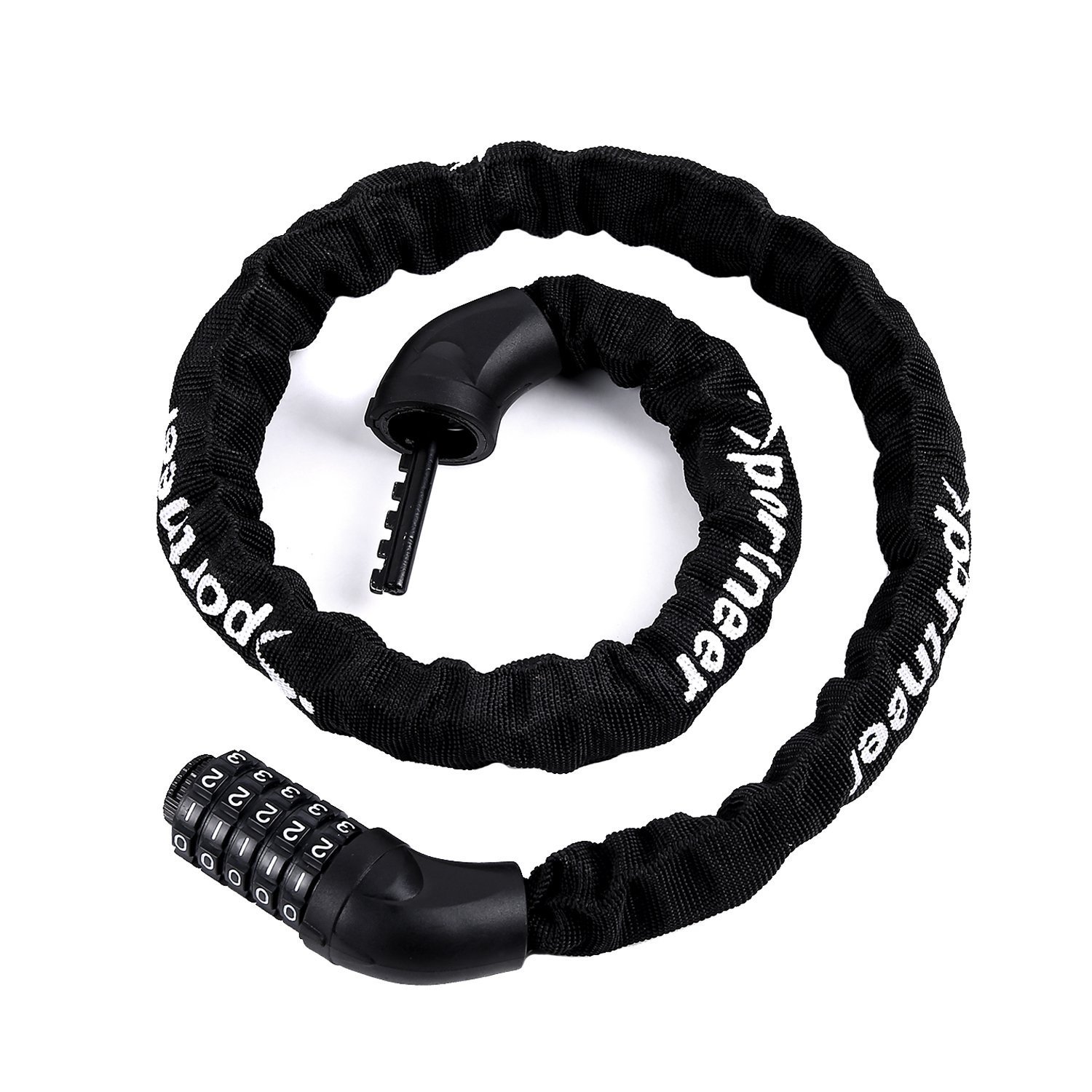 Looking for something that is really heavy duty to secure your heavier-than-average bike? Electric bikes and mopeds are naturally heavier than standard bicycles and as such need a stronger and more heavy-duty lock.
The Sportneer offers just that. This lock has a 5 digit combination lock which gives the thief up to 100,000 possible attempts before they can get in (hopefully they would have gotten bored by then).
Made from 0.27-inch manganese steel that is completely cut-resistant and will ward off any attempts to break into the lock.
The chain itself has an outer covering of nylon fabric so your precious vehicle doesn't get scratched. Be aware this heavy-duty chain comes with a heavy-duty weight that you will be carrying around on your back or in your bag.
Pros
Heavy duty
5 digit combination lock
3.2 feet long
Nylon covered to avert scratches
Cons
Weighs a lot
Heavy to carry
8. LiteLok Bike Lock – Best for Big Budgets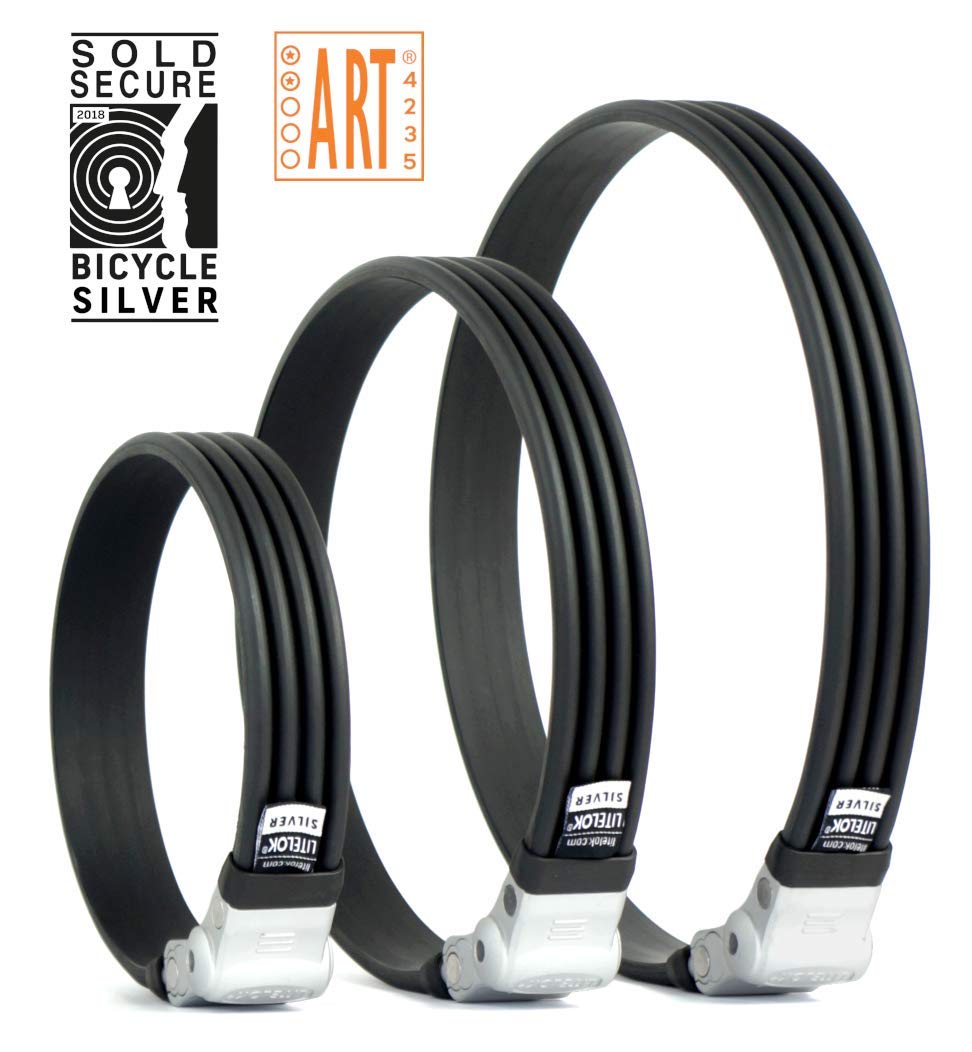 Now you might wonder why the Litelok is so expensive and how it can justify the hefty price tag at just over $120, well is because not only does it work as a secure and effective bike lock, but it also doubles up as a belt!
That's right, you can actually WEAR this bike lock as a belt when you are out and about. Litelok says it is 40% lighter than most other bike locks but at only 1.4lbs, we think it must be more than 40%.
The lock itself is made from a new high-grade material that is as strong as steel but as flexible as plastic which makes it more flexible than the U-shaped locks we have on our list.
The addition to a belt buckle look lock makes it easily interchangeable between a belt and lock. Overall if you have the budget and want a talking point when you get to the office then the LiteLok bike lock is the choice for you.
Pros
Made from high-grade strong material
Very lightweight
Interchanges to a belt
Comes with two keys
Cons
Expensive
Not as flexible as a cable lock
9. Kryptonite Series 4 Disc Lock – Best for Big Budgets
Another great from the Kryptonite range, this series 4 disc lock has a small U-shaped lock and a long steel cable for flexible securing. The U lock is made from 14mm hardened steel which is resistant to bolt cutters and hand tools alike.
The double deadbolt mechanism is pry proof and the disc-style cylinder makes drilling and pulling fruitless. All of this comes complete with 3 keys and makes for a very versatile bike lock.
The best part of this lock is that it is small and easy to carry around. This lock comes with a little bag for keeping it all together in your bag and only measures approx. 5cm x 5 cm.
The Kryptonite range has lots of different locks to choose from and also comes with a handy security rating for each of their locks. You can use their website to look up the different ratings they give each of their bike locks and how they work this rating out.
Pros
14mm hardened steel U lock
Steel cable
Double deadbolts
Comes with 3 keys
Cons
Does not secure both your wheels at the same time
Higher price bracket
10. XZSUN Bike Lock – Best for Kids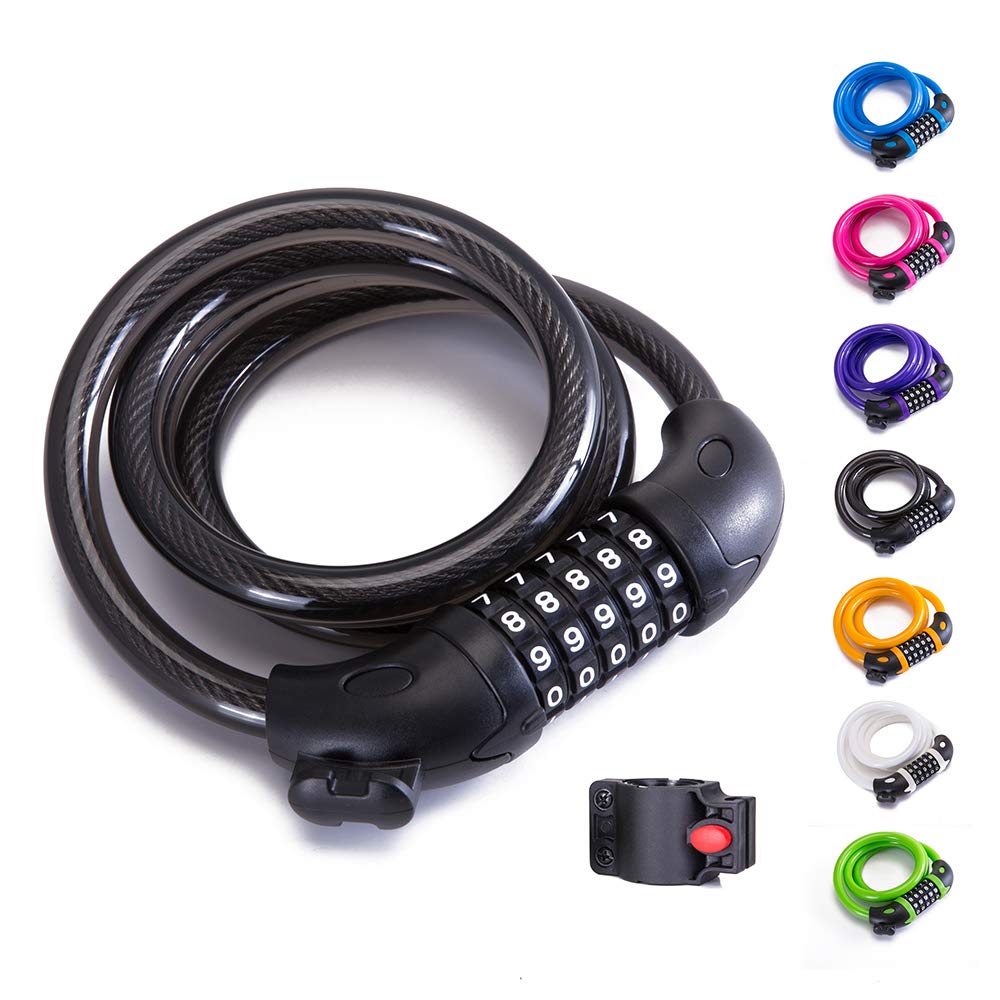 Are you looking for a bike lock for your kid to take to school or to the park? Kids often don't see the danger of leaving their bikes unattended and when you have spent a small fortune on their bikes, you are going to want to keep them secure!
The XZSUN bike lock is the perfect lock for your kids to get used to locking their bikes up and ensuring their belongings are safe.
This cable lock comes in a variety of colors, so your child is more likely to use them and has a 5 digit combination lock. The steel cable has a PVC coating which keeps it waterproof and rustproof.
At 4 feet long it will easily fit around your child's bike and a lamppost or fence. All in all, this is a great starter lock for your child and with the added bonus of bright colors available (including pink, blue, purple, yellow, and green) they will be desperate to use them too!
Pros
Steel cable
4 foot in length
5 digit combination
Available in bright colors
Cons
Not as resistant to hand tools as others
The child may forget the 5 digits
Final Words
There we go, ten of the best bike locks that you can buy in 2020.
No matter what you are after, be it a heavy-duty super long lock or something small and simple to lock your suitcase up with, this list will be able to provide something for you.
Remember that the stronger the steel the less likely thieves are to steal your property. It is also worth taking some time to see how to effectively secure your bike and how you should intertwine your lock around your bike. We hope you find a suitable lock for you.