Do you love trekking and camping? So, if you plan to go for a trek with your friends or family and have to buy individual tents, what's the point of going together? Also, you want to spend a vacation with your family and cannot stay together, then half of the fun is spoiled.
This is where a 6 person tent comes in handy. It can easily accommodate 6 people so that you can enjoy your vacation with your friends and family. No more do you have to stay in a little space. Here, you can comfortably sleep and bond together.
Such a 6 person tent will be extremely beneficial because vacation trips are the only moments when you get to spend some time with your loved ones. Amidst the busy work life, it's not always possible to unite and enjoy together. And if you have to spend in little individual tents even while on the trip, then when would you unite and recreate some memorable moments! This is where a 6 person tent can help you.
Also, even if you are planning a trip with less than 6 people, a 6 person tent is ideal for you because here you will get enough space to stay comfortably, keep your luggage and other items wherever you want. The capacity of 6 person tent is large enough to accommodate everything.
In this article, we will discuss the best 6 person tents and their features so that you don't have to waste your money. Read our article and make a great purchase.
So, without further ado, let's proceed.
Top 10 Best 6 Person Tent
Image
Name
Features
Buy Now
Coleman Sundom Tent

The welded corners keep water outside the tent
Large windows give enough ventilation
Insta clip pole attachments on every window that fits 6 people or two queen airbeds

Coleman Dome Tent with Screen Room

It comes with a screen room that provides extra ventilation
The extended windows offer enhanced air circulation
It has storage pockets to keep place neatly

Coleman Montana

The angled windows allow you to keep them open during rain and prevent water to enter
The door awning offers extra weather protection as well as air circulation
Waterproof cover

Coleman Steel Creek Dome Tent

Extend window awnings help to keep the window open for air circulation
It easily fits into the carry bag
The screen room offers an extra sleeping area

Core Dome Tent

Water repellent fabric to prevent leak
Mesh ceiling to help the hot air get out
You can keep little items in the mesh pocket of the ceiling

Kelty Outback Tent

Its D door offers ease of access
The mesh design is ideal for the hot season as you can always witness the surrounding
The color-coded clip design allows a faster setup

Ayamaya Pop Up Tent

It is made of high quality 190T polyester
Sealed seams in the folding area prevent leaky water
Double layer connected by hooks that resist condensation

Mobilehome Dome Tent

Its unique design is sure to amaze the viewers
With a fly seam taped, the tent ensures that no bug can enter into it
It has large mesh windows and doors for amazing ventilation

Weanas Dome Pop Up Tent

The pop-up tent doesn't require any extra tools to set up
Sealed seams allow preventing leaking water
It has a spacious floor of 9.5 x 6.6 ft

Eureka Copper Canyon Tent

The cabin-style tent is of a unique design
The bathtub floor allows you to keep the place clean and mud-free
Its 7 ft interior height is amazing to accommodate everyone and you can easily stretch out
1. Coleman Sundom Tent – Best Overall
The mesh vents, along with large windows helps in proper ventilation. The polyethylene floor is in a bathtub style helps in extreme weather protection and the welded corners help against leaky floors.
The free-standing design helps the users to easily set it up and takedown. The zippered electrical access port helps to continue AC power inside the tent.
The dome design is attractive as well as easy to take down. It has a 6 ft height where an average height person can easily stand and move.
Pros
Its snag-free design helps to set it up within 10 minutes
The mesh roof and the big windows help in better ventilation
The welded seams in the corners help to prevent leaks
The large door and 6 ft. height of the tent helps anyone to easily stand and roam inside the tent
Cons
You may have to buy ponies individually
2. Coleman Dome Tent with Screen Room – Runner up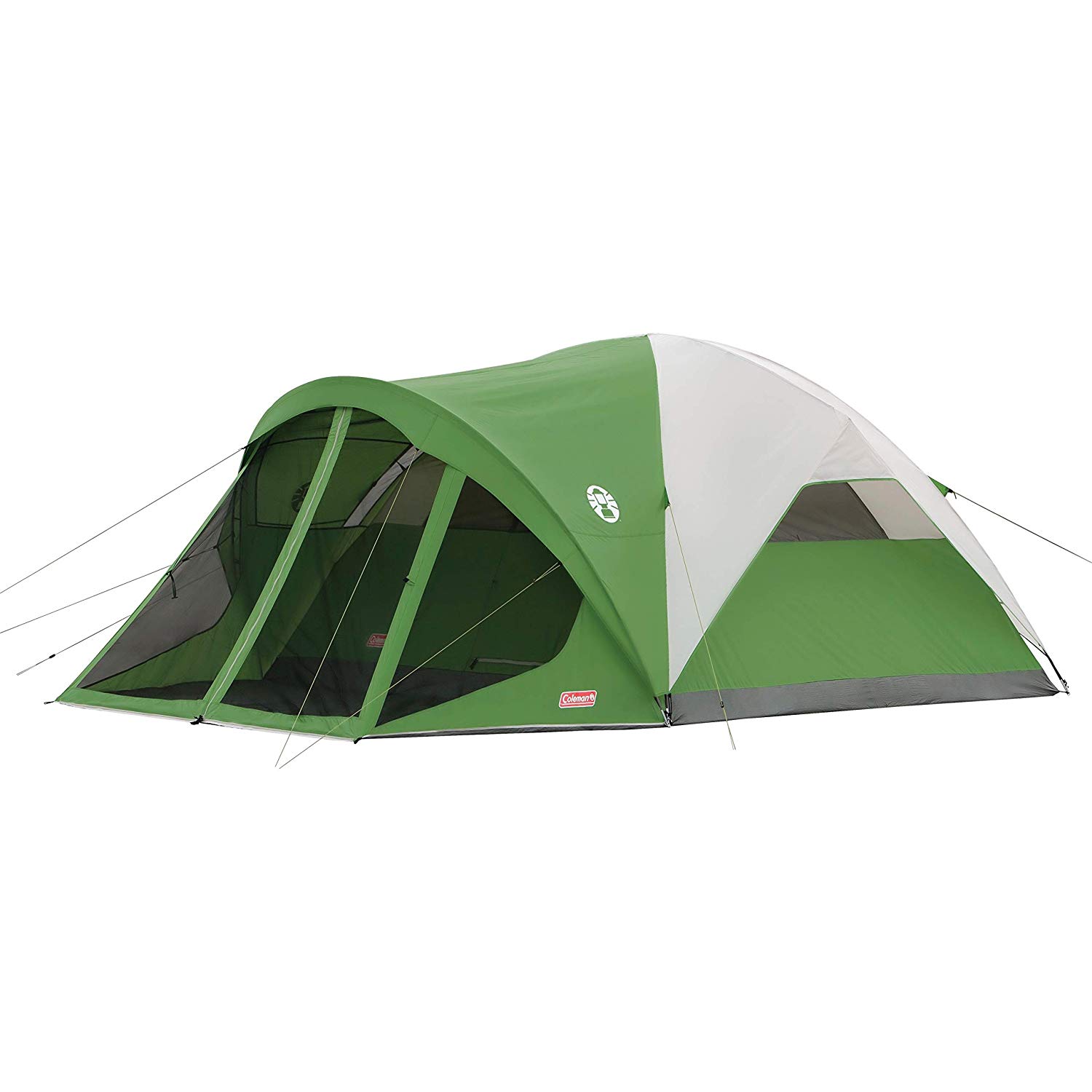 The bug-free lounging with a separate screen room lets you sleep comfortably. The tent is enough spacious to accommodate 2 queen-size airbeds. It has 5 ft 8-inch height so that you can easily stan and stretch out.
The inverted seams allow you to protect stuff during rainy weather. It has a wind-responsive frame. The zipper protection helps to prevent water leakage inside it.
Also, you can remove the rain fly so that sunlight can get into the tent or you can also gaze upon at the stars during nighttime.
Pros
The mesh roof helps you to prevent bugs
It is ideal for car camping trips
Its separate screen room offers extra ventilation and the large window awnings also help in air circulation
You can easily set up the snug free designed tent in 15 minutes
Cons
Keep in check the rain fly so that it doesn't tear. Otherwise, bugs may enter
3. Coleman Montana
The port helps to get electric power inside the tent. The mesh pockets attached to the inside of the tent allow you to store small things inside it. The wind-protective frame helps to let you stay comfortable even during stormy weather.
It has zipper protection that allows you to easily get and out. Its waterproof floor is further effective during campaigning in adverse weather. It has 12×7 feet along with a 5 ft 8-inch height that lets any average person stand comfortably and walk without bending neck.
It is spacious enough to accommodate 6 people or 2 queen-size airbeds. The combination clips further help to easily set it up.
Pros
It has a convenient flashlight loop at its ceiling
The polyethylene floor helps to avoid mud and water. It also soaks muddy shoes without spoiling the entire tent
Its bathtub style design offers extreme weather protection
The windows and roof vents offer extra air circulation and are enough durable
Cons
6 people may find it a bit tight inside the space. However, if you are in a small duration camping, the tent is ideal
4. Coleman Steel Creek Dome Tent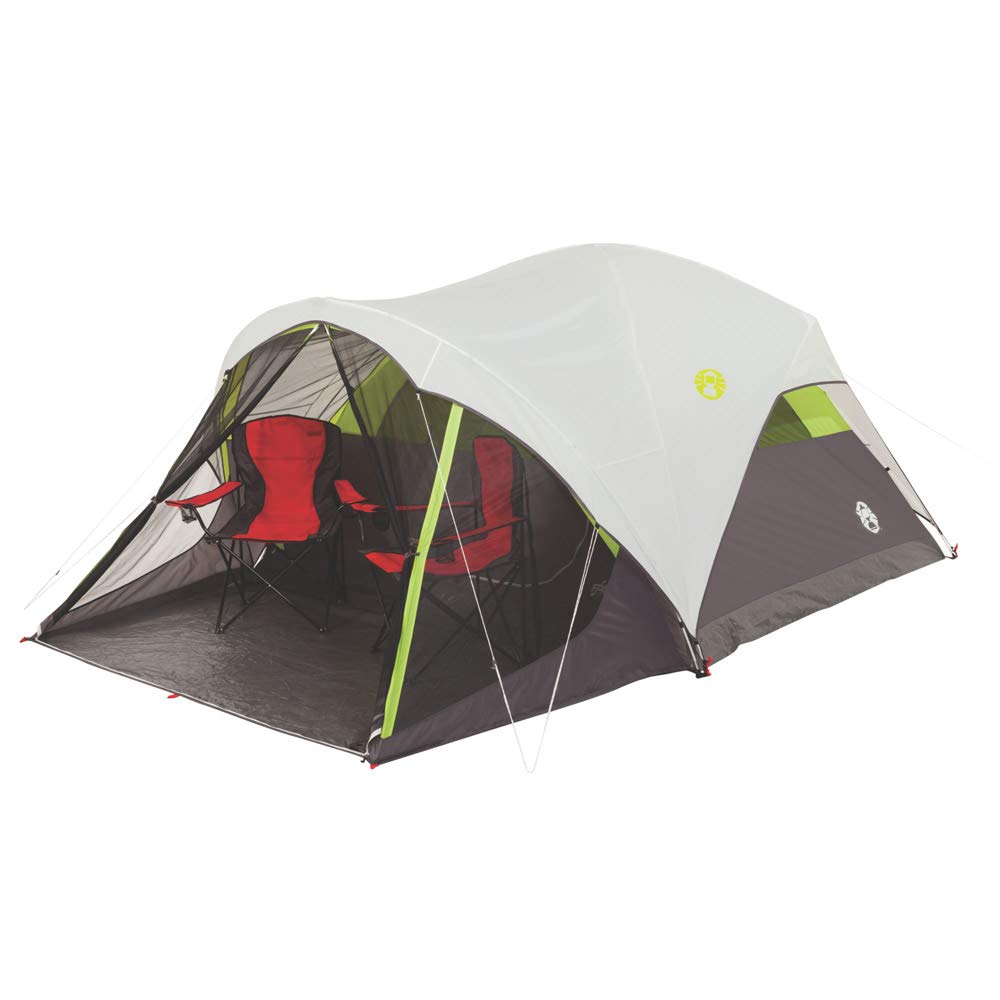 Its screened room allows extra space during the night to sleep comfortably. Enjoy a bug-free travel and camping experience with this mesh roofed tent.
The color-coded poles help in an easy setup. With its 5 ft 8 inch you can easily stretch out inside it. The mini mesh pockets help you to store small items.
Pros
You can easily set up the tent with its color-coded poles
Value for money
The window mesh helps to prevent water while allowing extra air circulation
Unique design
Cons
Though the company claims you can pack it inside a carry bag, we won't recommend that. Multi folding can ruin its structure and the mud and dirt will ruin your bag
5. Core Dome Tent – Budget Pick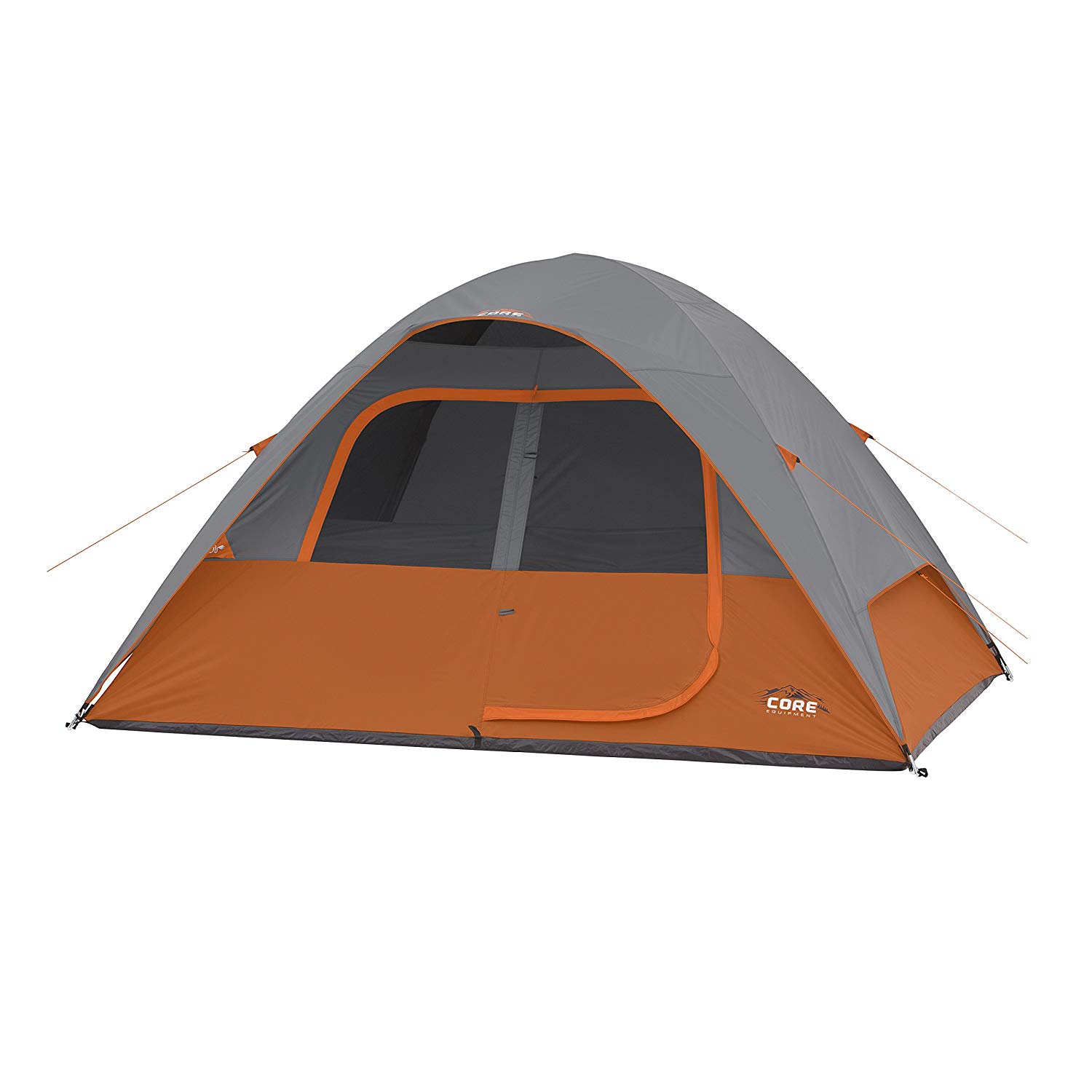 The sealed seams help the tent to keep water outside. The adjustable air intake pulls cool water from the ground and the mesh ceiling lets hot air get out.
The rain fly can be removed in the hot weather to gaze at the clear night. The lantern hook and organizing pockets help you to decorate the tent in your own way.
Pros
Active bead technology helps the users to let the water runoff
The venting system is advanced as it can draw cool air from the ground and lets hot air pass through the mesh ceiling
Water block technology keeps water outside and won't leak
It is extremely affordable
Cons
The tent may not be ideal during winter because it draws cold air from the ground and allows hot air to pass through the mesh ceiling. However, if you are looking for a tent within budget and during the hot season, this one can be a good choice
6. Kelty Outback Tent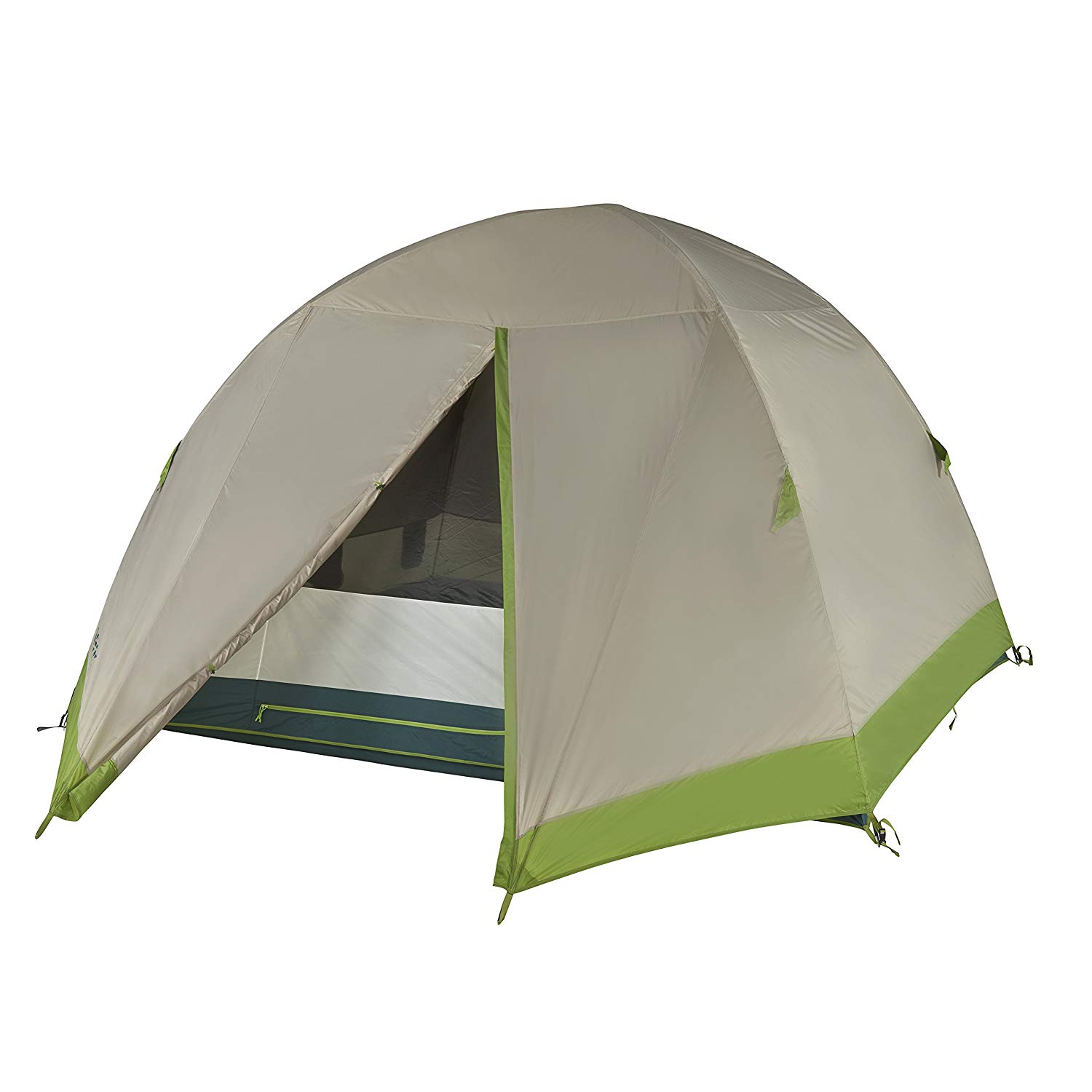 The oversized D Door helps to get in and out easily. The waterproof full-coverage rainfly offers all-time weather pleasure. The color-coded clips allow you to set it up real quick. The poles are made of fiberglass.
With an 87 ft tent floor area, it can easily accommodate 6 people or 2 queen airbeds. It can stay stabilized during windy weather.
Guyline store pockets help you to keep little items inside the mesh pockets. The taped floor seams won't let the water come in.
Pros
With an oversized D door, you can easily get in or out
The taped floor seams prevent water leakage
Clip and pole construction helps in easy set up within 10-15 minutes
The dome shape has a beautiful look
Cons
The rain fly is not removable and is always fully covered. So you cannot open it to enjoy the outer view or let sunlight come in. However, it's ideal for the rainy or winter season
7. Ayamaya Pop Up Tent – Perfect Size for Hiking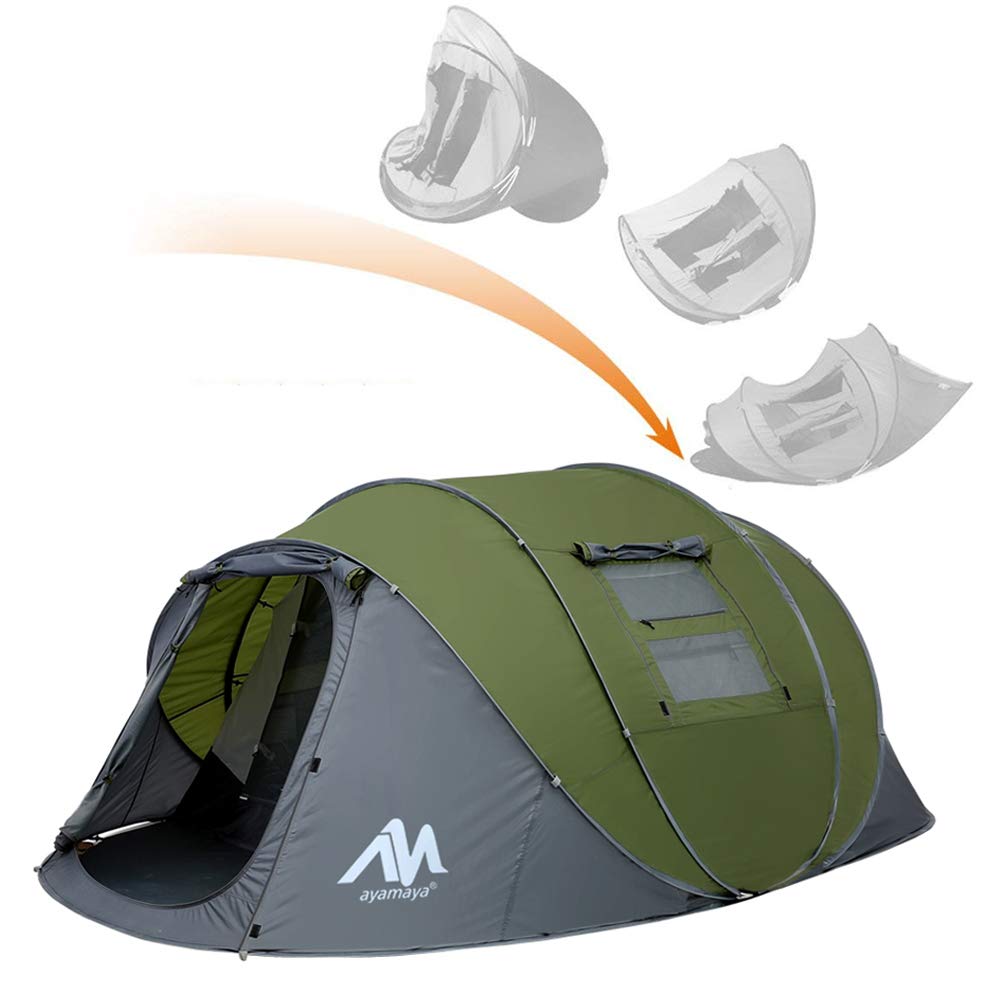 The vented rainfly helps you to keep the tent dry. Further, the sealed seams won't let water enter. The tent is specially made with inner and outer layers that prevent condensation.
There's a gap between these two layers that allow extra ventilation. It has 2 large doors so that you can easily enter and exit. Large mesh windows on both the side help in air circulation.
It has a vestibule design to get some more space where you can keep shoes, dog, or campaign gear. You can also leave the muddy shoes in this vestibule so that dirt doesn't enter the main part of the tent.
Here 4 to 6 adults can sleep in the sleeping bags or 3 to 5 people with loads of luggage bags. Its e port allows you to get a power cord from an external power source and charge any device inside the tent.
Pros
The vestibule allows you to keep muddy and dirty shoes or clothes, large dogs, or anything you want. It allows you to have some extra space
Thee port helps you to get power inside the tent from the outer power source
Its small size is perfect for hiking or climbing
Cons
Though the brand claims it to be a 6 person tent, it can accommodate 6 persons in sleeping bags. But if you have tons of luggage, it can accommodate 3 to 5 people
8. Mobihome Dome Tent – Lightweight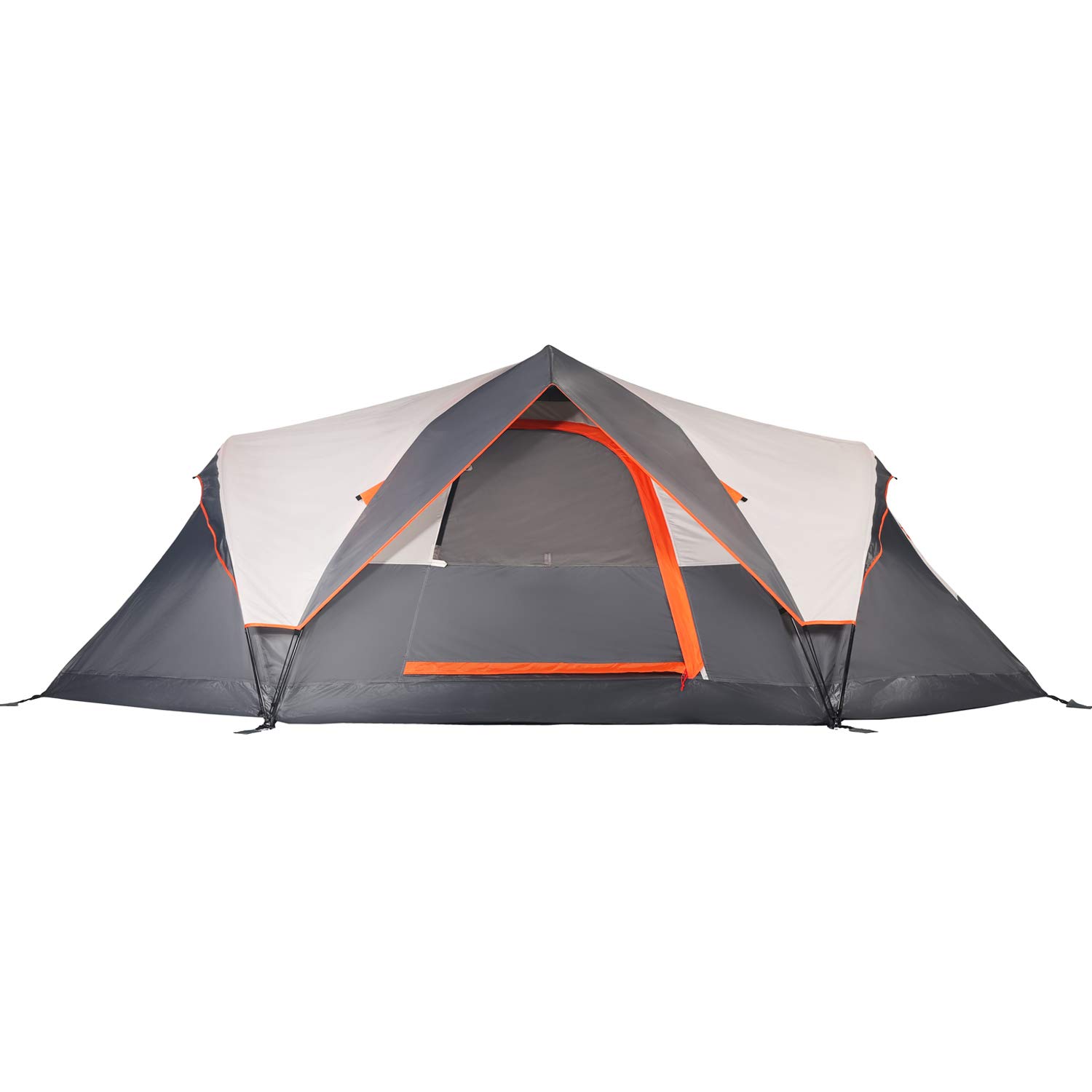 This is ideal for camping, hiking, touring, or any vichel trips. It has a door extension as an awning that offers extra space. Its center height is 55 inches which can fit any adult of average height.
With 14.3 lbs lightweight, the tent is perfect for climbing and hiking as you won't have to carry extensive luggage. The hub system allows a quick setup.
It has a unique design that can fit 2 queen size beds and allow anyone to easily stretch and roam around. Water repellent rain fly won't enter any water leak and is fit for the rainy season.
Pros
The tent is fit for trekking, traveling, hiking, backyard camping, beach camping, or any other festival camping
The micro-mesh roof and three big windows with two zippered doors offer amazing ventilation while keeping the flies out
Its unique design is sure to catch eyeballs of the fellow tourists
Cons
The tent is ideal for a couple with two or three children. However, it may not fit 6 adult people. So you better keep that in mind
9. Weanas Dome Pop Up Tent – Ease of Use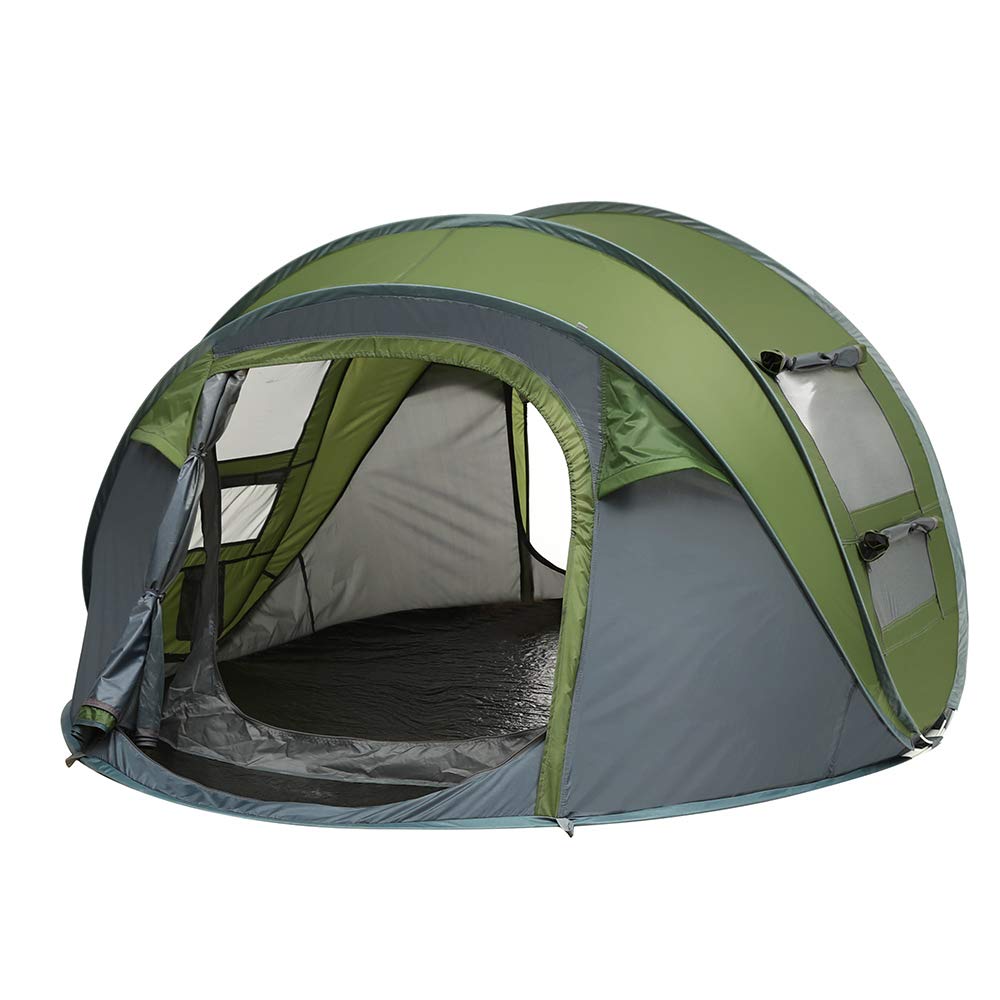 The popup tent doesn't require any additional tool as you can just throw it and it will set up on its own. Therefore it is amazing for tourists. Also, it comes with a circular carry bag along with a shoulder strap so you can easily carry it around.
The mesh doors offer proper airflow. Its two windows allow you to keep it open and let the breeze come it while the mesh on it keeps bugs away. You can also keep the muddy shoes and other stuff in the extended vestibule and keep the interior clean.
Pros
The storage pockets help to keep little items in an organized manner
The popup tent is easy to set: simply throw it and it will pop up and be set on its own
The tent is absolutely value for money
Cons
The center height is 4.3 ft, so a tall person may need to bend a bit and feel a bit uncomfortable, inside the tent
10. Eureka Copper Canyon Tent – Comfort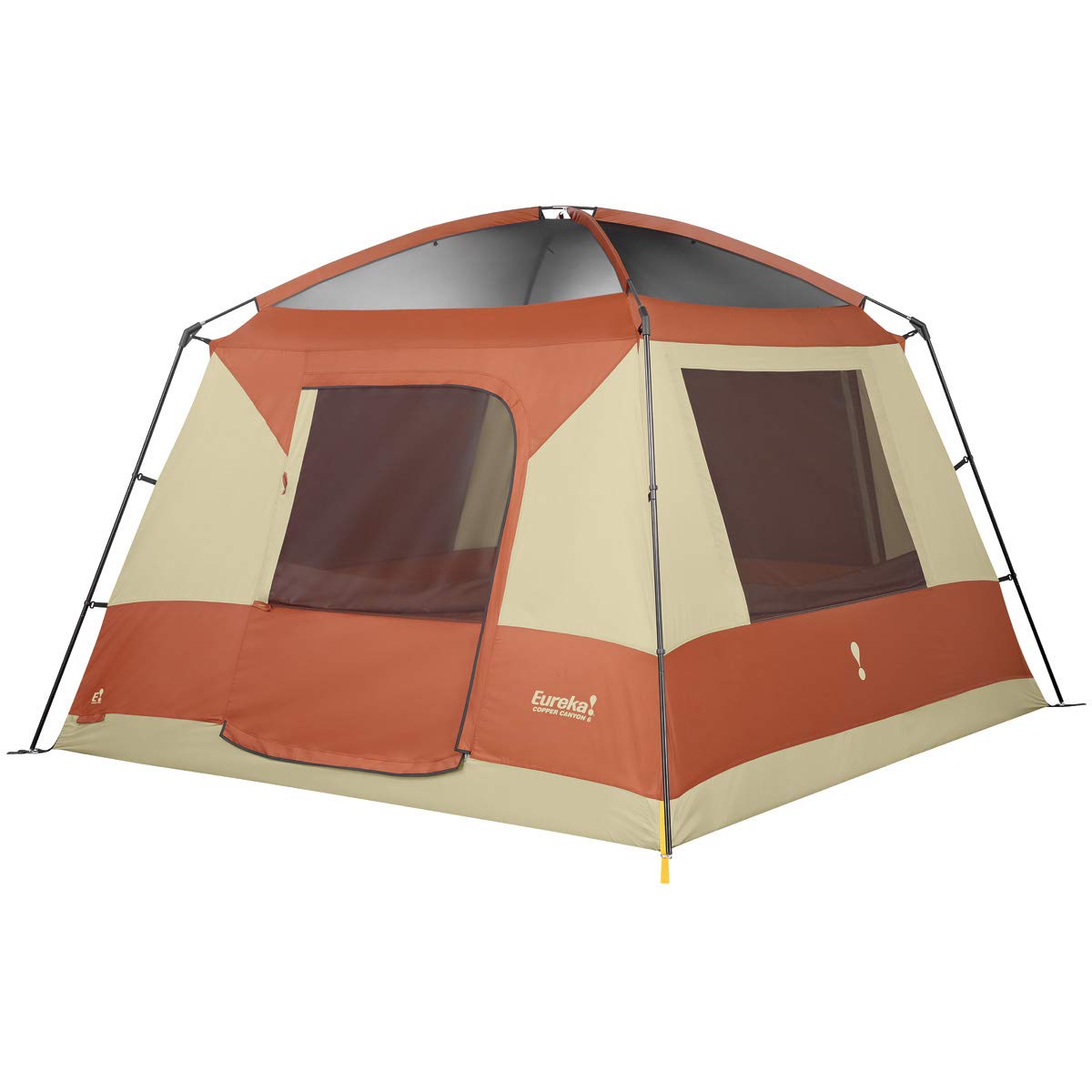 The cabin design of the tent is unique. Its e power port allows you to get electricity from the outside source. The bathtub floor allows you to keep the place clean and mud-free.
It has two storage pockets where you can keep little items. Pole sleeves, rings, and hubs are attached to the tent so that you can easily set it up. Its 7 ft interior height is amazing to accommodate everyone and you can easily stretch out.
Pros
Its 7 ft interior height is amazing to accommodate everyone and you can easily stretch out
The cabin style is design allows you to keep cots or airbeds. It is also beautiful to look at
You can easily charge your electronic devices with the help of e port that allows you to get electricity from the outer source
Cons
The tent is expensive. But the comfort it provides with its spacious interior is value for money
Continue Reading: Best Bike Pumps