Backpacking has become a much more popular pastime in years of late and that is due to the younger generation wanting to get out there and see the world!
And boy what a world it is. Unfortunately, in some parts of the world, the water just isn't safe to drink.
You won't even find shops for bottled water in the wilds of some parts of the country and when you put yourself into situations like this, you need to be prepared for all eventualities.
This is where a backpacking water filter comes in. Designed to filtrate out all the bugs and germs that you might otherwise find in a water source such as a wetland or stream, these filters allow you to stay hydrated without catching any illnesses.
Hydrating is crucial, especially when you are doing any strenuous activity and that is why we have reviewed 10 of the best backpacking water filter for you. Here is a brief summary of what you will find on our list.
Table Of Contents
Top 10 Best Backpacking Water Filter 2021
Image
Name
Features
Price
Buy Now
Katadyn Hiker Pro Filter

Glass fiber filter
activated carbon filter
11oz weight

$$
The Katadyn Hiker Original

Rigid plastic housing
bottle adapter
activated carbon filter

$$
Purewell Water Purifier Pump

Activated carbon filter
1400ml a minute capacity
small design

$$
Purewell Personal Water Filter Straw

Single-use
filters 2000mls
Fits in your bag

$
The MSR TrailShot Portable Water Filter

Small design
Hand squeezed pump
fits in your pocket

$$
LifeStraw Flex Advanced Water Filter

Gravity-fed
flexible design
Foldable bag

$$
Sawyer MINI Filtration System

Small system
fits most bottles
occasional use

$
FS-TFC Drinking Straw Purifier

Personal use
adaptable design
small and compact

$
HydroBlu Versa Flow Water Filter System

Very compact filter
adaptable use of setups
can attach to your hydration bag

$$
Survivor Electric Water Purifier

Electric motor
high filtering capacity
small and lightweight

$$$
1. Katadyn Hiker Pro Filter – Best Overall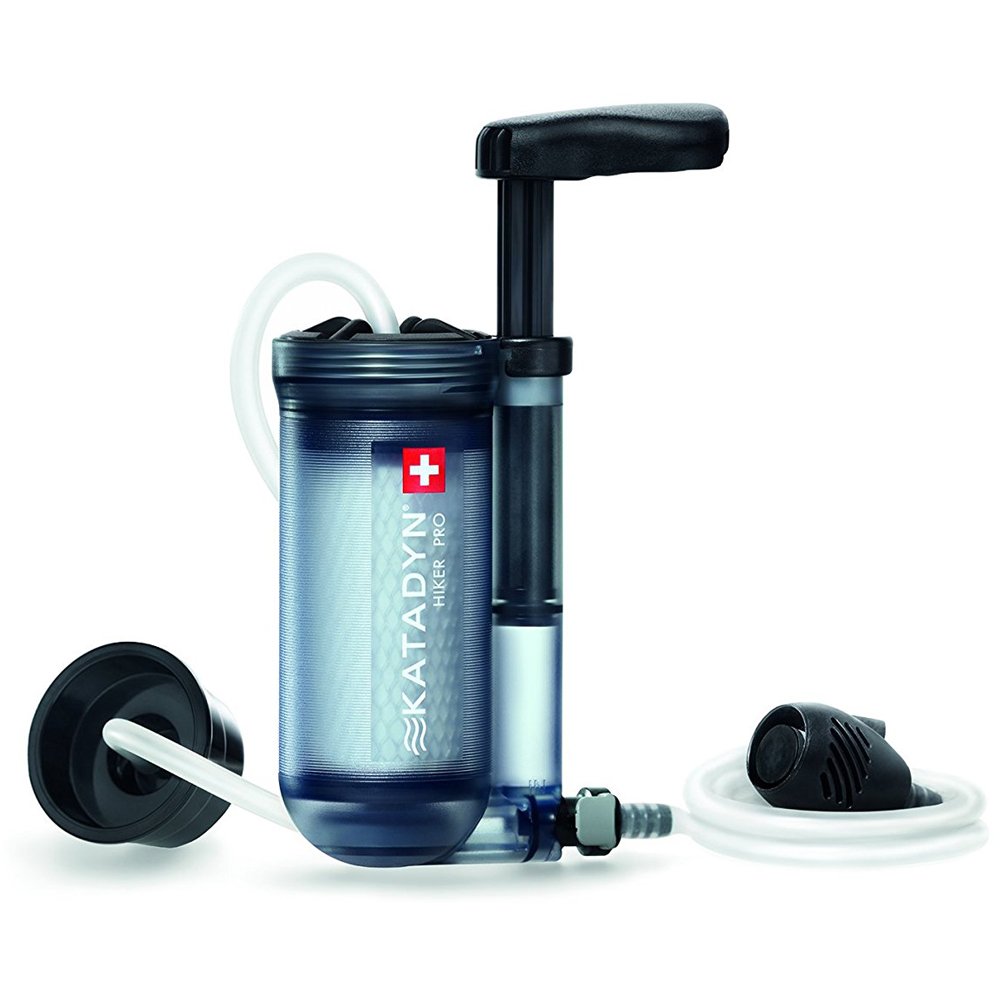 The Katadyn Hiker Pro Filter is by far the best portable water filter on the market, with a realistic price tag and an effective function, this filter isn't going to let you down.
Unlike the standard Katadyn Hiker Filter (see our runner-up for more details), the Pro offers complete reassurance that barely any bugs or nasties are going to get through your filter. With clarity of 0.2 microns achievable, you will be glad you picked the Hiker Pro over any others.
This filter is seriously lightweight at only 11oz, super compact, and is compatible with most well-known hydration backpacks such as camelback and platypus.
The activated carbon within the filter itself allows you to take water from anywhere and feel confident that it has been filtered properly. All in all we feel the Katadyn Hiker Pro is the best backpacking water filter overall for us.
Pros
Can filter to 0.2 microns of purity
Lightweight at 11oz
Compatible with most hydration backpacks
Activated charcoal filter
Cons
Doesn't fit onto water bottles
Pump housing could be more hardwearing
2. The Katadyn Hiker Original – Runner Up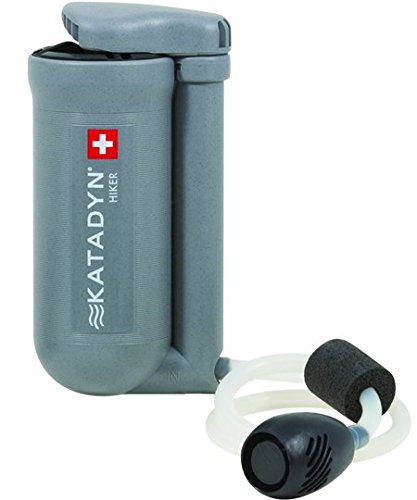 The Katadyn Hiker Original is the model before the Pro and as such, you can see a difference in the quality. Katadyn has made a great filter here but they took customer feedback on board and came back with the Hiker Pro.
However, for $30 less than the Pro, you can buy the original which has almost all the same features as the Pro, the main difference being that this one is made from a plastic outer housing instead of a glass fiber one.
It still comes with the activated carbon filter, the ability to purify water to 0.2 microns, the easy-to-use handpump, and the adaptors to attach it to your camelback or water bottle.
Overall for the budget, this backpacking filter is a good deal and will give you most of the things the Hiker Pro gives you, but for a lower price tag.
Pros
Purifies water to 0.2 microns
Adaptors for hydration backpacks
Activated carbon filter
Cons
Goes through filters quickly
Not the prettiest looking filter
3. Purewell Water Purifier Pump – Best for In the Wild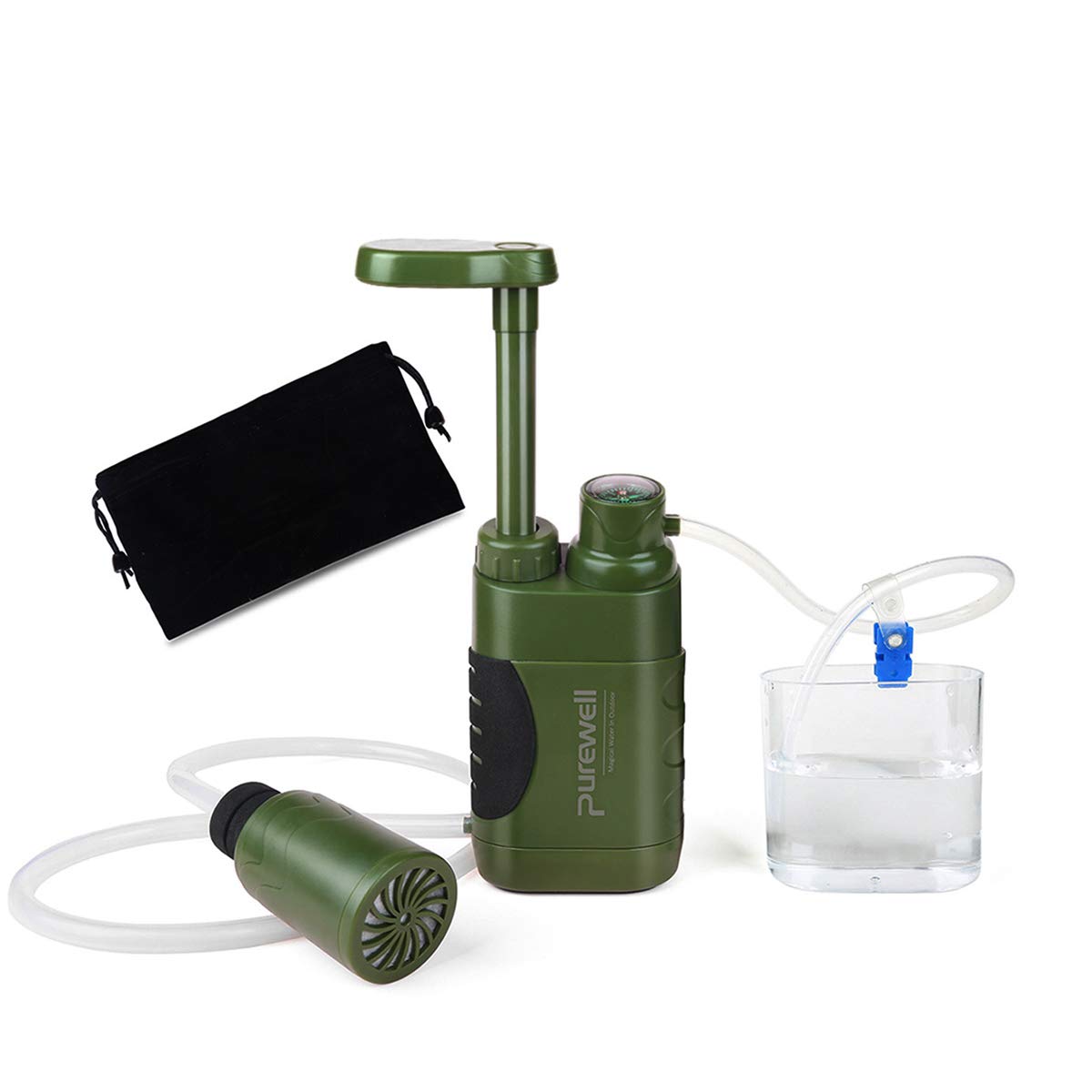 If you are looking for a small and compact filter that you can easily fit into your bag then the Purewell Water Purifier will be for you. Measuring at only 8cm wide, this filter will fit nicely in your hand and therefore not take up much space in your bag.
The attachment that comes for drawing up water can be put into any stream, river, or wetland as long as it's over 3cm deep and will easily purify it for you at a rate of 1400mls a minute.
Each of the carbon filters can process up to 3000 liters before it needs to be replaced so you can go for weeklong hikes and not worry about having to take an additional filter with you.
This filter comes from a range of pure good products which range from single-use straw filters to the pump, so you know that this product has been made with quality and efficiency in mind. The Purewell Water Purifying Pump is a good value for what you get and will be a worthwhile item to take on your trips.
Pros
Compact design
Filters 1400mls a minute
Activated carbon filter
Filters last for up to 3000 liters
Cons
Hoses and attachments could be neater
4. Purewell Personal Water Filter Straw – Best for Single Trips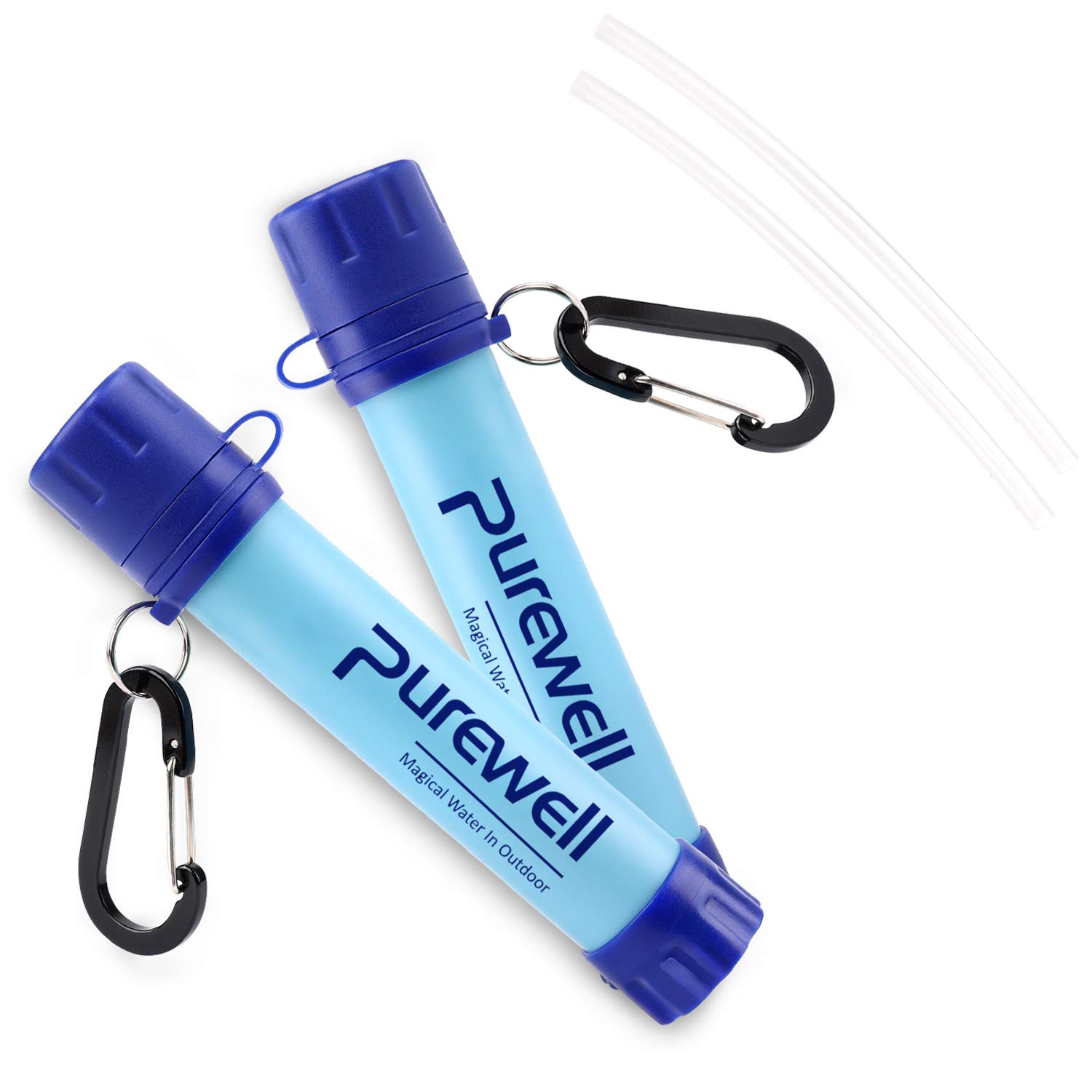 Another great from Purewell, this filter is designed to be used as a single trip item and can filter up to 2 liters of water. The filtration accuracy on the purity of this water is 0.01 microns meaning that you can drink from anywhere and hardly any bugs will get through.
The filter itself is designed so well that you can simply bend down into a stream and drink straight from it using this filter straw.
The food-grade outer casing is completely safe for drinking through and the inside consists of a 4 layer system that not only has activated carbon but also contains a layer of cotton and a hollow UF membrane as well that purifies your water even more.
The Purewell Personal Water Filter has a carabiner clasp on the side which allows you to attach it to the outside of your bag so it won't even take up any space. If you are only heading out on one or two trips this year then the Purewell Filter Straw is the one for you.
Pros
4 layer filtration system
Filtration accuracy of 0.01-micron purity
Can drinks straight from any water source
Easy to carry
Cons
Not suitable for more than one trip
Not easy to recycle
5. The MSR TrailShot Portable Water Filter – Best for Lightweight Design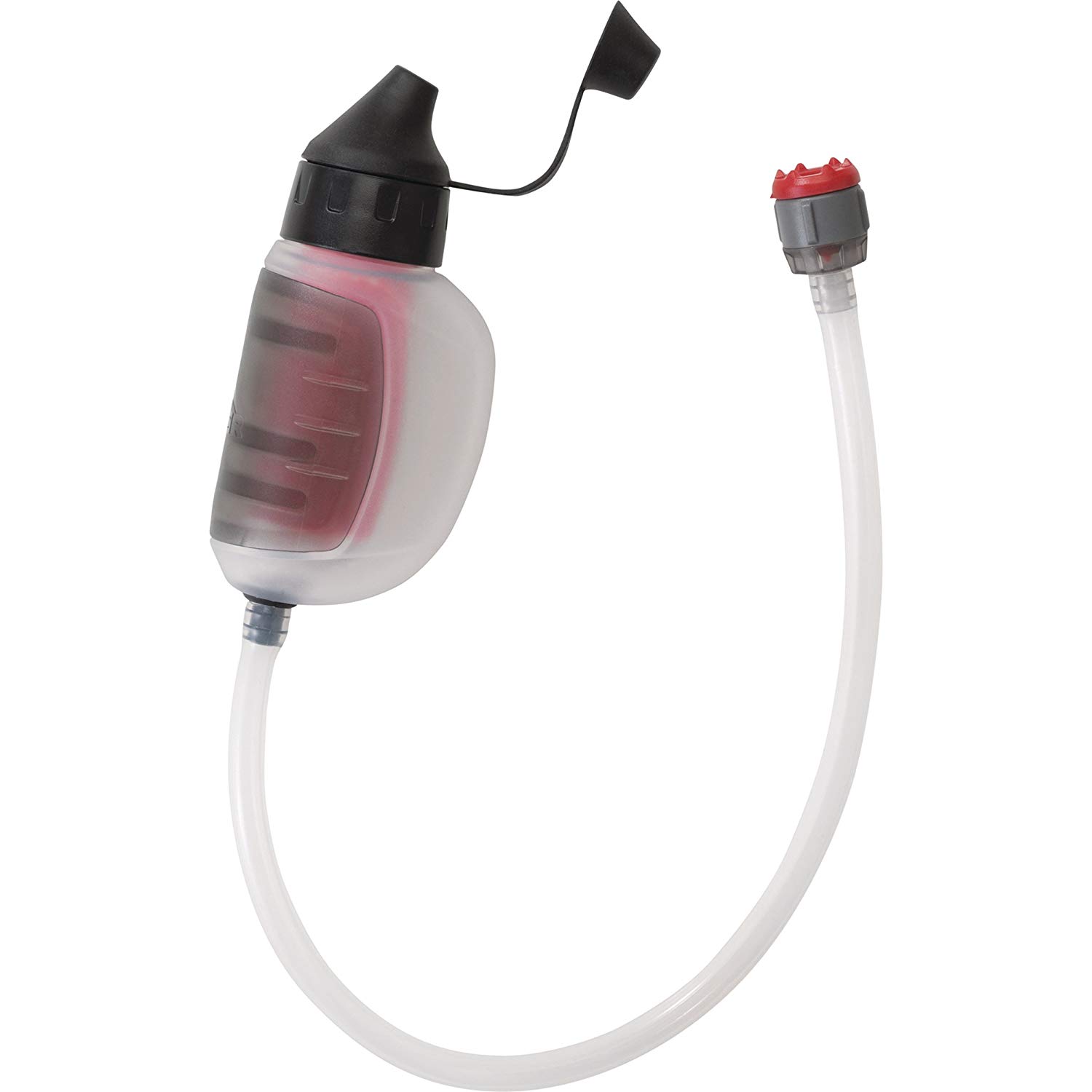 We know that it can be a slog having to yomp over fields with a heavy backpack full of sleeping bags, portable cooking equipment, and food, so the last thing you need is to add more weight with a heavy water filter.
The MSR TrailShot Filter is only 5oz making it one of the lightest on the market. Better still the design is so small that if you wanted to, you could pop it in the pocket of your coat and barely notice it's there.
Designed to be used as a hand pump, the water is quickly sucked up by the external hose and filtered through the hand pump. IT can filter a liter in 60 seconds and can guarantee that it works against 99.9% of germs and bacteria that you might otherwise end up drinking.
While this filter isn't cheap, it certainly is effective, it really is true that great things come in small packages.
Pros
Super lightweight at 5oz
Easy to use hand squeeze pump
Fits inside your pocket
Filters to 0.01 microns
Cons
Fiddly if filling a hydration backpack or container
Needs cleaning out after use
6. LifeStraw Flex Advanced Water Filter – Best for Campers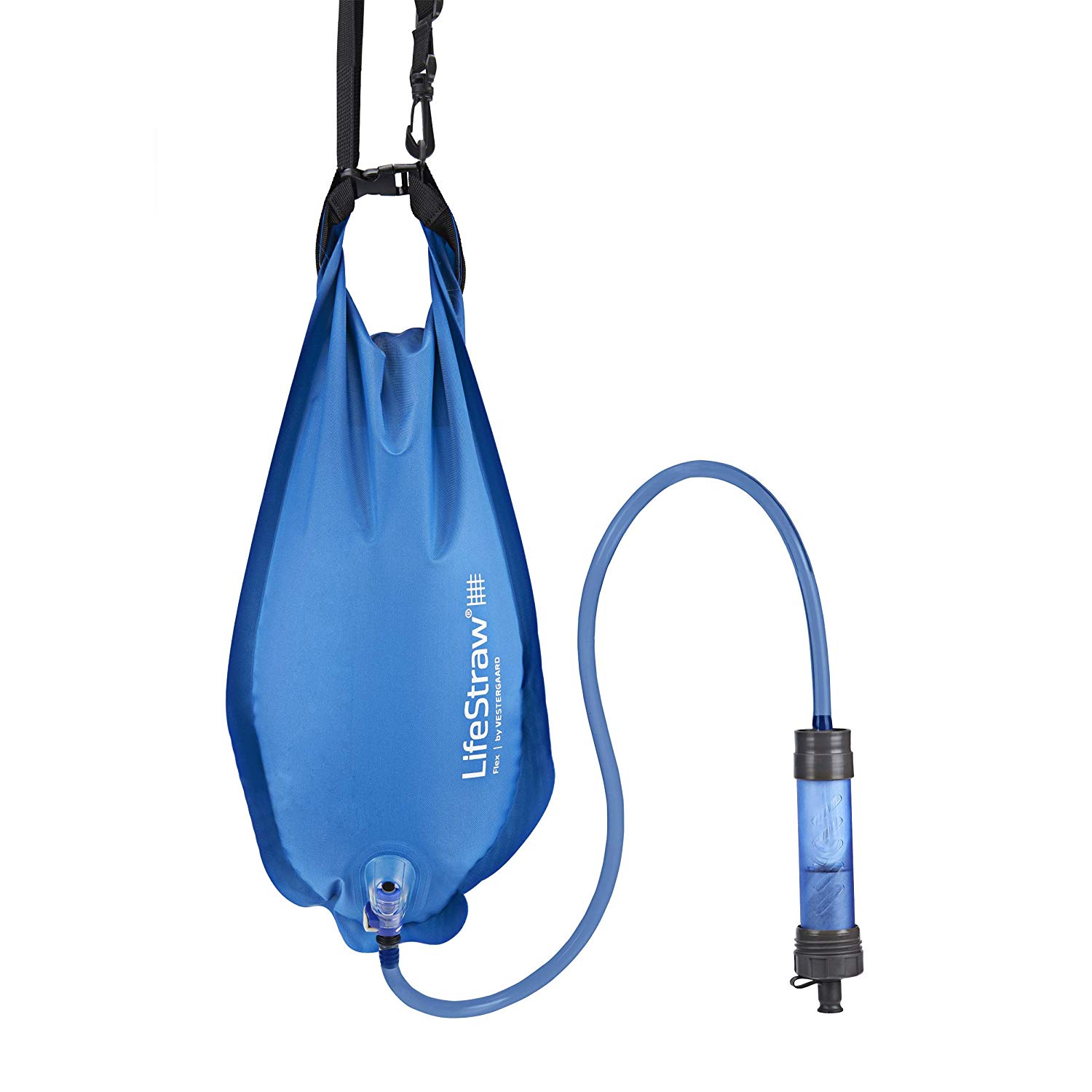 If you enjoy camping under canvas or indeed camping under the stars then the LifeStraw Flex Advanced Water Filter will be a good setup for you. Designed to filter the water using a gravity bag, this filter can be left to its own devices while you are busy setting up camp.
Simply fill up the bag from any water source, hang it where suits you and use the release valve at the end of the pipe to drink the water or to fill up your hydration bag.
Not only will this water filter process all of the water in the bag but you can also use it as a personal straw filter as well. Simply remove from the hose. The purity of the water is guaranteed at 0.2 microns and the filters themselves can last for 2000 liters of water.
The best part about the LifeStraw Flex Advanced Water Filter is that Life Straw pledge that every item purchased helps towards giving a school child in a third world country safe drinking water for a whole year.
Pros
Gravity-fed
Filtrates to 0.2 microns purity
Flexible design which can also be used as a personal straw
Cons
Big and cumbersome
Difficult to fill the bag from shallow water sources
7. Sawyer MINI Filtration System – Best for Bottle Use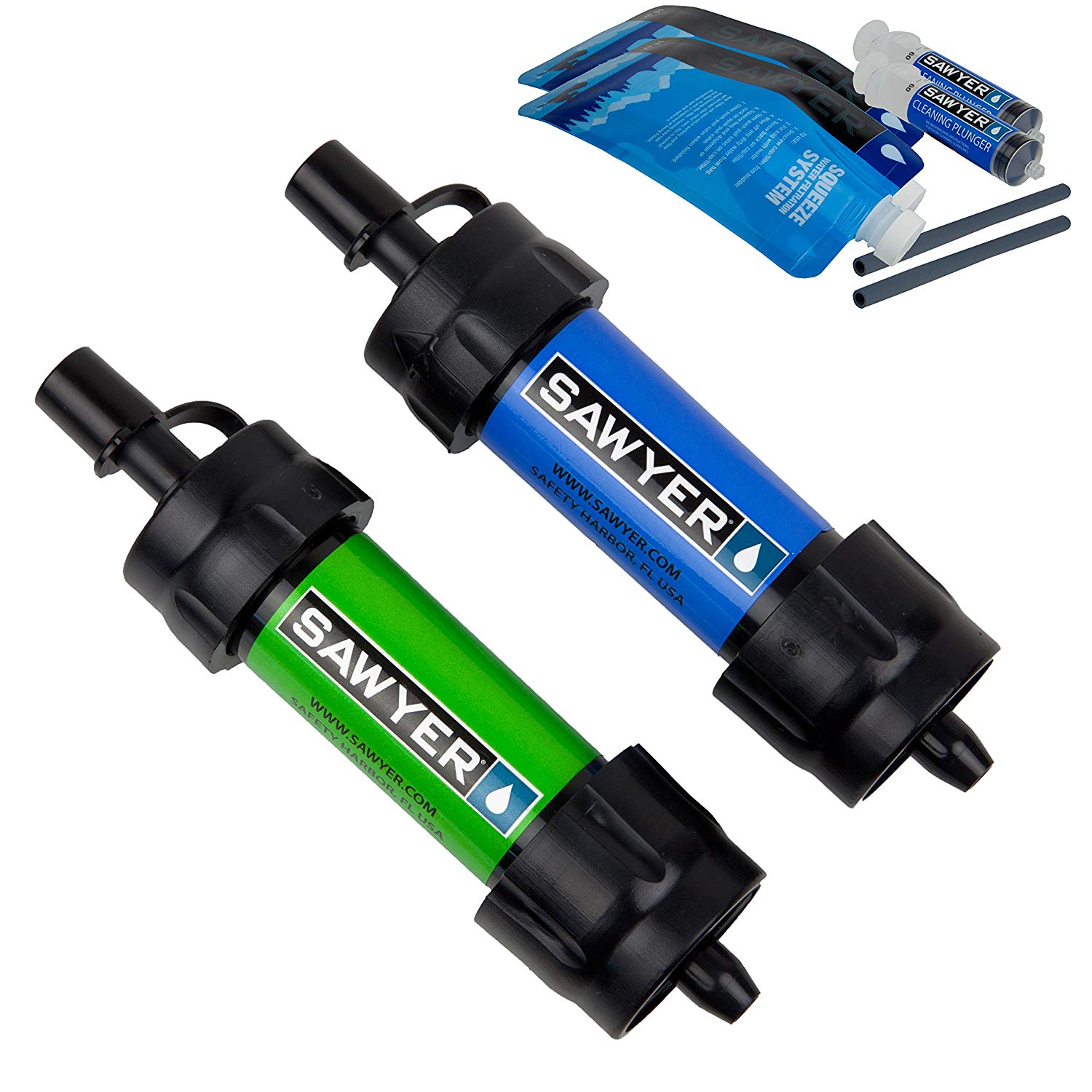 Sawyer has come up with the answer to the best bottle filtration system that isn't permanently fixed into a bottle The MINI is a great little filter that attaches to the top of your water bottle or only the end of your hydration backpack and filters the water as you drink it.
It is small and easy to use and best of all won't take up any space in your bag! The system itself comes with additional drinking pouches, cleaning plungers, and drinking straw attachments so it really will suit every need.
The filters themselves promise 99.9% purity when filtering the water so no germs or bacteria such as salmonella will get in. One Sawyer filter will clean up to 50,000 gallons of water which is amazing given that they only weigh 2oz each!
All in all, these guys are worth buying to have in your backpack for those "just in case" moments and for heavier duty challenges such as weeklong hikes too.
Pros
Purifies to 0.1 microns
Super lightweight at 2oz
Filters up to 50,000 liters
Flexible design suitable for bottles, hydration backpacks, and more
Cons
Better suited to on the go
8. FS-TFC Drinking Straw Purifier – Best for Personal Use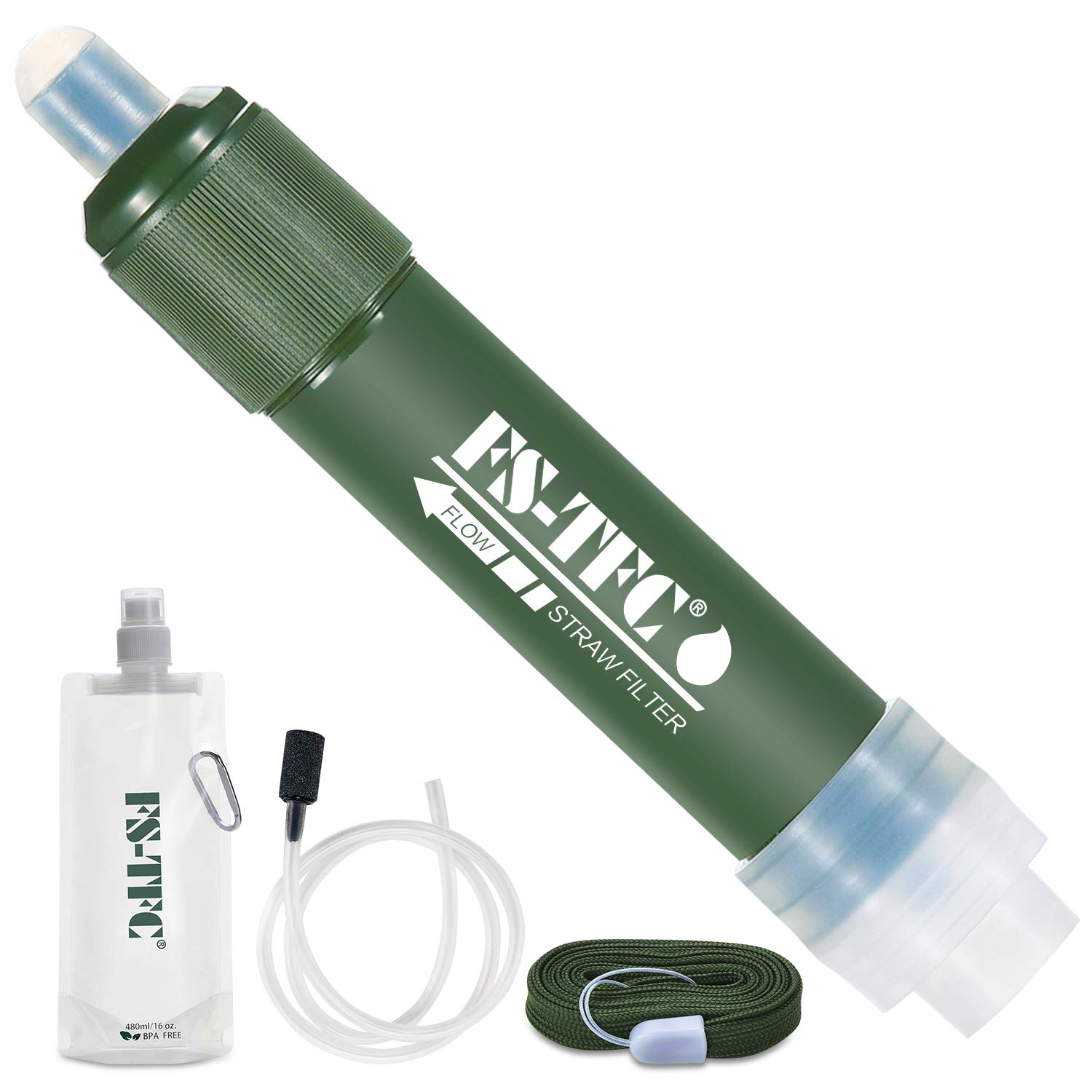 With filtering drinking straws becoming more popular with hikers and backpackers, it's no surprise that the FS-TFC Drinking Straw Purifier has become such a well-known name.
This little piece of technology not only filters your water but does so all in the space of a 4-inch tube. The design of these straws is that they can be used straight at the water source or you can use the additional water pouches to collect the water, add the filter straw and drink the water from there.
It is a very effective method of cleaning your water when you don't know what sort of water sources you will have available.
The filter itself comes with a water pouch and a pipe that can be inserted into a water source. Both of these are made from food-safe silicone so you won't pick up any harsh chemicals from those.
The filter has a 3 layer system which it pumps the water through to clean it and the filter can last for up to 4000 liters of cleaning capacity. Add on to this the fact that it can clean water to 0.1-micron purity and you have the perfect drinking straw purifier.
Pros
Adaptable drinking straw fits most bottles
Can be used straight from the water source
Filters to 0.1 microns of purity
Cons
Not great for filtering large quantities in one go
9. HydroBlu Versa Flow Water Filter System – Best for Backpackers
Backpacking can take many forms. Some people see it as going from one Airbnb to the next in different countries while others see it as hiking through different countries with just a bag of your possessions on your back and a dream.
If you see backpacking as the latter, then the HydroBlu Versa will be of interest to you. This little system Is designed to filter water quickly with a little 2-inch long filter.
You can use it in a variety of ways to suit you which could be filtering large quantities with a gravity-fed setup or it could be attaching it to your hydration backpack and filtering your water instantly.
The HydroBlu promises 01-micron filtering purity that will filter an astonishing 100,000 gallons of water in its lifetime.
This makes it both the smallest and the most durable filter we have on our list. This little system is a great solution for those looking to filter their water on the go.
Pros
Tiny 2 inch filter weighing only 2oz
Lifetime warranty
Adaptable use of setups
Filter to 0.1-micron purity
Cons
Additional equipment is needed in most cases
10. Survivor Electric Water Purifier – Best of the Electric Filters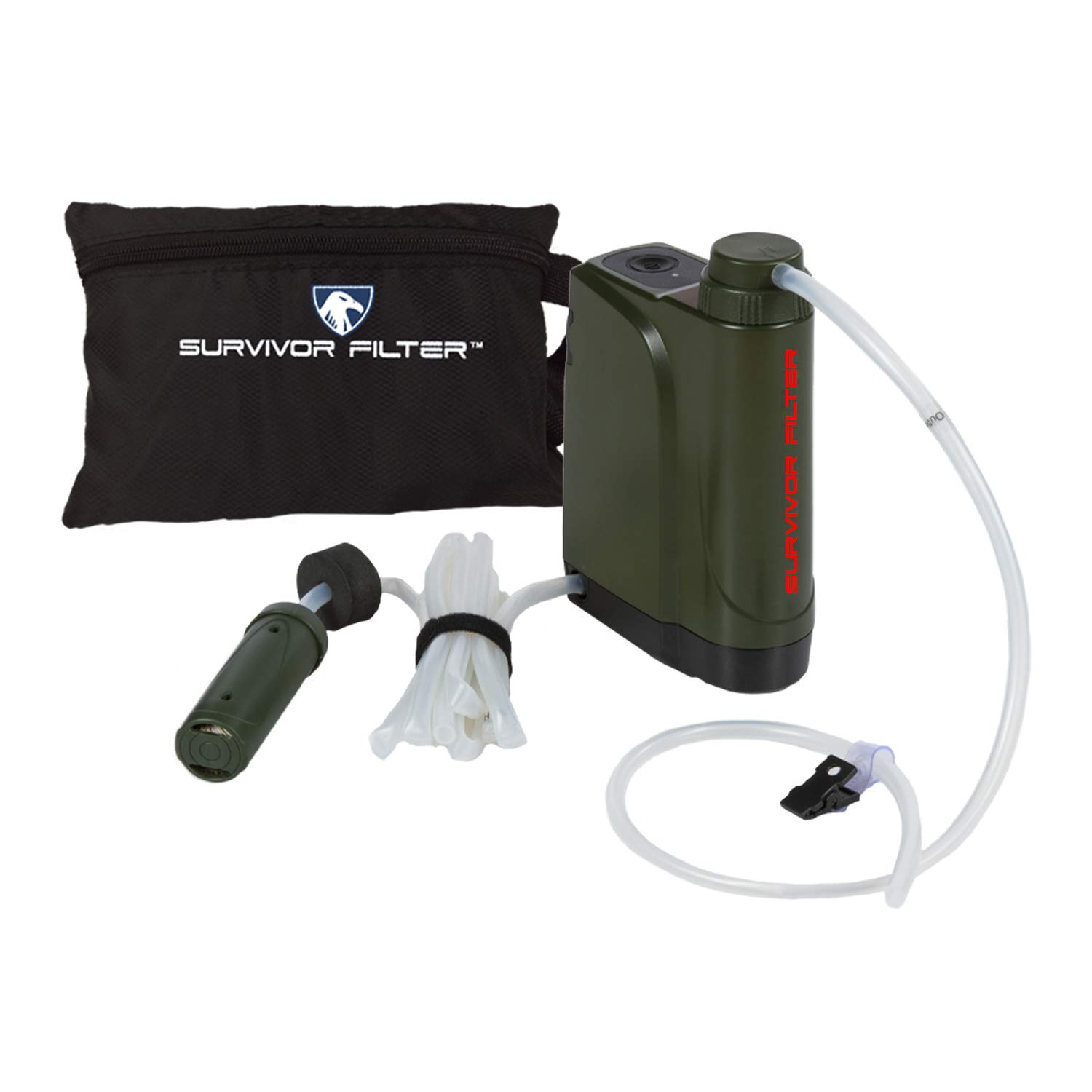 Boasting that it is the first handheld electric water filter, this pricey little number is the best (and possibly only) electric water filter on the market.
Still, as effective as the other filters on our list, this one requires 2 AA batteries (or can be plugged into a 120/240V power source) and does all the manual labor for you.
Easier to use than the hand pump filters, this electric version will filter 17oz of water a minute. All you need to do is to set up one end into a water source, another into your collection tank, and leave it to do its job.
The things to consider with this filter is that, while easier, you will need to take back up batteries for longer trips, and let's face it, where at the top of a mountain would you find a shop to buy spare batteries from if yours run out?
Useful nevertheless, the Survivor Electric Water Purifier does come at a high price tag, but it's what you would expect to pay for convenience.
Pros
Very easy to use
Electric pumping
Fast purifying at 17oz a minute
Cons
Expensive
Eats through batteries
Final Words
Now that you have seen all of the backpacking water filters that are on our list, which one are you going to go for? The small design of the HydroBlue or the ease of the Survivor Electric?
Whichever one you decide to go for, we hope that you have a great time on your trip! Remember to stay safe and only drink purified water.