Have you been looking for some new running shoes lately? Maybe running was your new year's resolution and you want to get the right gear before you try and smash that 10k? One new trend that people are raving about is minimalist running shoes. 
These shoes help you to feel the ground more and give you a better running stance. But what should you be looking for in a minimalist running shoe? And which ones are the best? We are going to discuss our top 10 best minimalist running shoes and compare each of them in detail. 
Originally created around the concept that less shoe gives you a deeper understanding of your running style, these shoes give you less cushioning and structure than a conventional sneaker.
While you still have a sole and fabric around your feet (although there are a few Barefeet models which barely have this), the premise is that without all this around your feet, your gait will change and you will run faster.
Most minimalist shoes need a bit of getting used to so if you don't like them on your first run don't give up! The more you run in them, the more comfortable you will feel and the better your body will adjust to running in minimalist shoes. 
Other things to consider when looking for minimalist running shoes is what are you going to be using them for? 
If you want a pair of sneakers that you can wear on the treadmill and then around the gym, then you are going to want to look for something that is lightweight and easy to slip on and off.
If you are looking to try trail running with barefoot shoes, then you will need a sturdier or thicker sole to protect your feet from rocks or jagged edges. 
Finally, if you want to fully commit to the barefoot running style then why not look at the "glove" design shoes that fit onto your foot like a glove with 5 sections for your toes? 
There are lots of different designs and styles to choose from and it all depends on what your needs are as to which will suit you best.
Here is the list of our top 10 best minimalist running shoes of 2020. Scroll down to see each product in detail.
Table Of Contents
Top 10 Best Minimalist Running Shoes in 2021
Image

Name

Features

Price

Buy Now

New Balance Men's MT10V1

Vibram sole
Synthetic shoe
Antibac inner sole

$$$

 

Vibram Men's KSO EVO Cross Training Shoe

Vibram sole
Glove style shoe
No padding

$$$

 

L-RUN Athletic Shoes

Thin rubber sole
Very lightweight
Suitable for a range of sports

$

 

ALEADER Men's Minimalist Trail Running Shoes

Flexible sole
Mesh outer
High grip sole

$$

 

TSLA Men's Running Minimalist Shoe

Budget-friendly
Cushioned inner
Rubber sole

$

 

JOOMRA Women's Minimalist Barefoot Shoes

Rubber sole
Removable insoles
Cushioned outer for additional support

$$

 

FitKicks Original

Super thin sole
Foldable design
Scuba material

$$

 

Merrell Men's Vapor Glove 4 Sneaker

Vibram sole
Cushioned outer
Vegan friendly

$$$

 

WITHIN Men's Cross-Trainer

Suitable for Offroad
Vegan friendly

$$

 

Weweya Barefoot Shoes

Rubber sole
Synthetic outer
Cushioned inner

$

 
1. Best Overall: The New Balance Men's MT10V1 Minimus Trail Running Shoe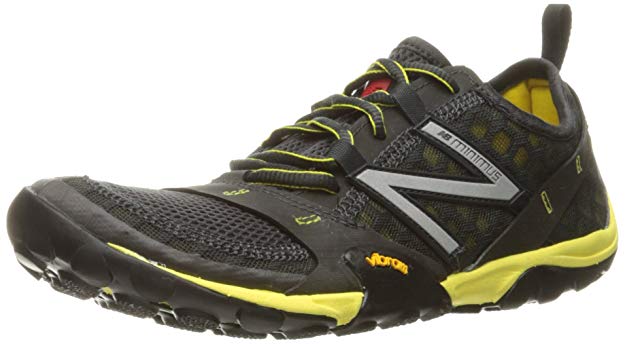 New Balance is a well-known name when it comes to sneakers, and their Minimus Running Shoe does not let them down. Made with the same quality and care that goes into their standard sneakers, the New Balance Minimus is one of the best minimalist running shoes on the market today. 
This sneaker features a rubber sole with Acteva midsole which also happens to have an antimicrobial treatment inside which is crucial as minimalist shoes are designed to be worn WITHOUT socks. The mesh shoe itself is 100% synthetic which makes it more breathable so your feet don't get too sweaty.
Overall this is the ideal shoe for anyone who is going to start running seriously and wants to understand the road or trail. With just the right amount of support but the flexibility of a minimalist shoe, these sneakers are top of our list.
Pros
Vibram outsole (perfect for off-road)
Mesh outer shoe to help your feet breathe
Antimicrobial layer in the sole to reduce athlete's foot
Cons
Only comes in black
Sole is bulky for serious minimalist runners
2. Runner Up: Vibram Men's KSO EVO Cross Training Shoe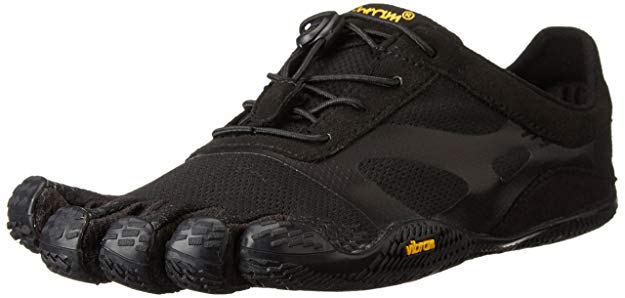 The Vibram Cross-Training Shoe is our runner-up, simply because it's not for everyone. Why's that Because unlike the New Balance these shoes are actually designed more like gloves than sneakers.
They have 5 sections for your toes to go into, just like you would insert your fingers into a glove. Some people find this a step too far and can't wear them, but if you persevere and get comfortable with them then you will see that they are actually a fantastic shoe. 
Helping you with both your gait and your speed, these shoes are made from polyester fabric and rubber soles. The toe sections have a sole that wraps around to your toenail which makes it more comfortable when you are running. 
The barely-there tongue and the light shoe fabric means that you can hardly feel the shoes when they are on, making them perfect for minimalist running. 
Pros
Rubber sole
Polyester mesh fabric shoe
Individual toe sections
Simple lacing
Machine washable
Cons
Not everyone will get on with the "glove" style
3. Best for The Gym: L-RUN Athletic Shoes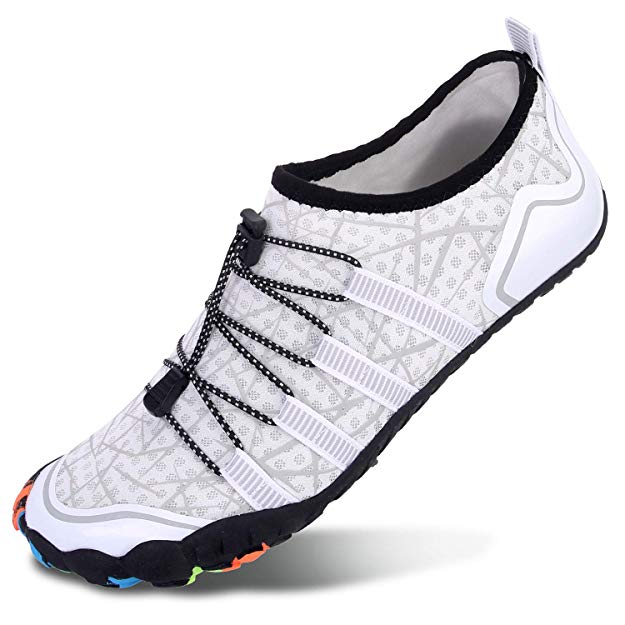 If you are more of a treadmill than a trail kind of runner (and let's face it, who wouldn't want to run indoors) then the L-RUN Athletic shoes will work well for you.
Still lightweight and minimal, these shoes come in a range of colors that will stay looking fresh every time you wear them to the gym. And with such a small price tag (under $30) you can pick up a few pairs!
These minimalist shoes have a rubber sole that is thin enough that you can feel the floor but sturdy enough that it won't break. The shoe itself is made from a synthetic mesh allowing your feet to breathe.
Combining the rubber sole and synthetic mesh means that you end up with a really lightweight shoe that will not only be useful when you are running but for other activities as well such as weight training and aerobics.
Pros
Super lightweight
Thin rubber sole
Suitable for a range of sport activities
Very good value for money
Cons
Less support around the foot
Not great for marathons and super long distances
4. Best for Flexibility: ALEADER Men's Minimalist Trail Running Shoes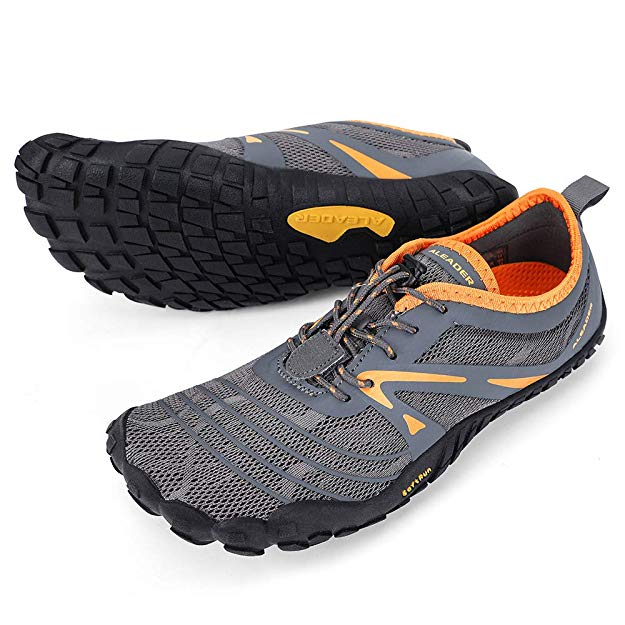 For those wanting seriously minimalist shoes, the ALEADER men's trail running shoes are worth looking at. Similar to the above shoes, they have a mesh outer shoe.
However, this one is slightly more structured and gives you a bit more support compared to some of the slimmer shoes. This shoe comes with the additional feature of fixed buckles and a pull-on/off tab at the back. 
The sole itself is slim with a great grip. It wraps around the base of the shoe and comes up the edge of the foot so you have extra support and comfort against any stones or twigs you might encounter on your run. 
The sole is so slim that you can even fold the shoes and roll them up. All in all, these shoes are great if you are looking for a flexible pair of shoes with a slim sole.
Pros
Slim, flexible sole
Breathable fabric
Extra support on the foot
Cons
The level of grip might be too much for treadmills
5. Best for Basics: TSLA Men's Running Minimalist Shoe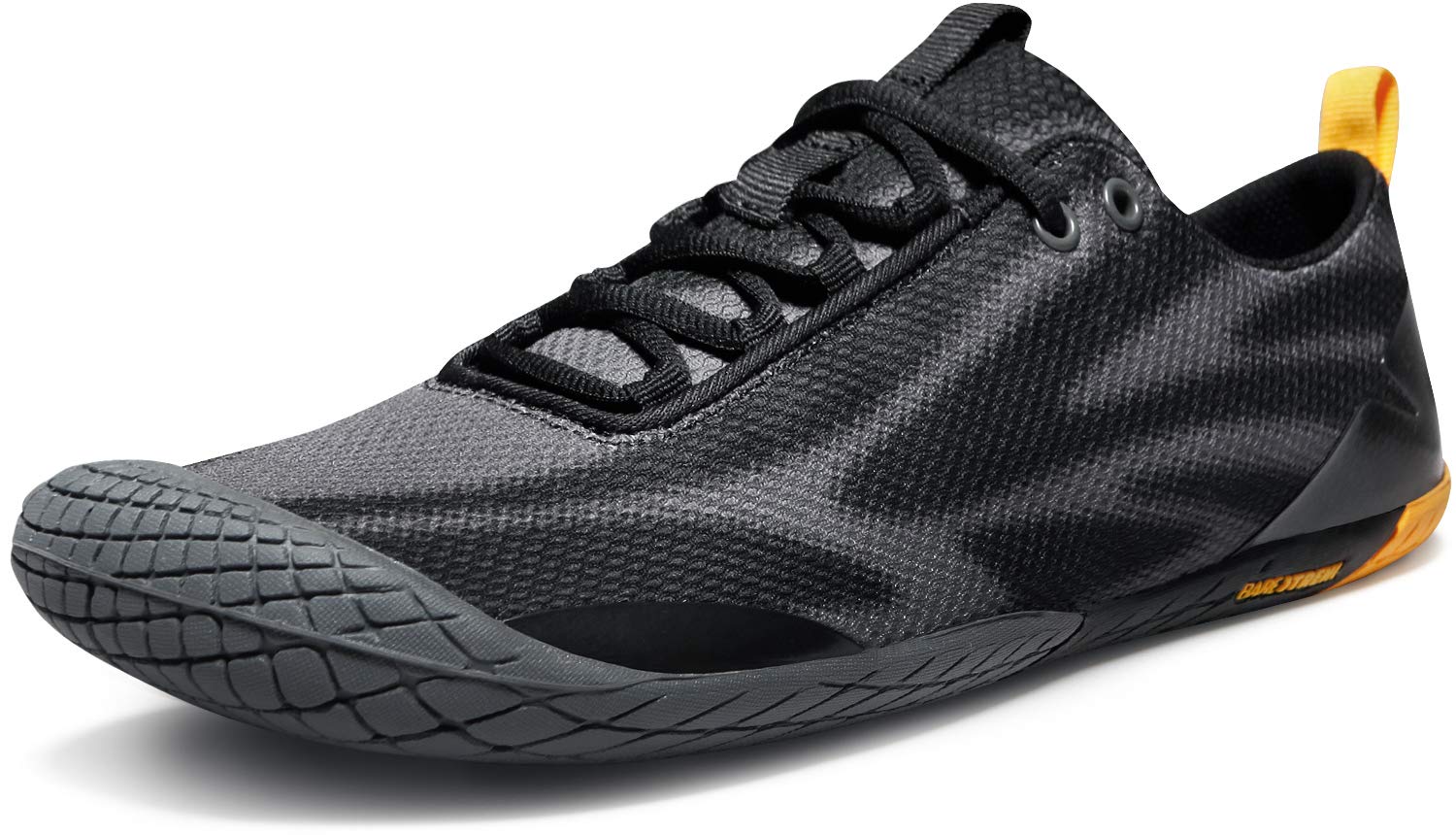 The TSLA running shoes are the perfect solution for people who want to try minimalist running but have a tight budget. These shoes may not have the best features or the latest technology, but they will help you to understand what it is like to run without as much support or weight on your feet.
The TSLA men's shoes come in under $30 and come in a range of sizes as well so if you don't like running in them you can always use them as your day-to-day sneakers instead. 
The sole itself has a small amount of cushioning inside which is to reduces the impact on your joints when you run. Over time you will change your running style and this will mean that your body will naturally correct the impact on your joints.
The non-slip sole gives you assurance when you are out running and the fabric, while not as lightweight as some of the others on our list, is still breathable and functional.
Pros
Slightly cushioned inner
Nonslip rubber sole
Additional instep support
Cons
Not suitable for regular running
Sizing can vary greatly
6. Best Minimalist Shoes for Women: JOOMRA Women's Minimalist Barefoot Shoes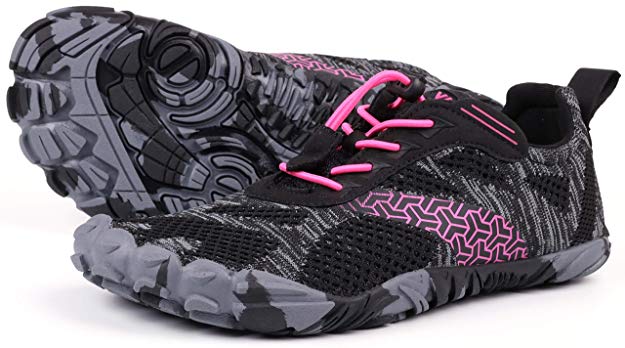 It's well known that women walk differently and run differently from men. Because the physiological balance is different between the two sexes, the way we run is different too.
With this in mind, the JOOMRA women's minimalist barefoot shoes are a great way for women to try out barefoot running to see if they like it. These shoes not only have a thin sole and minimal structure but are also lightly cushioned inside to prevent any chafing or irritation as you run along. 
The removable insoles mean that you can adjust them to suit you and the wide toe box style helps your feet to move freely rather than bunched up in the traditional shoe style.
Overall these shoes are the ideal solution for women and will definitely help you to run faster and more efficiently.
Pros
Rubber sole
Cushioned outer
Raised arch support
Removable insoles
Cons
Cushioning adds to the weight
Unfixed insoles mean they could move around slightly when running
7. Best for Everyday: FitKicks Original Women's Active Lifestyle Minimalist Shoes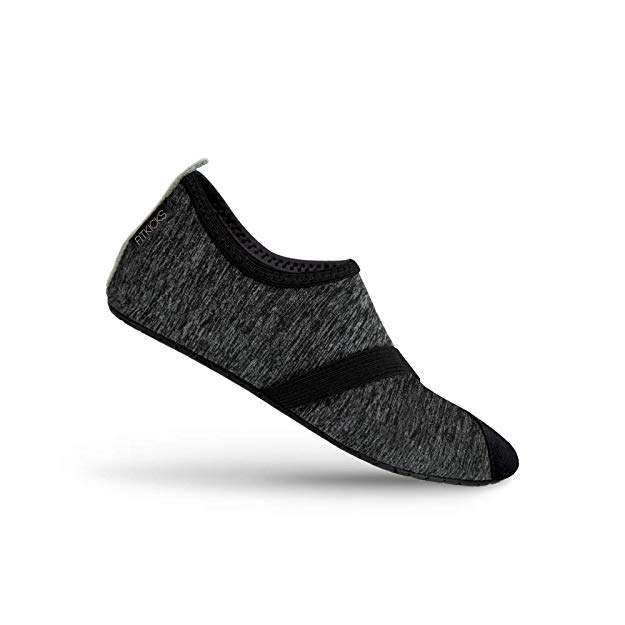 Minimalist shoes don't have to be restricted to running. You can wear minimalist shoes every day and enjoy the connection between your feet and the ground.
Useful for both running and activities such as yoga, the FitKicks are a great little sneaker that feels more like a pair of socks!
These super thin-soled shoes are made from scuba-style fabric that comes in a huge range of colors. 
They are so versatile that they can be folded up and popped into your bag, ready and waiting for you. While not designed for running marathons, you can still easily run errands, do aerobics or simply have them as a pair of backup shoes in your bag for whenever you need them.
Pros
Lightweight
Super thin soles
Foldable
Cons
Not suitable for long-distance running
Gives little support to your foot
8. Best for Brand Envy: Merrell Men's Vapor Glove 4 Sneaker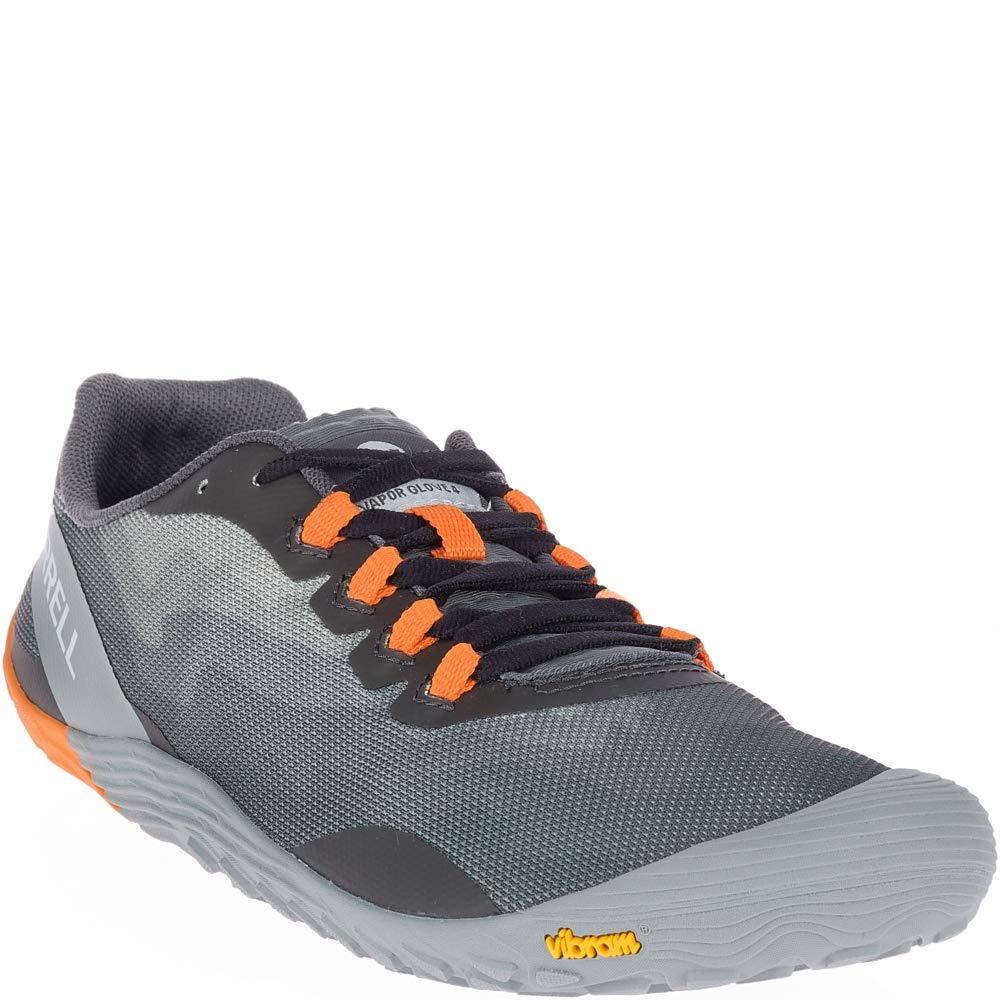 Merrells are one of the best-known names for barefoot running. If you have been doing your homework then you will know that Merrell put a lot of effort and money into designing their shoes.
They have a team of scientists and sports analysts who look at how effective a sneaker is and then adapt it to better fit the runner's needs. The Vapor Glove 4 has been given lots of scientific backing and is now a well-known shoe.
For those trying to spark a bit of brand envy out there, the Merrells are the shoes to do it in. These shoes come with Vibram soles, raised arch support, mesh uppers, and cushioned heel support. 
Best of all they are completely vegan! Merrells strive to use and reuse old sneakers in their footwear collection so by buying a pair of Merrells, you know you are helping the planet too.
Pros
Mesh outer
Cushioned heel support
Vibram sole
Vegan friendly
Eco credentials
Cons
Expensive
Not as flexible as others
9. Best for Trail Running: WITHIN Men's Cross-Trainer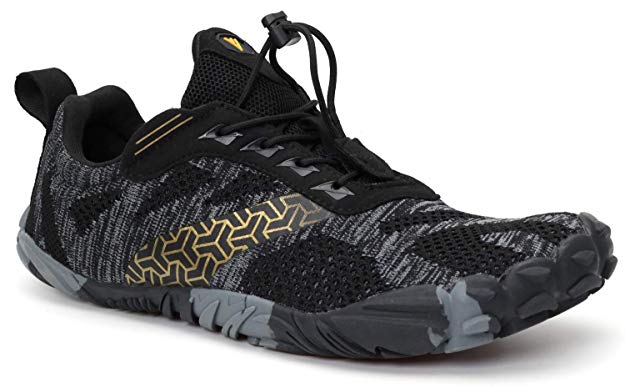 Looking for some minimalist trail shoes? The WITHIN shoes are ideal for this kind of running thanks to the much thicker sole than you'll find on the other sneakers. But even though it is thicker, it doesn't mean that you can't get the barefoot feel.
The rubber sole still allows you to feel the road and the ground underfoot, it just protects you from damage when you come across rocks, stones, or twigs. The thicker outer shoe is also beneficial for trail running because it protects you as well. 
Complete with an easy on/off tag at the back and a toggle instead of traditional laces, these shoes even give the look of rugged and durable. They even rival the Merrells eco-credentials by being vegan friendly as well.
Pros
Thicker sole for off-road running
Padded shoe for support and safety
Vegan friendly
Cons
Bulkier than other shoes on our list
Heavy
10. Best for Male Athletes: Weweya Barefoot Shoes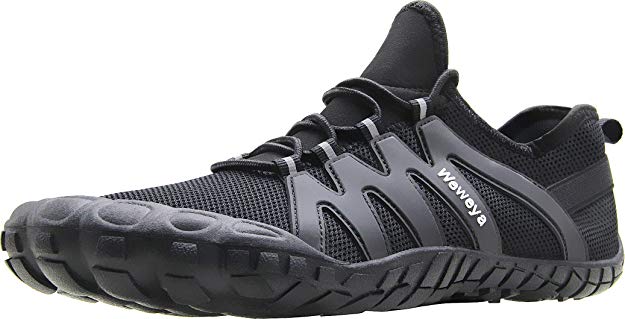 If you want to try barefoot training and want to include running into the mix then the Weweya shoes will be right up your street.
Not only are they suitable for trail running but they can also be used when you are working out, playing sports, or doing other outdoor activities. From climbing to cycling, these shoes will help improve your flexibility and stamina by enabling you to really feel the ground and by reducing the amount of weight on your feet. 
The WEWEYA minimalist shoes are made with rubber soles, synthetic upper (ideal for allowing your feet to breath), and padded insides. The sole itself is very flexible while the padded insides help reduce any chafing or rubbing that might occur while you are working out.
The wide toe box is different from standard sneakers as it is designed to give your toes more room rather than bunching them up into a point. Overall these shoes are great for anyone who wants to pursue a number of physical activities.
Pros
Rubber sole
Synthetic outer
Cushioned inner
Wide toe box design
Cons
Not as lightweight
Only 2 colors are available
Final Words
So, if you have ever thought of giving barefoot running a go or wondered if minimalist shoes are right for you, now is the time to buy a pair of the best minimalist running shoes and give them a try! 
At these prices for the high level of quality, you'd be mad not to give them a go.
Remember that the more you pay for a pair of shoes, the more study and science has gone into making them. Also, be sure to check your eco credentials and to buy your new shoes responsibly.
Good luck with your journey into barefoot running, we hope you enjoy it!