Whether you are looking for a composting toilet for the cabin in your garden or you are looking for a portable toilet for your camping trips then you have come to the right place!
There isn't much we don't know about excrement…well there isn't that much to know but anyway, we have found 10 of the best portable toilets which you can use no matter where you are when you need to go. Whether you are up a mountain or in the woods, in a field, or in an RV, we have a composting toilet to suit them all.
What Is A Composting Toilet?
Before we take a look at the top 10 best composting toilets for campers (and others), let's first talk a little bit about the concept behind a composting toilet. Simply put, composting is when materials (in this case human waste) is broken down by a process of using an additive such as sawdust, peat, or other chemical-based additives.
Using this process with a portable toilet is the best and most effective method to reduce the number of times you have to empty the toilet and also keeps the odors and bacteria at bay.
So along with your handfuls of sawdust and your compostable waste collection bags, what else are you going to need? Oh yes, a portable toilet. Here are our top 10 best composting toilets available on the market right now.
Table Of Contents
Top 10 Best Composting Toilet for Campers in 2021
Image
Name
Features
Price
Buy Now
Sun-Mar GTG Composting Portable Toilet

Compact design
removable cassette
liquid and solid separation

$$
Camco Portable Toilet (5.3 Gallon)

Large capacity
easy to remove the tank
sturdy design

$$
Porta Potti

Sleek design
toilet paper compartment
battery-powered flush

$$
Basicwise Portable Travel Toilet

Basic design
large capacity

$
Reliance Hassock Portable Toilet

Travel-sized
comfortable seat
low tech design

$
STANSPORT Portable Camp Toilet

Full-sized seat
carry bag
large capacity

$$
Camco Travel Portable Toilet

Travel-sized
detachable tank

$$$
Eddie Bauer

Basic, effective
extremely portable

$
ECO-Safe Toilet

Massive capacity
Super durable plastic
similar to a household toilet

$$$
Natures Head Composting Toilet

Completely self-contained unit
removable waste compartment
compost as it goes

$$$
1. Sun-Mar GTG Composting Portable Toilet – Best Overall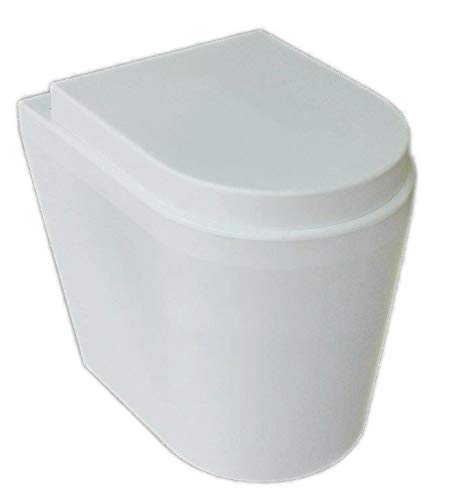 Above and by far the best composting toilet around has to be the Sum-Mar GTG Composting Toilet. It is small, efficient and good value too! Used for either camping or RV use, this composting toilet works by separating the solids from the liquids into two different chambers.
These chambers can then be removed and emptied as and when required (although don't leave it too long). Sun-Mar does their own microbe mix which you can use to help disperse the solids and keep the odors down as well, making this the ideal solution to a problem that most compostable toilet owners normally find.
The Sun-Mar doesn't require any water and as such can be installed anywhere. People have been known to put these toilets in their pool houses, cabins, and even at the stables. They make a great off-grid solution and would be fantastic for preppers too.
Pros
Splits solids and liquids
Doesn't require water
Can be installed anywhere
Great for off-grid or preppers as well as campers
Cons
The maximum weight limit might be a problem
2. Camco Portable Toilet (5.3 Gallon) – Runner Up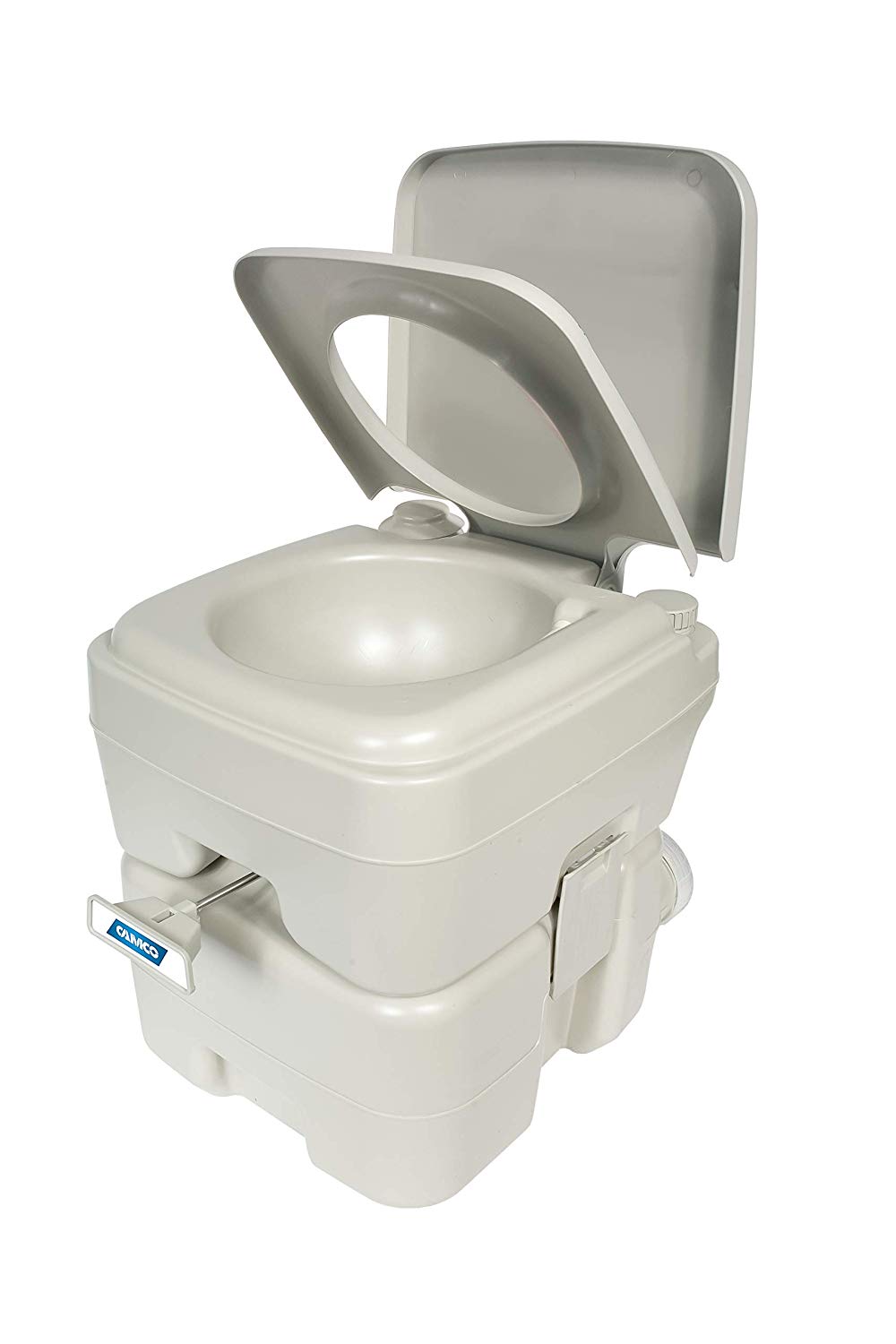 Unlike the Sun-Mar, the Camco Portable Toilet (5.3-gallon version) is a water-based toilet that has a flush and tank which holds up to 2.5 gallons of water. This system works in a more traditional way whereby it collects both solids and wastes together in the one lower tank which is easily removed to be disposed of.
This toilet is very sturdy, but with that also comes bulk. If you are tight on space or are looking for something lightweight, then this is not the toilet for you.
However, if you are looking for something to put in your caravan, camper, or large camping setup then this will be the perfect solution. You can use any toilet deodorizer so whether you choose chemicals or natural solutions is your choice.
The Camco is available in a smaller version (see further down our list) which is better suited to those traveling or wanting a light option. If you want a large waste capacity and a large flush tank, then we suggest you go for the Camco Portable Toilet 5.3 gallon option.
Pros
5.3-gallon waste tank
2.5-gallon flushing water tank
Sturdy system
Easy to remove the waste tank
Cons
Doesn't separate liquids from solids
Heavy and cumbersome
3. Porta Potti – Best for On the Go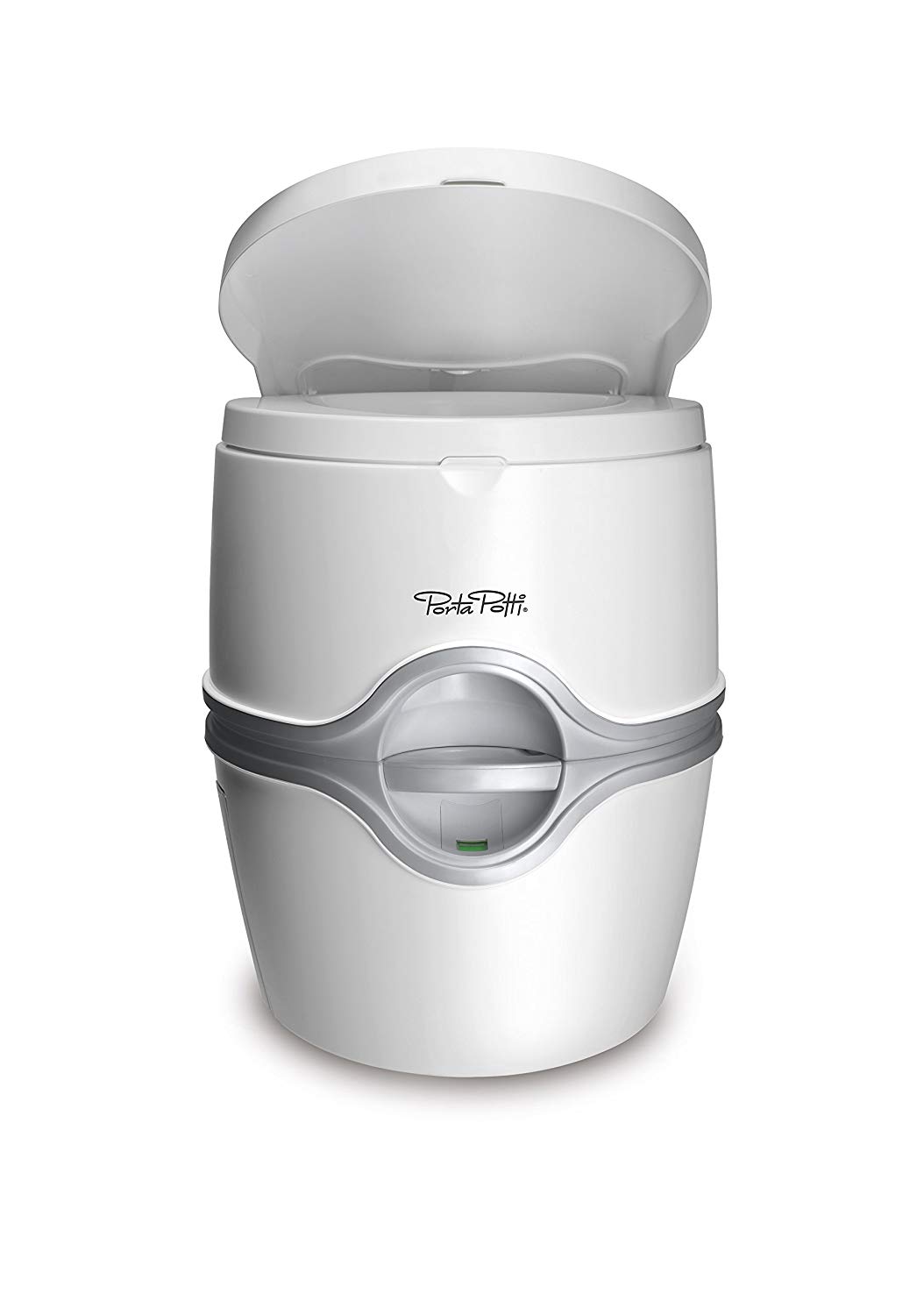 The ever classic Porta Potti was always going to be in our top 10 list thanks to its classic yet stylish design and function. This composting toilet would be suitable for all sorts of locations such as camping, boats, or van life.
The water-powered toilet has a battery-powered (6 AA's if you were wondering) flush which feels like a little added bit of luxury while the secret toilet paper compartment near the base is a little stroke of genius.
While some people may be wary about the fact that it runs off batteries, don't panic. These batteries can last for up to 1000 flushes, so you don't need to worry about being caught short in the middle of nowhere.
The whole system is easy to use and easy to empty with the waste tank being removed from the bottom. You can choose to put your own natural deodorizer inside eliminating any chemicals from your toilet.
The Porta Potti also comes with optional securing sockets so you can secure it to the base of your RV floor or wherever you choose to put it. These securing sockets are great for vehicles but also good for boats where the movement can be sudden. Overall this Porta Potti is best for on the go because you can pick it up and take it with you!
Pros
Battery operated flush
Compact design
Toilet paper compartment
Easy to empty
Cons
4. Basicwise Portable Travel Toilet – Best for Low Tech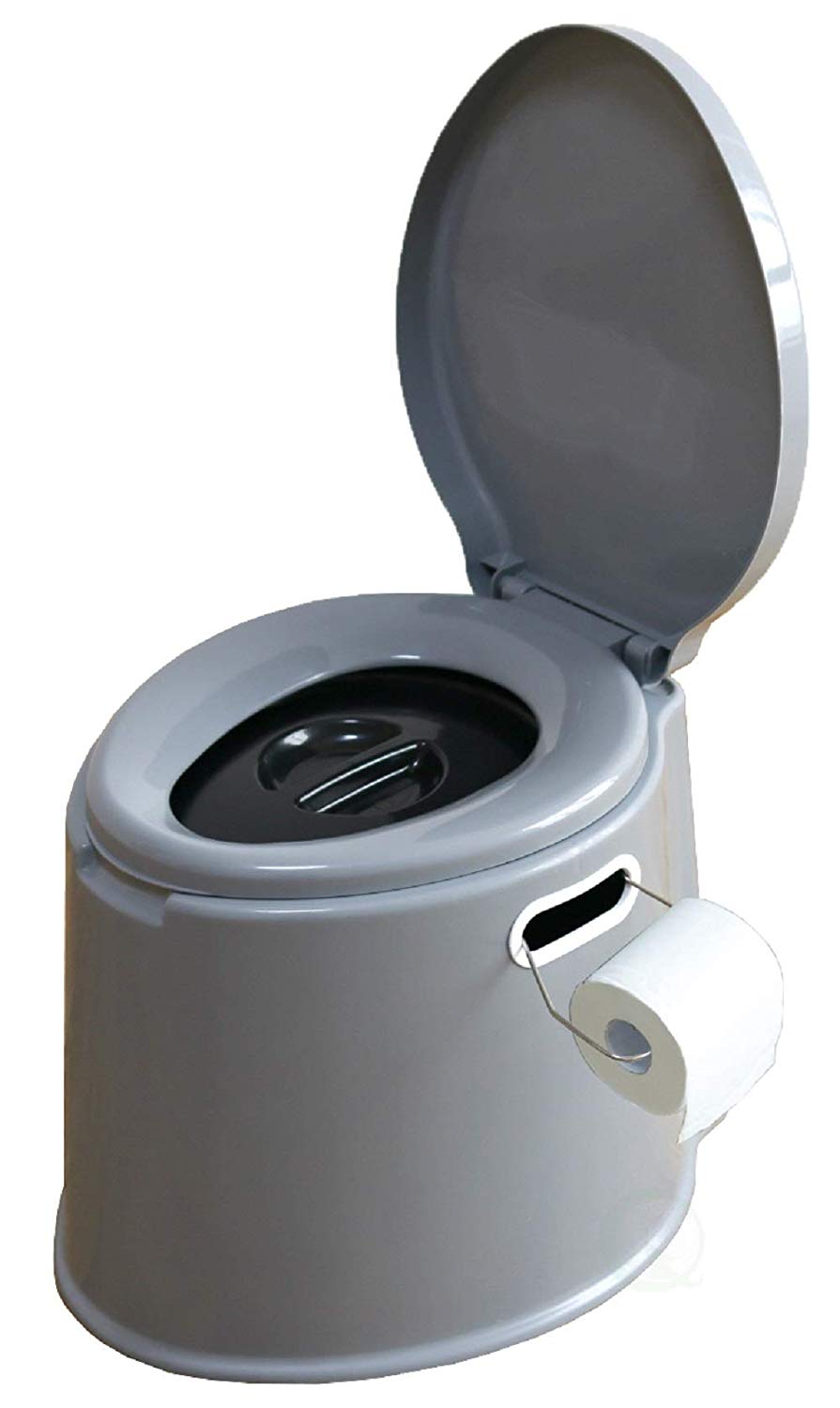 Not everyone is looking for a super tech, self-flushing, self-emptying toilet (although that would be nice). Some people, possibly yourself, would just like a composting toilet that is simple, effective, and can be taken anywhere.
The Basicwise Portable Travel Toilet does just that. The setup of this toilet is quite simple, you have a bucket underneath with a plastic outer base unit that has a comfortable seat on the top. The bucket lid helps to keep any smells or odors coming out there is a TP handle on the side.
If teamed with compostable toilet waste bags (the manufacturers recommend using an 8-gallon bag) then this is a completely low-energy composting toilet that doesn't waste any water and is completely compatible with your eco-credentials.
Overall this is the ideal product for people wanting to leave a low visible footprint when camping but don't want to completely give up all their home comforts!
Pros
Basic design
Lidded waste bucket for low odor
8-gallon capacity
Cons
A bit primitive for those who like luxuries
Needs to have waste bags
5. Reliance Hassock Portable Toilet – Best for Overnight Camping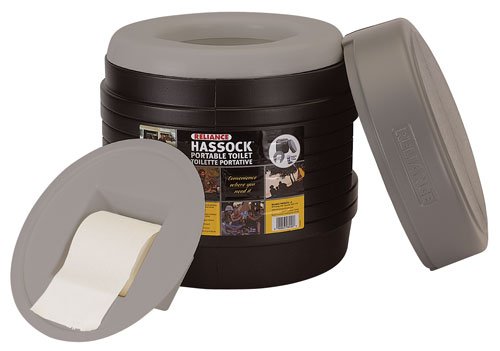 If you are looking for something small that you can take on overnight camping trips with you then the Reliance Hassock is a good choice. This little toilet only measures 14 inches high and weighs 5 pounds, but it is a great little piece of equipment.
Perfect for those middle-of-the-night toilet breaks; the Reliance will be a comfortable relief with the combination of a basic waste collection base combined with a contoured seat.
The lid fits snugly on top of the seat so no odors escape, and you can use waste bags to help make waste removal easier. This product is so compact that it can easily be stored in the trunk of your car on road trips or in your camper for short weekend stays.
All in all, this lightweight little toilet is a great investment for those who often do overnight camping and want their own facilities.
Pros
Small and compact
Waste bag compatible
Contoured seat
Cons
Not suitable for bigger trips
Will need emptying often
6. STANSPORT Portable Camp Toilet – Best for Full Sized Seat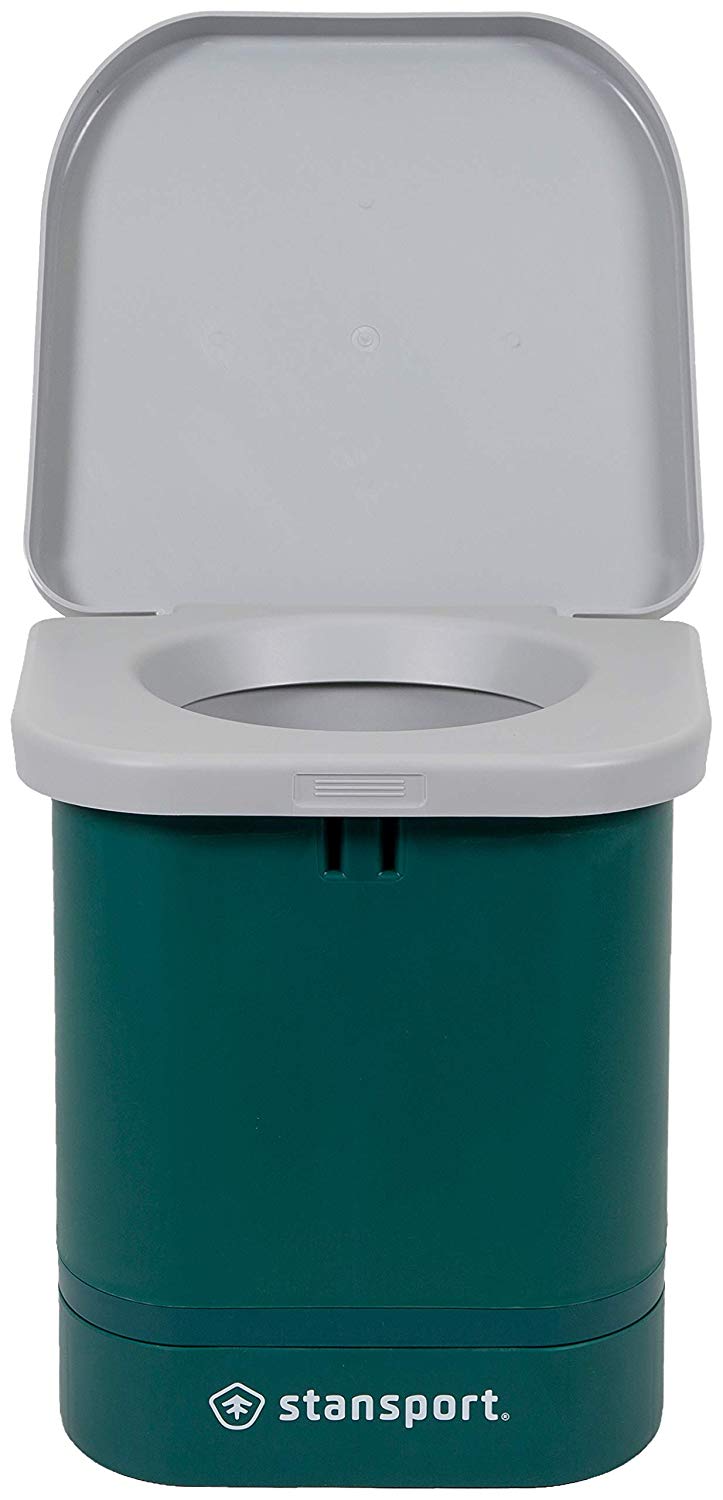 The smaller of you might wonder why a full-sized seat is important, and those people we say that you've obviously never had to use a child-sized toilet before! For those of us who have, let's say, more junk in the trunk, you need a full-sized seat so that you can feel comfortable when using your portable composting toilet.
Welcome to the Stansport Portable Camp Toilet! Complete with a full-sized seat for those of us who need it, it also comes with a large capacity for waste and a handy carry bag.
While this toilet may not have the additional features such as a battery-operated water flush, it is a step up from the basic seat of a waste collector-type toilet. It is the ideal option if you are just looking for something that is a bit more like home and a bit less like living in the wild.
Overall if you need something that is a bit sturdier and is likely to fit then the Stansport will serve you well.
Pros
Full-sized toilet seat
Durable design
Large capacity waste collection
Cons
Waste collection bags will be an added cost
Not cheap for the design
7. Camco Travel Portable Toilet – Best for Family Use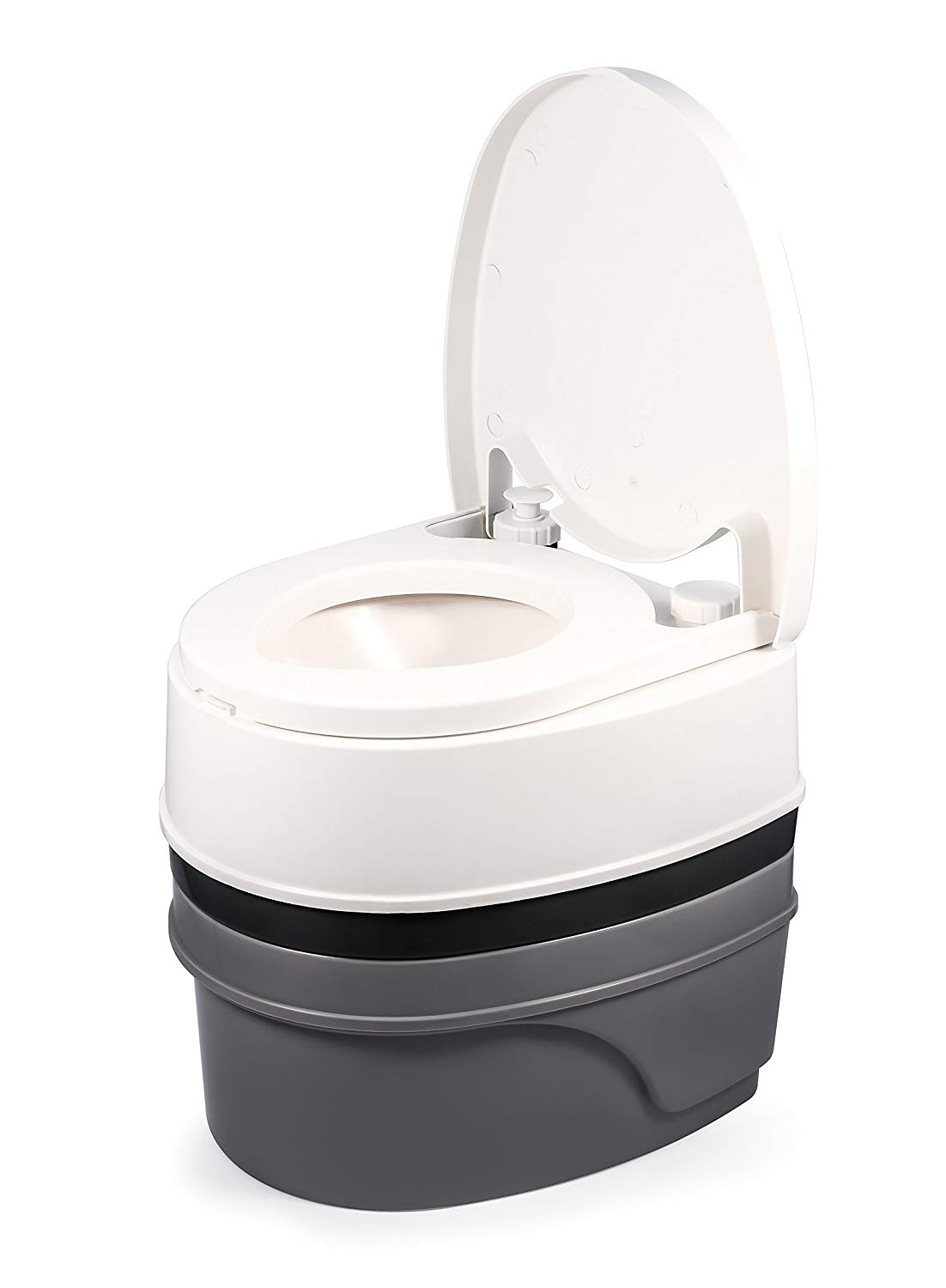 Another great from Camco, but this time in a travel size! This portable toilet is perfect for families taking road trips, toilet training children or generally rushing around in day-to-day life! The water tank helps to ensure that your waste doesn't smell and makes storing your toilet much more hygienic.
The tank is large enough for family use and is also detachable, so you won't need to cordon off the area from little eyes as you empty it. The 3.75-gallon flush tank can be easily emptied so you can move the toilet around without any spillages.
The beauty of all Camco products is that they have a lining inside the bowl of their toilets which is designed to be anti-stick.
This helps to keep everything clean and reduce the harboring of bacteria that you might get with other portable composting toilets.
Overall if you are traveling with children then we highly recommend the Camco Travel Portable Toilet.
Pros
Water flush
Family-sized capacity
Anti-stick bowl
Easy Emptying
Cons
Doesn't come with securing clips so could be sturdier
8. Camco Bucket Toilet Seat – Best for Budgets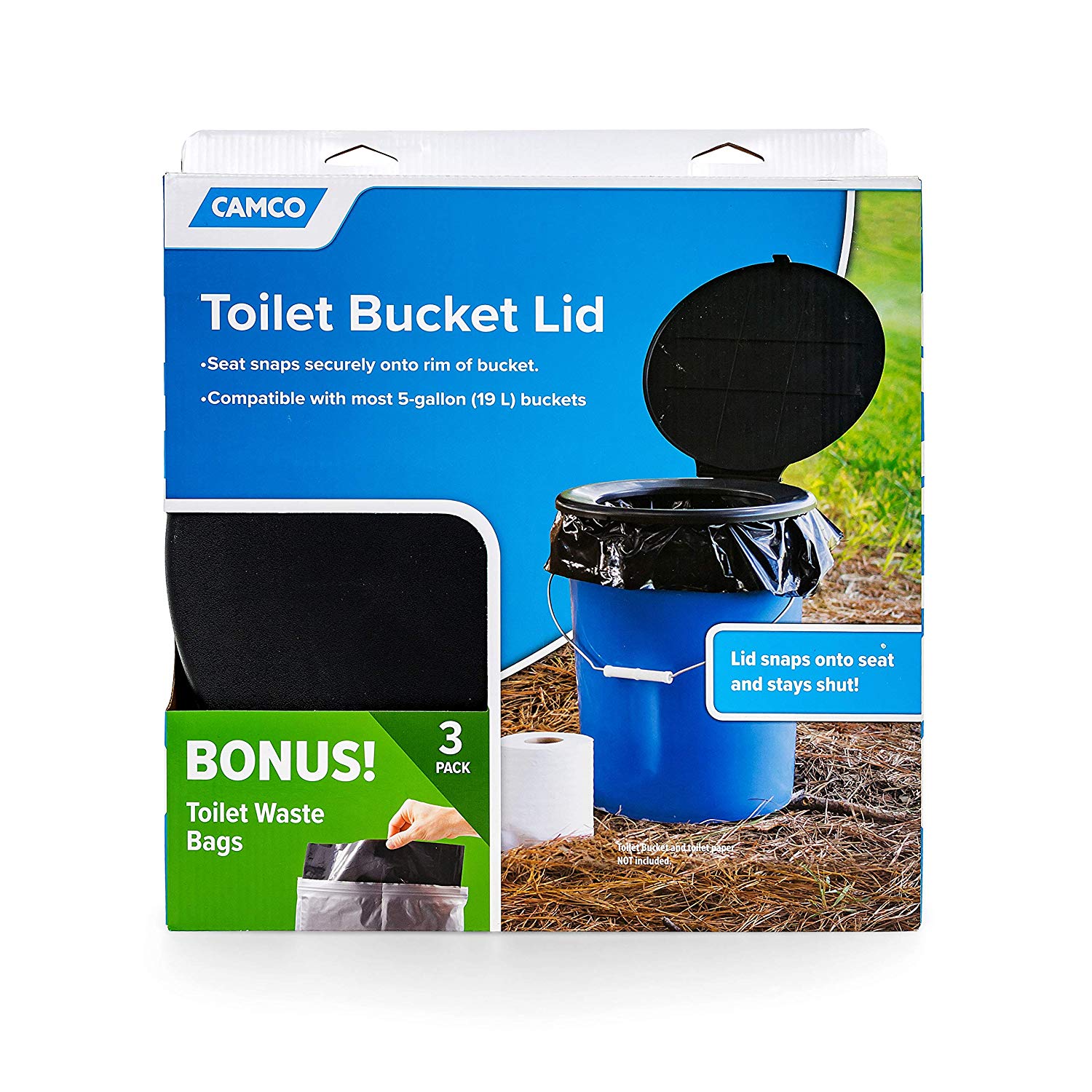 Yep, you guessed it. The Camco bucket toilet seat is, well simply, a bucket with a seat. If you want the cheapest possible option for your trip and you don't want flushing capabilities, neat looking toilets then the Camco bucket toilet is a safe bet.
Fitting on to most 5-gallon buckets, you can transform your old water carrier into a toilet in seconds. Made from hardened plastic, this seat also comes with a lid, so you don't need to worry about the smells escaping.
If you are still concerned about this then you can always double up with a toilet deodorizer or sawdust to help balance out the odors and neutralize the ammonia.
Combine this with a compostable waste collection bag and you have the ideal low energy (well no energy) water-saving toilet that you can take anywhere you like!
We do, however, recommend that you buy a new bucket as older, holed buckets may create a few issues.
Pros
Fits onto most 5 gallon buckets
Simple
Can be taken anywhere
Cons
More effective complete portable toilets are available for not a great deal more
9. ECO-Safe Toilet – Best for RVs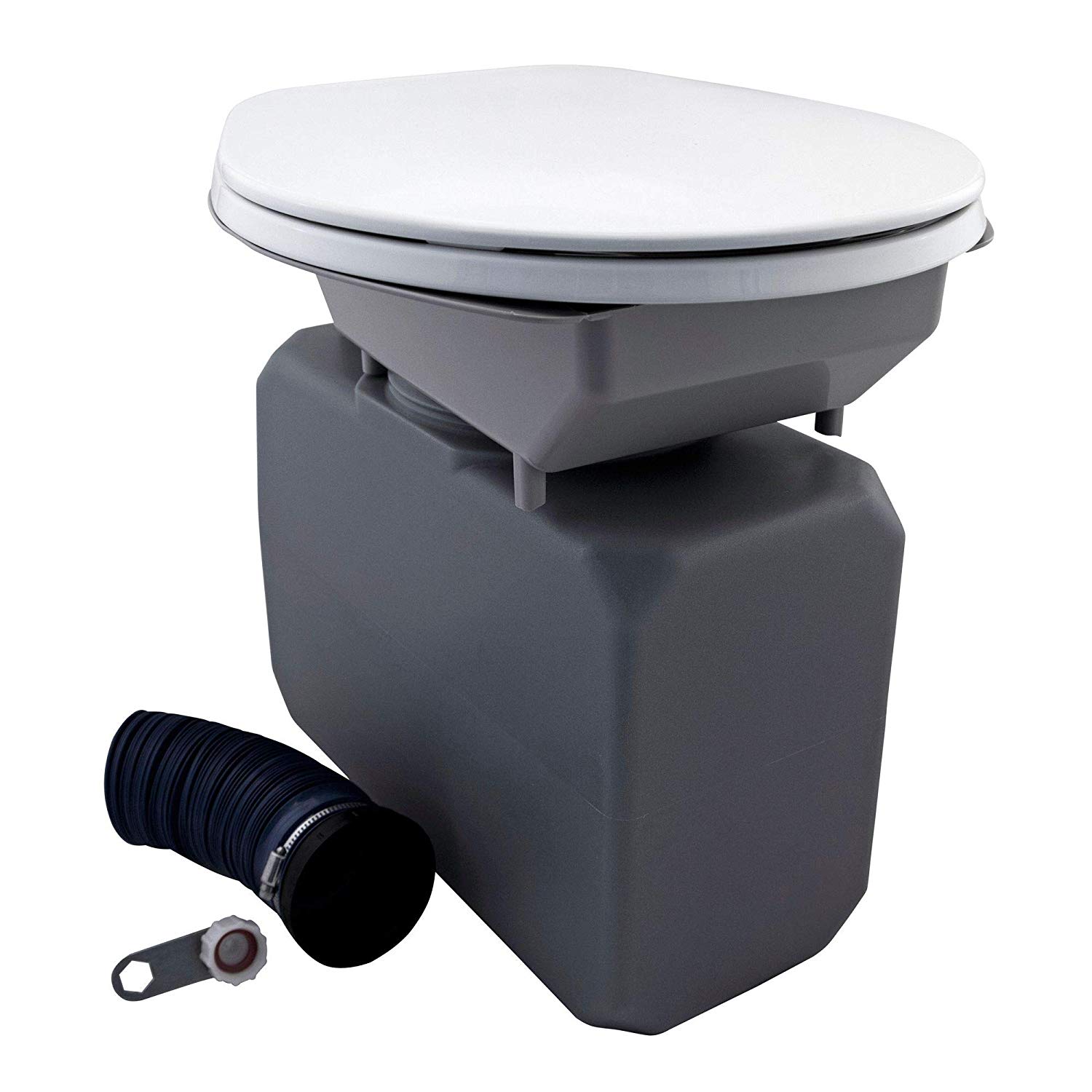 Looking for a portable composting toilet to fit in your RV or van? Then the ECO-Safe toilet system might be for you. From the 5.5 gallon tank that fits into a "rocket" box to the crushproof plastic molding, this toilet is a good option for anyone looking for a more permanent rather than portable solution.
The whole unit is 17 inches high which is almost the same as a standard household toilet, so you won't feel much of a difference between the ECO-Safe and the toilet you have at home.
You can choose between using compostable waste bags and the waste dump hose which comes complete with the toilet and makes it easier to remove the waste for those of us who are a little bit squeamish about the waste.
Overall this unit is ideal for campers, caravans, RV's, and van lifers alike.
Pros
5.5-gallon waste capacity
The same size as a standard toilet
Crushproof molded plastic
Cons
Not very portable
Not ideal for composting
10. Natures Head Composting Toilet – Best in High-End Composting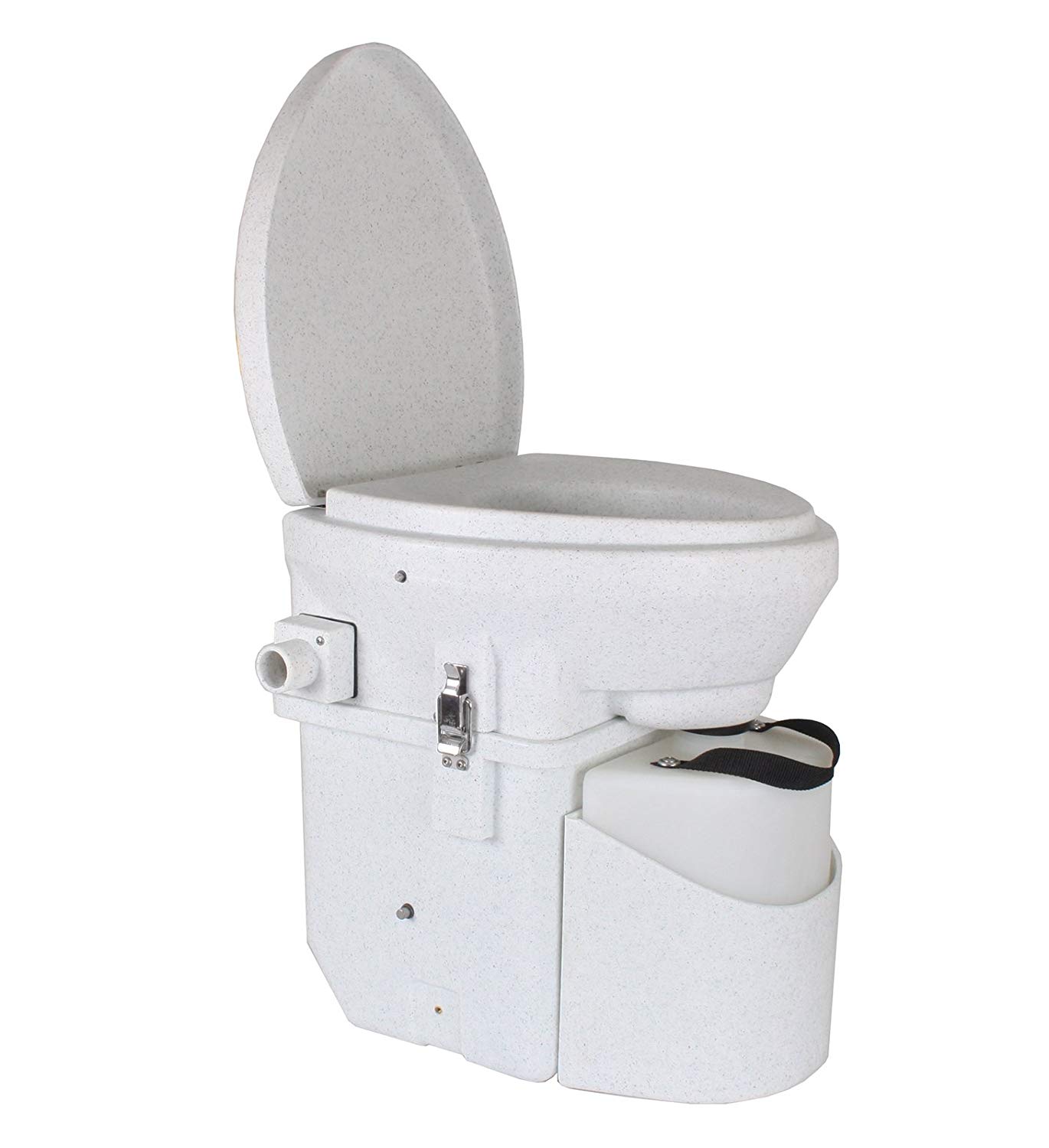 If you have a spare $1000 then the Natures Head Composting Toilet is definitely worth the money. Now we know this is the most expensive toilet on our list by a HUGE amount but hear us out.
This toilet was specifically designed by two sailors to withstand the rugged lifestyle of being on the sea. The idea is that by separating the solids from the liquids, you are able to reduce the odors. Combine that with the low-energy fan within the head which recycles the air and you have the idea nonsmelling toilet.
This toilet isn't just for boats though, you can use it anywhere! From barns, stables, campers, cabins, basically anywhere where water or power may not be available.
While the Natures Head Composting Toilet is expensive, it really does deliver. Giving both a sleek finish and a large capacity for waste, this toilet could easily be mistaken for a domestic toilet.
You can easily remove the waste without any disruption, and it is designed to withstand all sorts of movement without any spillages. All in all, a great product considering its high price point.
Pros
Stylish design
Large waste capacity
Separates liquids and solids
Non-smelling
Cons
Expensive
Not suitable for camping
Final Words
Regardless of where you are putting your compostable toilet, whether it is in your pool house or in your tent, make sure you buy the best quality your money can afford. Don't forget that you will need some waste collection bags (preferably compostable ones) and some toilet deodorizer where possible.
Once you have all of these elements you will be able to answer that call of nature in peace and comfort. Good luck finding the right composting toilet for you!