Remember that joy you got when you were little while camping with your family. That joy was doubled when there was a delicious meal being cooked.
There is nothing that brings more joy when camping than cooking a delicious meal. Either inside or outside the tent it doesn't matter.
What matters is that we are cooking while camping. Camping is one of those life adventures that you need to have a source of fire on you. Either for cooking, boiling water for a hot drink camping stove always come in handy.
Just like head torches, camping stoves come in all shapes, sizes, and prices. They feature various features, from keeping them secured from wind to ensure they remain rust-free for longer times.
Camping stoves are even used while on the beach. Whether you are looking to knock up a family meal on the campsite, or melt snow on a mountainside to get water to drink, a camping stove is an essential bit of outdoor gear to stay you fed and heat.
Top 10 Best Camping Stoves in 2021
| Image | Name | Weight | Price | Buy Now |
| --- | --- | --- | --- | --- |
| | COLEMAN FYRESTORM PCS | 486 gm | $$ | |
| | OUTWELL JIMBU CAMPING STOVE | 3 kg | $$ | |
| | JETBOIL FLASH | 371 gm | $$ | |
| | PRIMUS MICRONTRAIL CAMPING STOVE | 100 gm | $$ | |
| | PRIMUS OMNILITE TI | 350 gm | $$$ | |
| | BIOLITE BASECAMP WOOD BURNING STOVE SYSTEM | 10 kg | $$$ | |
| | PRIMUS ONJA STOVE | 3.25 kg | $$$ | |
| | ESBIT TITANIUM STOVE | 11.5 gm | $ | |
| | MSR WINDERBURNER | 432 gm | $$$ | |
| | CAMPINGAZ PARTY GRILL 400 CV | 4.920 kg | $$$ | |
Table Of Contents
1. COLEMAN FYRESTORM PCS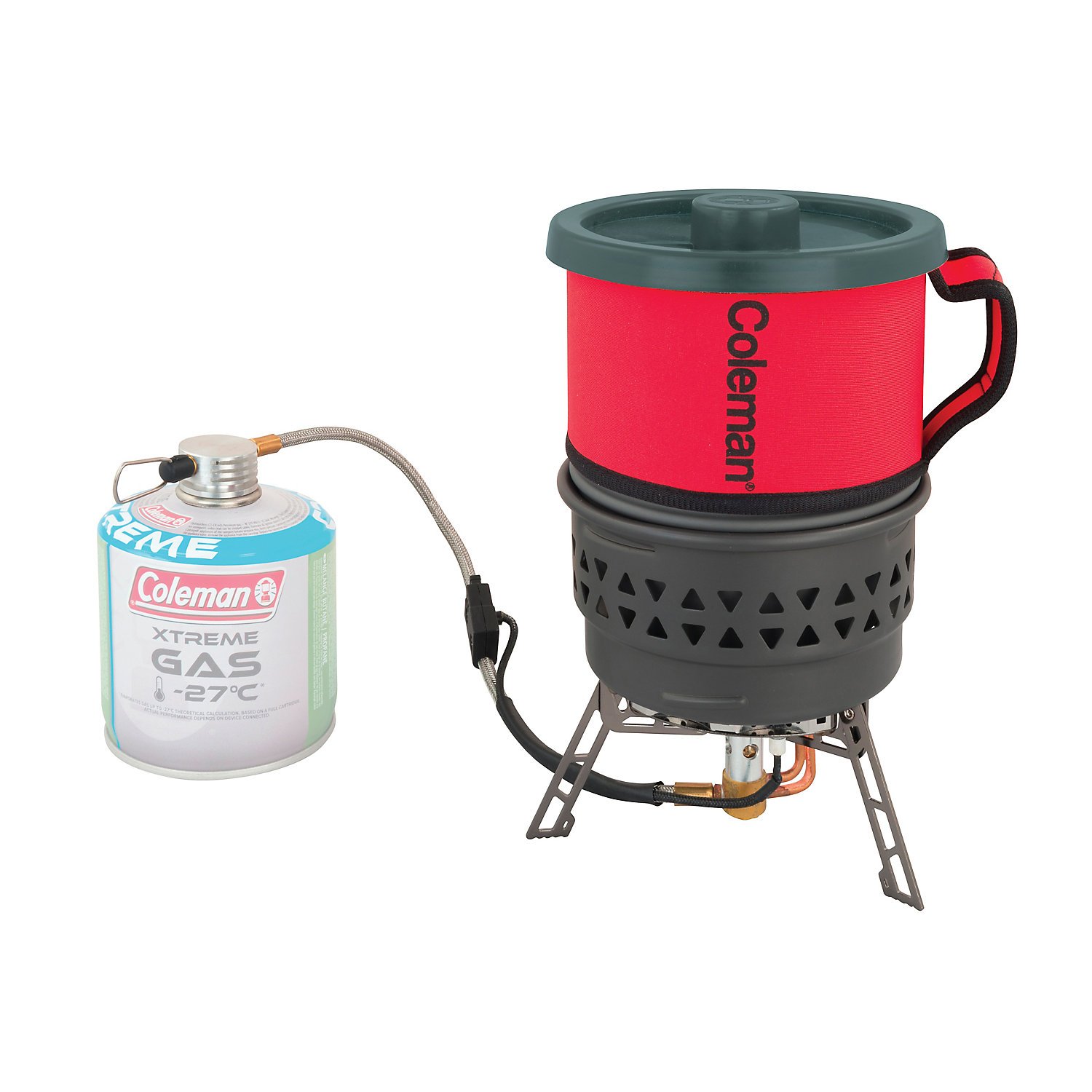 The COLEMAN FYRESTORM PCS stove is a compact yet powerful stove. It is an all-rounder stove that delivers perfect performance and features while still being affordable. Its main body is a 1.3L cooking pot with a powerful gas burner.
The gad cartridge is an external one that increases the stability of the main pot. Moreover, in cold conditions, the gas cartridge can be kept warm, which prevents gas pressure drop from cold.
The COLEMAN FYRESTORM PCS comes with a burner that is wind protected. the wind protection is built-in, and it works to trap as much heat as possible, adding to efficiency. The COLEMAN FYRESTORM PCS features an output of 2200W and a fast boil time of just about four minutes when there is no wind. That time increases to six minutes and thirty-five seconds when there is wind.
In addition, it features a built-in igniter, which helps when you do not have any matches around. Another thing is that you can peg the stove feet down when required.
Which increases stability for times when you use the stove on uneven terrain. There are lighter stoves out there, but the convenience of the Coleman will really make a difference after a long day.
Pros
Compact design
Small and portable
Cons
2. OUTWELL JIMBU CAMPING STOVE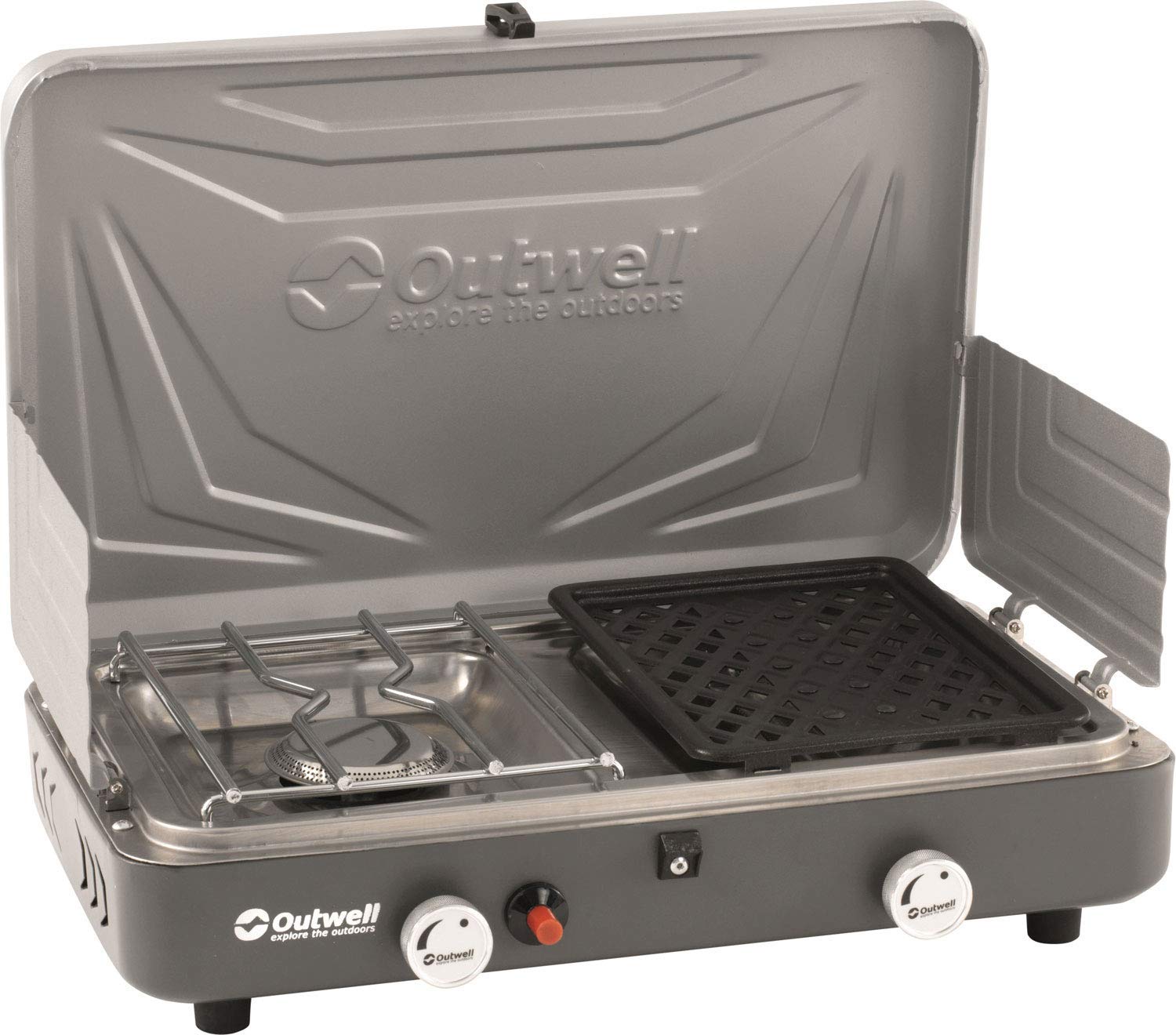 If you are looking for practical cooking stoves, then the OUTWELL JIMBU CAMPING STOVE is all you really need.
Thanks to its split cooking surface, it allows you to handle more than one cooking pot at the same time. It is perfect for families gatherings and cooking camping breakfast.
It comes with built-in windshields, which protect the burner in windy situations. The OUTWELL JIMBU CAMPING STOVE is super easy to clean. That is thanks to the removable drip tray and grate.
You will not be faced with harsh or messy clean-up jobs when you finish using the stove. The stove is too easy to use, even beginners can use it with absolute ease
Pros
Ease of use
Protection against wind
Cons
Over time the body tends to overheat
3. JETBOIL FLASH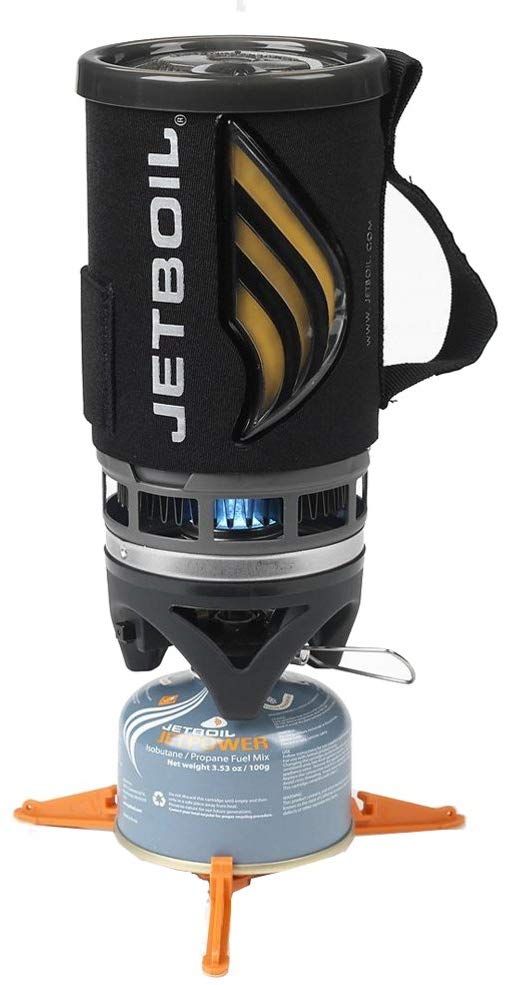 Looking for efficient camping stoves? The Jetboil Flash stove delivers just that. It is lightweight, with a sturdy and durable built.
The Jetboil Flash stove claims to boil water at a speed of 100 seconds per half a liter (16 Oz.). That is quite a fast boiling speed if you ask me.
In addition, the Jetboil Flash stove features a color-changing sleeve, which shows you when the contents are hot. That is a great way to avoid casual burns.
Despite being a limited stove that you can only use for boiling water or casual dehydrated meals, it is a great water-heating system that has only improved over the years.
Pros
Rapid hot water
Compact design
Cons
Material is not durable enough
4. PRIMUS MICRONTRAIL CAMPING STOVE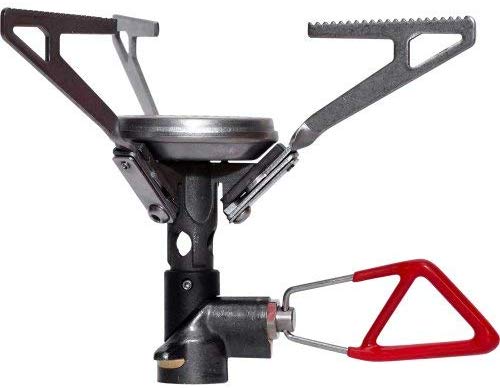 The Primus Microntrail stove is on the heavy side of the spectrum. However, that makes it capable of supporting more weight than its peers.
The Microntrail stove is so small, in fact, it could fit inside your own pocket when it is not in use. That is why it is perfect for rainy days where you need to shove the stove inside anything waterproof like your pocket or jacket.
To ignite the stove is pretty simple, just press the button and the built-in piezo lighter will do the job for you igniting the stove. In addition, the stove features a regulator on the valve to help you control the flame as you would like.
All of these features make the Primus Microntrail stove one of the best on the market in 2020.
Pros
Lightweight
Boils water in under three minutes
Cons
Has a learning curve to it
5. PRIMUS OMNILITE TI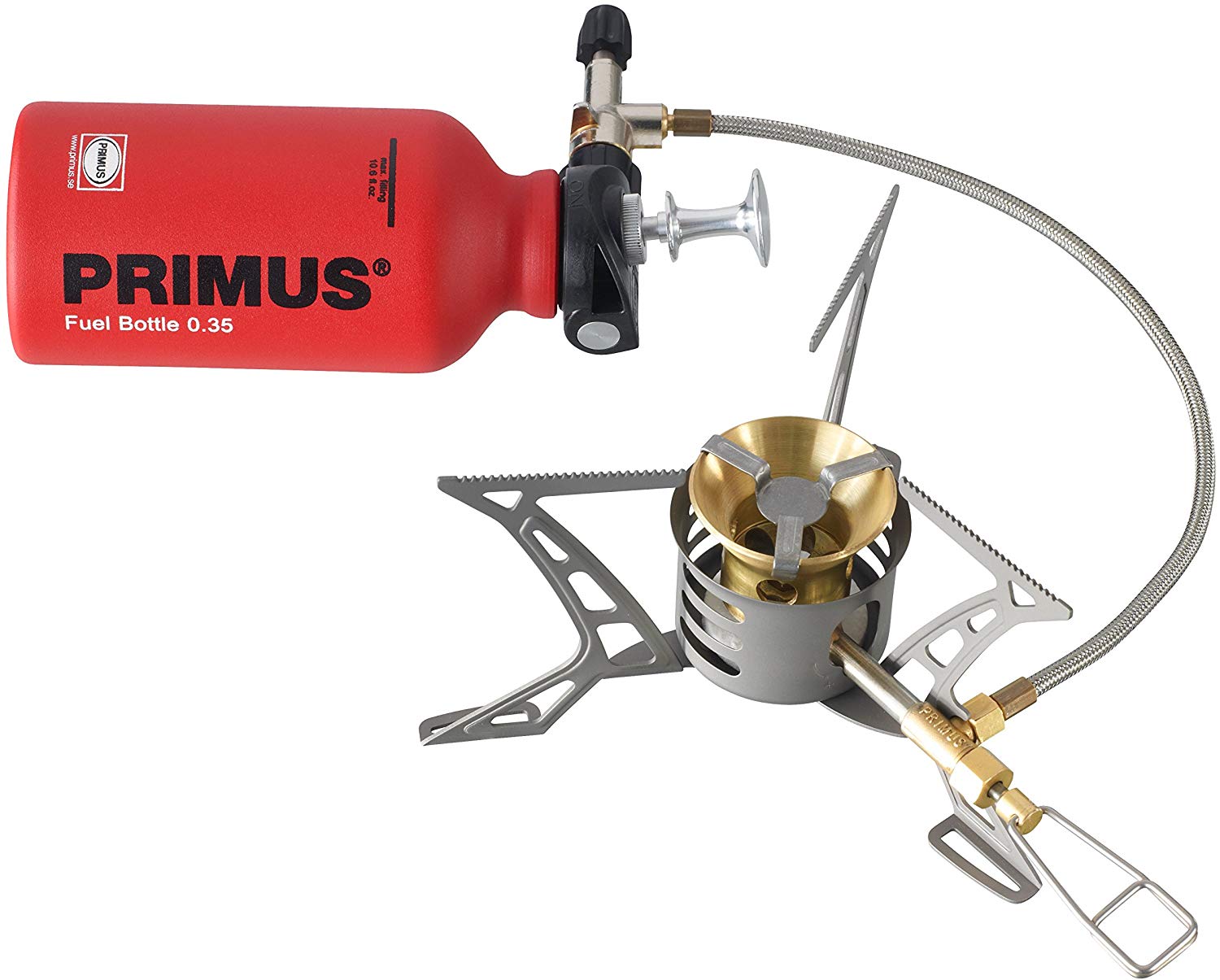 Some people just do not like gas stoves. If you are one of those people, then the Primus Omnilite Ti camping stove is the one you seek. It works on liquid fuel.
Liquid fuel stoves have the ability to burn basically anything, that includes gas, gasoline/petrol, diesel, kerosene/paraffin, and aviation fuel. So, if you are looking for a versatile option to use on remote expeditions, that stove is for you.
One of the main features of the Primus stove is that because it runs on liquid fuel, its running cost is much cheaper than stoves running on gas.
The Primus Omnilite Ti stove is lightweight, less bulky, and more efficient to use for long periods of time. It is perfect for single campers or small groups of two or three.
The Omnilite Ti stove weighs only 350 grams. It has flame control that is easily controlled. It has windshields and is well insulated.
Pros
Comfortable
Ease of use
Big heat output
Cons
6. BIOLITE BASECAMP WOOD BURNING STOVE SYSTEM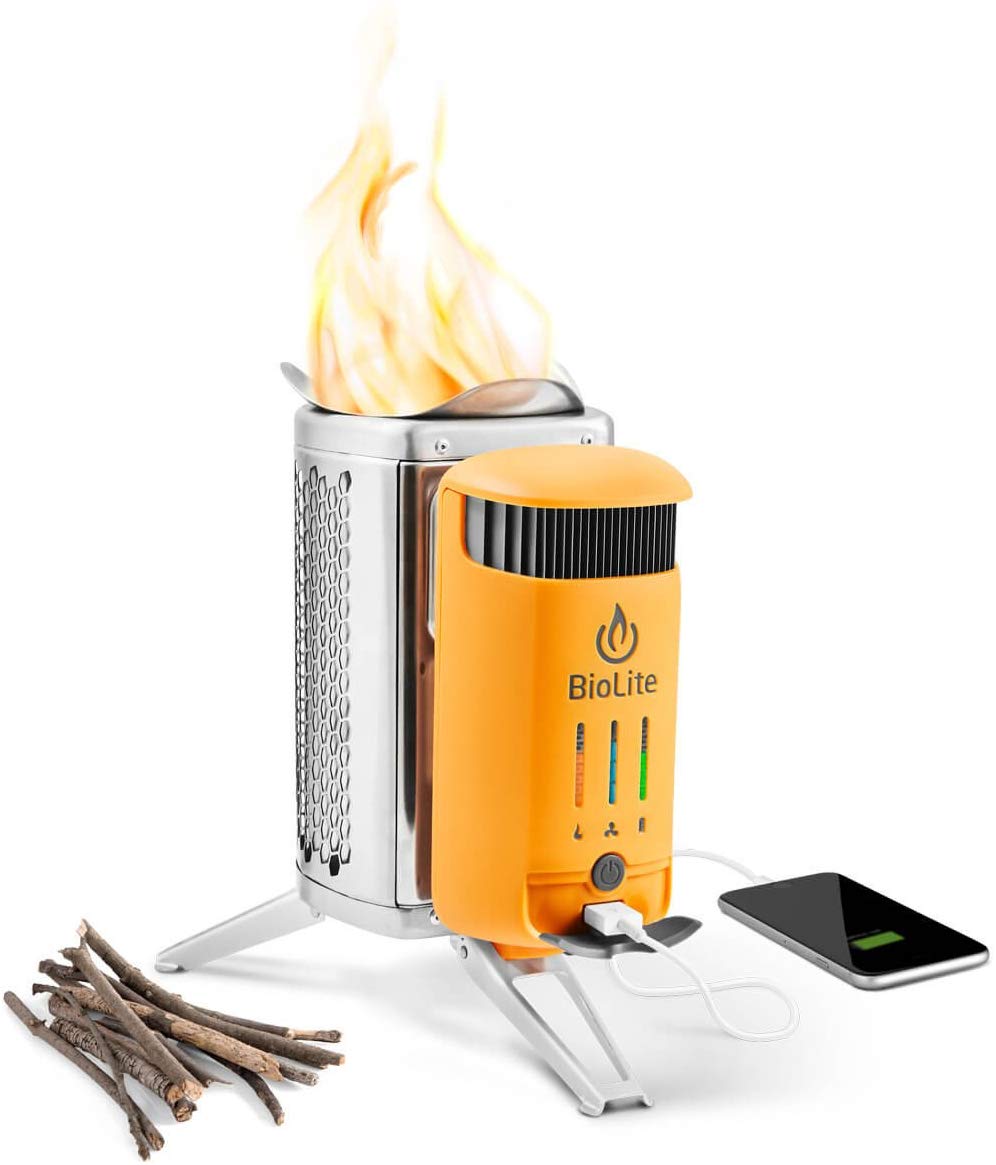 This is a stove that looks like it came out of a science fiction movie. It can grill, cook, and boil. It offers great flexibility and versatility.
In addition, it has its own USB-powered FlexLight for cooking in the dark.
Moreover, it features an additional USB output that can be used to charge your compatible devices.
It is lightweight, easy to carry, and the best part; it runs on wood. That means that you will never run out of fuel again.
Pros
Efficient
USB Compatibility
Cons
Material is not very good
7. PRIMUS ONJA STOVE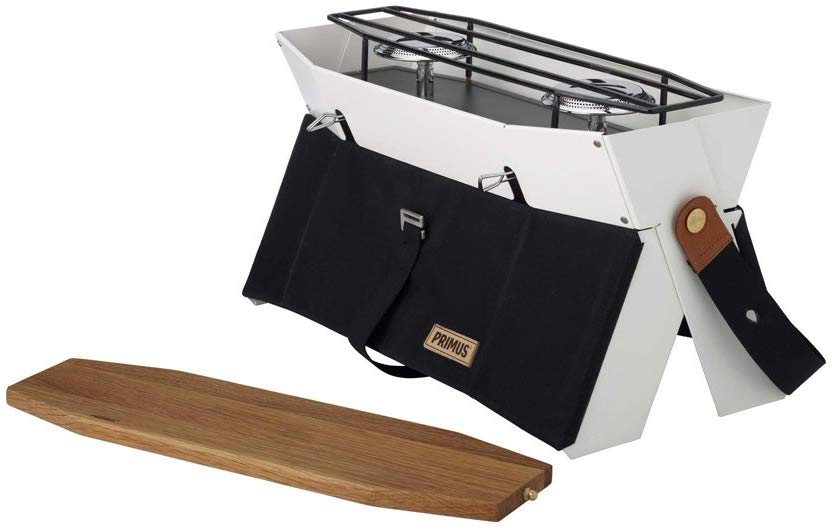 The Primus Onja Stove is one of the best camping stoves that are on market in 2020.
Without a doubt, it is amongst the top three best stoves. Featuring a twin burner gas stove, it is a practical solution for large groups of campers.
It weighs just above 3 kg with no trekking stove. However, the oak lid doubles as a chopping board, which is pretty decent. The Onja stove opens out from 'flat' into the X configuration easily to add stability and provide pan support.
However, while it is recommended that you put it on a table or bench to sit on, it is stable with the weight of the pan.
The 2800W twin burner will eat away a 230g gas cartridge in just 34 minutes, however, it is more than enough time to cook your meals and satisfy your hunger.
It is a fantastic choice for families and group camping gatherings.
Pros
Easy to carry
Durable material
Cons
Some gas leak was reported by customers
8. ESBIT TITANIUM STOVE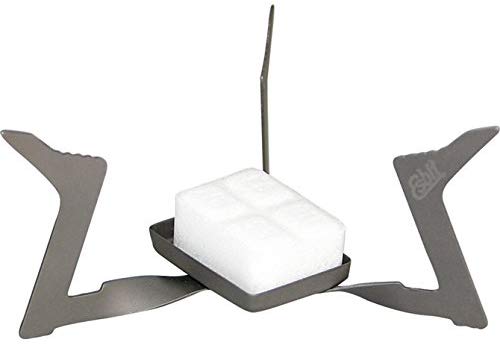 For minimalist travelers, the Esbit Titanium Stove is all they need. It is very lightweight and easy to carry, that is due to its titanium build. It has foldable legs, which make it compact and easy to pack. It is ideal for stowing in a pack during climbs or hikes.
The Esbit Titanium Stove is a customizable one. It can be used amongst a wide range of pot sizes. Smaller cups can rest on the edges of the stove. The downside is that it does not have windbreak, so you would find it tricky to operate the stove in windy situations.
Pros
Compact design
Lightweight
Cons
No reported problems until this moment
9. MSR WINDERBURNER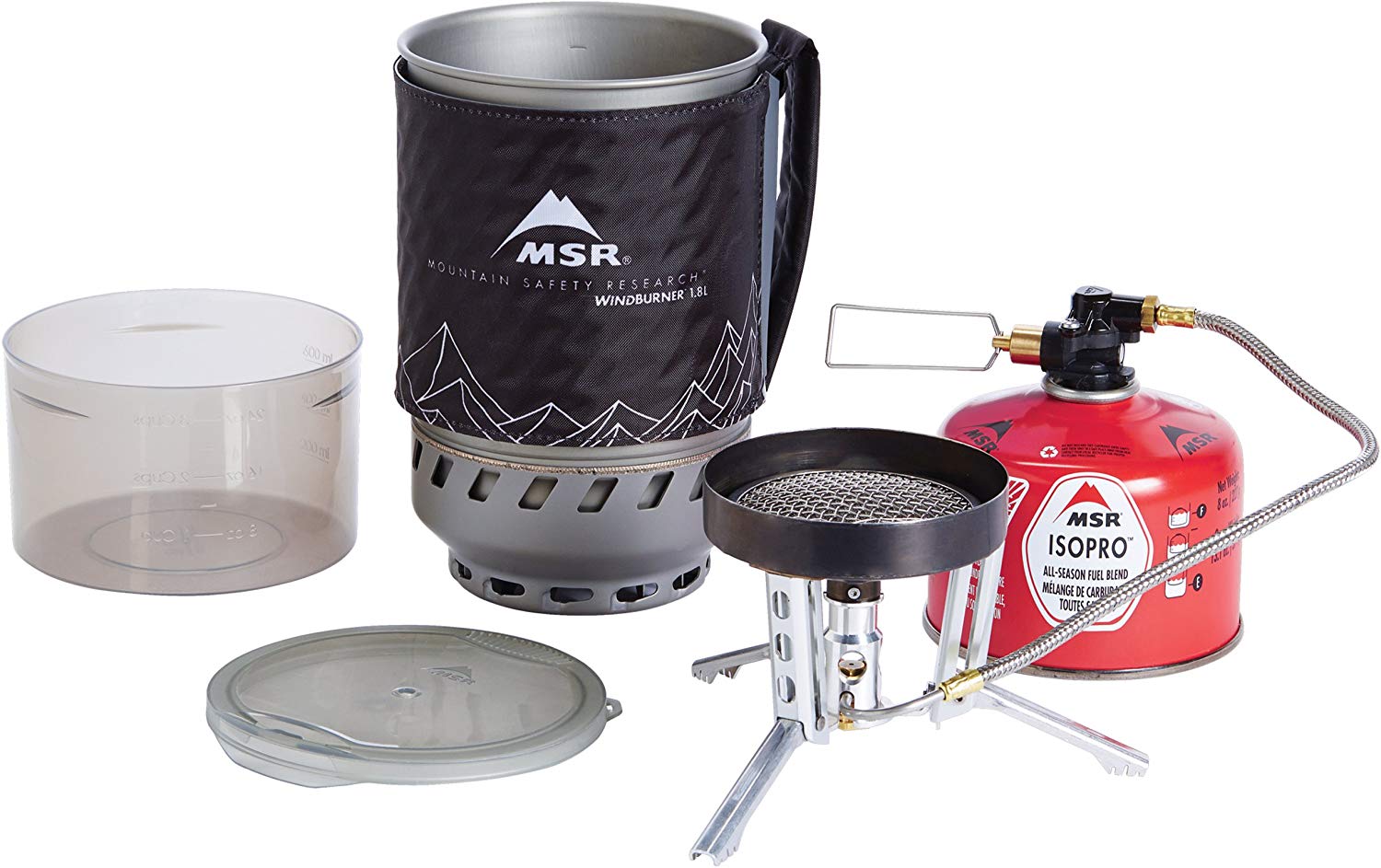 MSR Windburner is an anti-wind stove. Precisely as you have guessed from its name, the MSR Windburner stove keeps the flame on even when it is windy around it. In fact, that is its biggest selling point.
The MSR Windburner is perfect for climbers, hikers, and people that like to go camping in winter.
MSR Windburner features a loft pot design, which is how the stove retains heat when it is chilly outside. It also features an insulated handle, which means you can carry it around without the casual burns you typically encounter.
The MSR Windburner's burner is very strong and efficient. All of that and it is a lightweight stove.
Pros
Cons
Material is not very durable
10. CAMPINGAZ PARTY GRILL 400 CV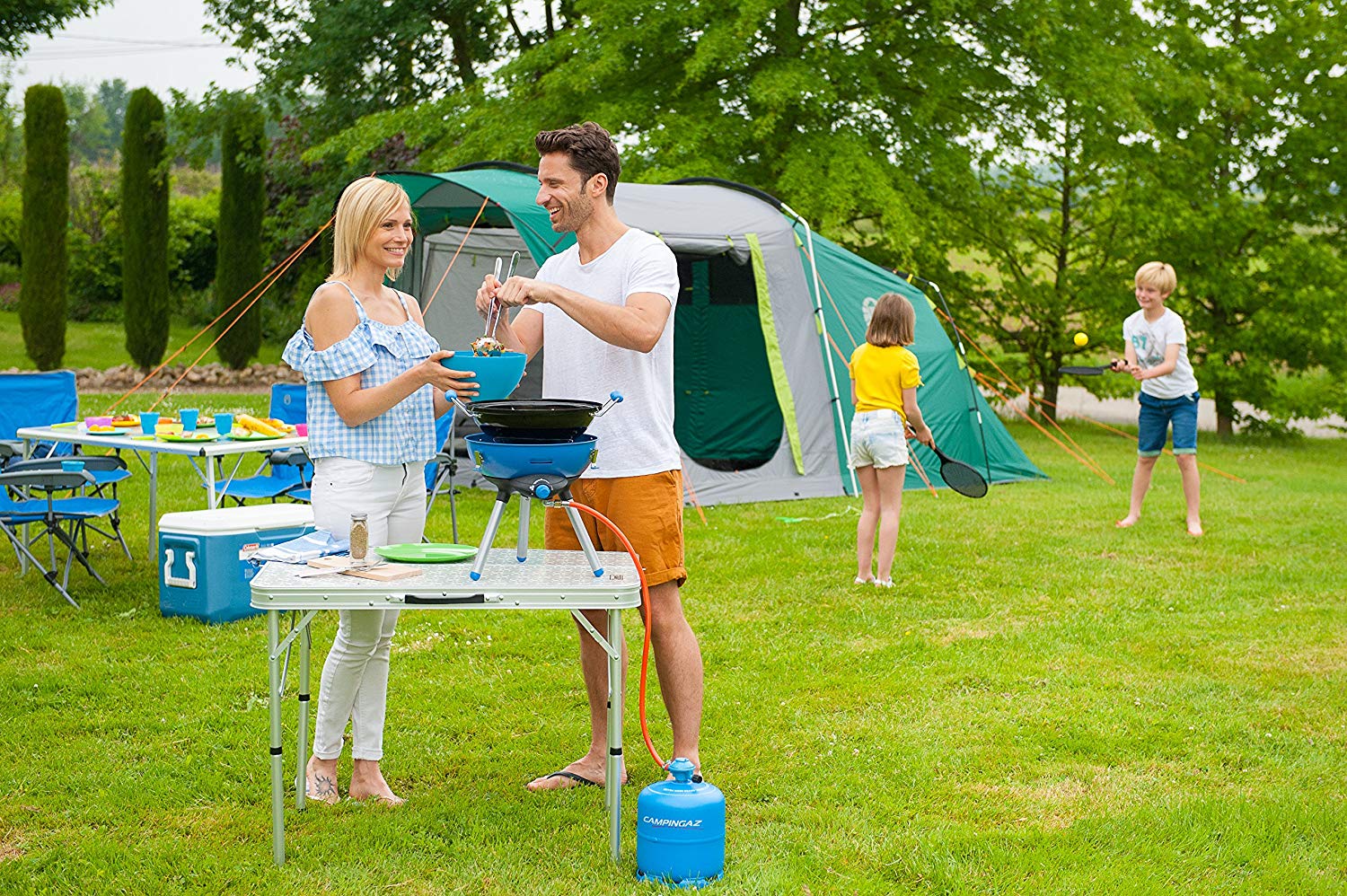 This is a stove that was designed with family gatherings in mind. The Campingaz Party Grill 400 CV has a built-in Wok as well as a gas BBQ griddle.
It is perfect to be used when camping with family members or in your backyard during festivals.
The Campingaz Party Grill 400 CV will feed an army of hungry people. The built-in piezo ignition fires the stove in a matter of seconds. The stove features a grease trap at the base of it, which makes cleaning up an easy chore afterward.
The 2000W burner will keep on running for three hours straight on the Campingaz CV gas cartridge. These cartridges are standard throughout most of the world, so getting them refilled will not be a problem.
The downside to this stove is that it is heavy.
Pros
Grilling option available
Strong heat source
Cons
Best Camping Stove Buying Guide: List of Features To look For When Buying A Stove
Nowadays camping does not mean that you have to eat gross food. Thanks to the presence of the various kinds of camping stoves. Now, you can have a well-cooked meal while enjoying the outdoors.
Camping stoves vary from those that are perfect for a simple dinner, to those that you can cook three-course meals on.
Just like anything, there are a lot of them on the market. So, how do you choose the best camping stove for you? What are the points that you should look for when choosing?
Here are some of the points you should be looking for when looking for a camping stove:
1. Burner Power
The heat output will be measured in BTUs or British Thermal Units. For some, this is the main consideration when purchasing a camping stove because the higher BTUs the faster you can cook your food.
2. Fuel Type
Most camping stoves you will see run on propane. However, propane is not suitable for all seasons. As the temperature drops, you will find it difficult to operate your stove. If you are an all-season camper, then buying a stove working on liquid fuel is your best option.
3. Grate, Grills, and Griddles
The most common stove you are going to see on market will have two burners and a single grate. If you are going to do different types of cooking, be sure to look out for stoves that include either a grill or are compatible with grill and griddle attachments, those can be purchased separately
4. Ignition Type
If you are looking for convenience, go with a button ignition. Most of the time stoves with button ignitions are more pricey than traditional ones. However, they are the safer more convenient, and efficient options.
5. Number of Burners
That is a crucial part. Choosing the number of burners for your camping stove. If you go camping by yourself then a stove with two burners is more than enough, even one burner will suffice. However, if you are planning to go camping with your family or friends, then you have to consider your options.
The most important thing to look for when searching for a stove with more than one burner is the weight. Remember that camping means lifting things. You do not want a stove that keeps dragging you behind. Look for lightweight options.
Another thing to look for is safety. Choose Stoves with legs that can be firmly attached to the ground. That way you can be sure that increasing the number of pots on your stove will always be safe.
6. Simmer Ability
Remember that a stove that is efficient at low heat will also offer better fuel efficiency and save you money in the long run. That is why when shopping for camping stoves, try to spend your money on quality ones.
Stoves with simmer control are better than those that do not have it. Why it is important? Because you would not want to have cold spots on your food, neither would you want scorched food.
7. Stove Type
The two types of camping stoves on the market are freestanding and tabletop.
The perfect one for you is completely dependable on your lifestyle and travel style. Freestanding stoves are those larger stoves with higher output. They usually stand on four legs that can be detached anytime you want.
Tabletop stoves are more lightweight, more convenient, and easier to transport, however, they can be limited when it comes to cooking performance and power.