If your work requires you to be on your knees for a long period of time, you may be leading yourself to acute and chronic knee pain. It is of utmost importance that you take care of your knees, especially when you're working long-term.
The same can be applicable to those who play a lot of sports or doing house maintenance. It's always recommended to use some sort of protective gear to save from injuries that can leave a long-term impact.
Knee pads protect your knees in a similar manner to how safety goggles and gloves protect your eyes and hands respectively. And missing out on a knee pad isn't something you'd want to do (especially if you're over 30 like me.)
Wearing a proper knee pad will make your work more comfortable and protect your knees from painful medical situations. If you're a professional, you might already have a good pair of knee pads but for those who don't, you should consider getting one as soon as possible.
But, as with any new purchase, you would want to get the best in the market but a lack of information and expertise can lead you to buy something that doesn't suit your needs. Buying the best knee pads is not something you'd be doing frequently, so it makes total sense to do proper research and buy a perfect one from thousands of products available.
To save you from doing all the hard work, we've tested dozens of knee pads in the market and found the top 5 best knee pads which should suffice everyone's needs.
Without further ado, let's protect your knees.
Table Of Contents
Top 5 Best Knee Pads in 2020
| | | | | |
| --- | --- | --- | --- | --- |
| Bodyprox | DEWALT DG5204 | McDavid | NoCry | CLC Custom Leathercraft 345 |
| High-density foam, Good build, and ergonomic design | Layered gel technology, Heavy duty cap, and Neoprene straps | Good protection and support, Breathable, and Elastic sleeves | Easier and quicker fitment, Better stability, and Great cushioning | Ethylene-Vinyl Acetate foam padding, Large caps for versatile usage |
| $$ | $$$ | $ | $$ | $$ |
| | | | | |
Kicking off the list with one of the most popular options and Amazon's choice – Bodyprox Protective Knee Pads. It comes in a pack of 2 to fully protect your knees next time you start working and provide proper cushioning.
With high-density sponge shock absorption protection, these can effectively resist the impact applied from your body. They're made of high-quality material which is both comfortable and breathable.
The brand has done a great job in terms of designing as they're ergonomic and lightweight that helps in adding more comfort. It also makes Bodyprox Protective Knee Pads a great option for those who want to recover from a knee injury as it keeps everything in place.
Another important factor is that these knee pads deliver amazing mobility and feel more natural to wear as compared to others on this list.
Pros
High-density foam
Good build and ergonomic design
Lightweight
Comes in pair and have a unisex design
Impact-resistant
Cons
Complaints of sponge getting tore down easily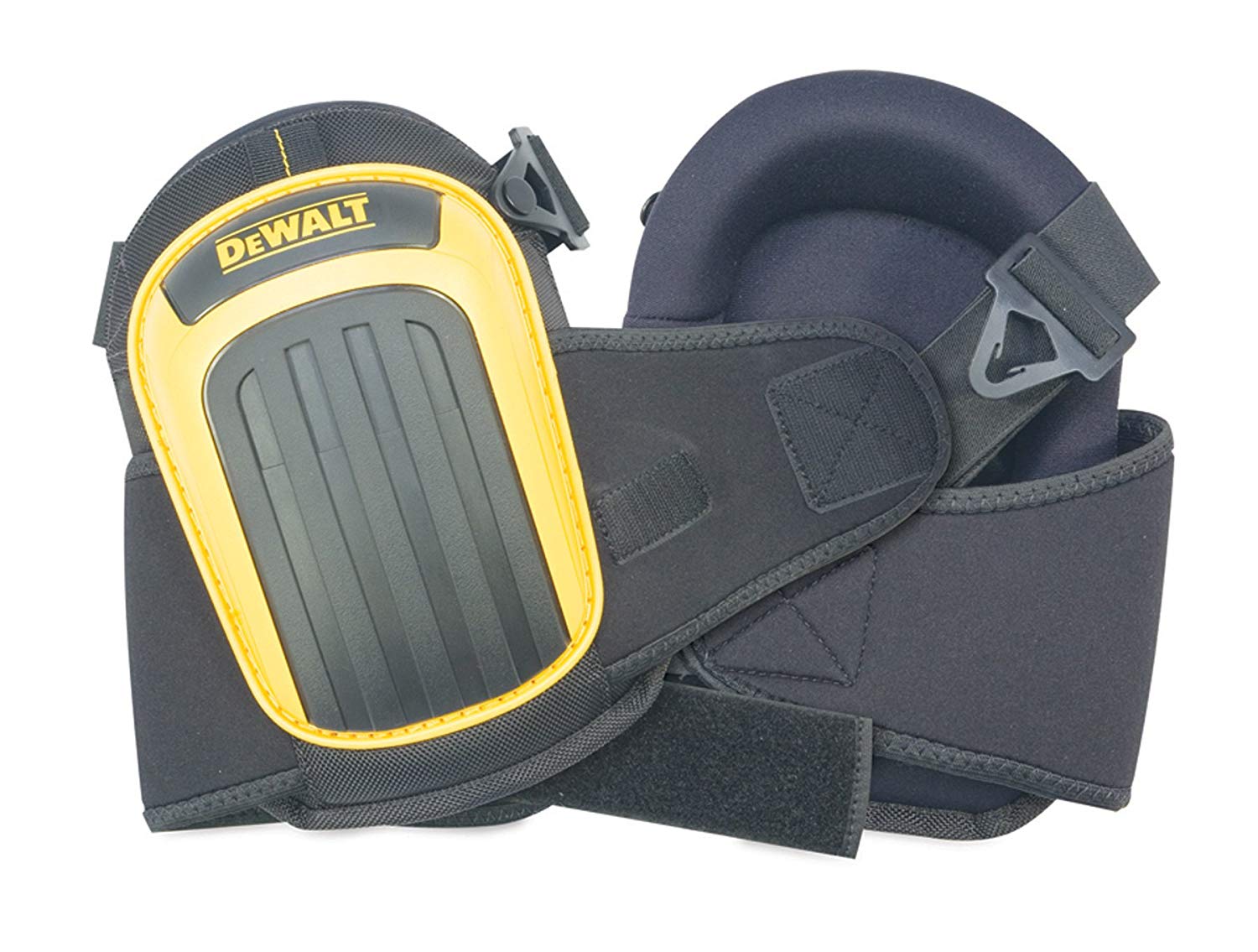 If budget isn't a serious concern and you're looking for a feature-loaded knee pad, there's none better than DEWALT DG5204. With layered gel technology equipped over thick, closed foam padding, these knee pads and absorb all sorts of pressure while being comfortable and providing excellent support.
To complement that, they also have neoprene fabric to provide perfect breathability all day despite you working for long hours.  Made of Ballistic Polly material, they can provide good strength and durability.
Adjusting the knee pads according to your needs is even easier with a slip-buckle fastener system that features large straps and an upper tab. These will also save you from skidding with a non-skid, heavy-duty cap that also helps with stability.
Overall, these knee pads are great for professionals who want the best support and strength without cutting down too much on cost.
Pros
Layered gel technology
Heavy-duty cap
Slip-buckle fastener system that makes these versatile
Neoprene straps
Provides good strength and stability
Cons
Few customers complained of the upper elastic strap being scrunched up after several uses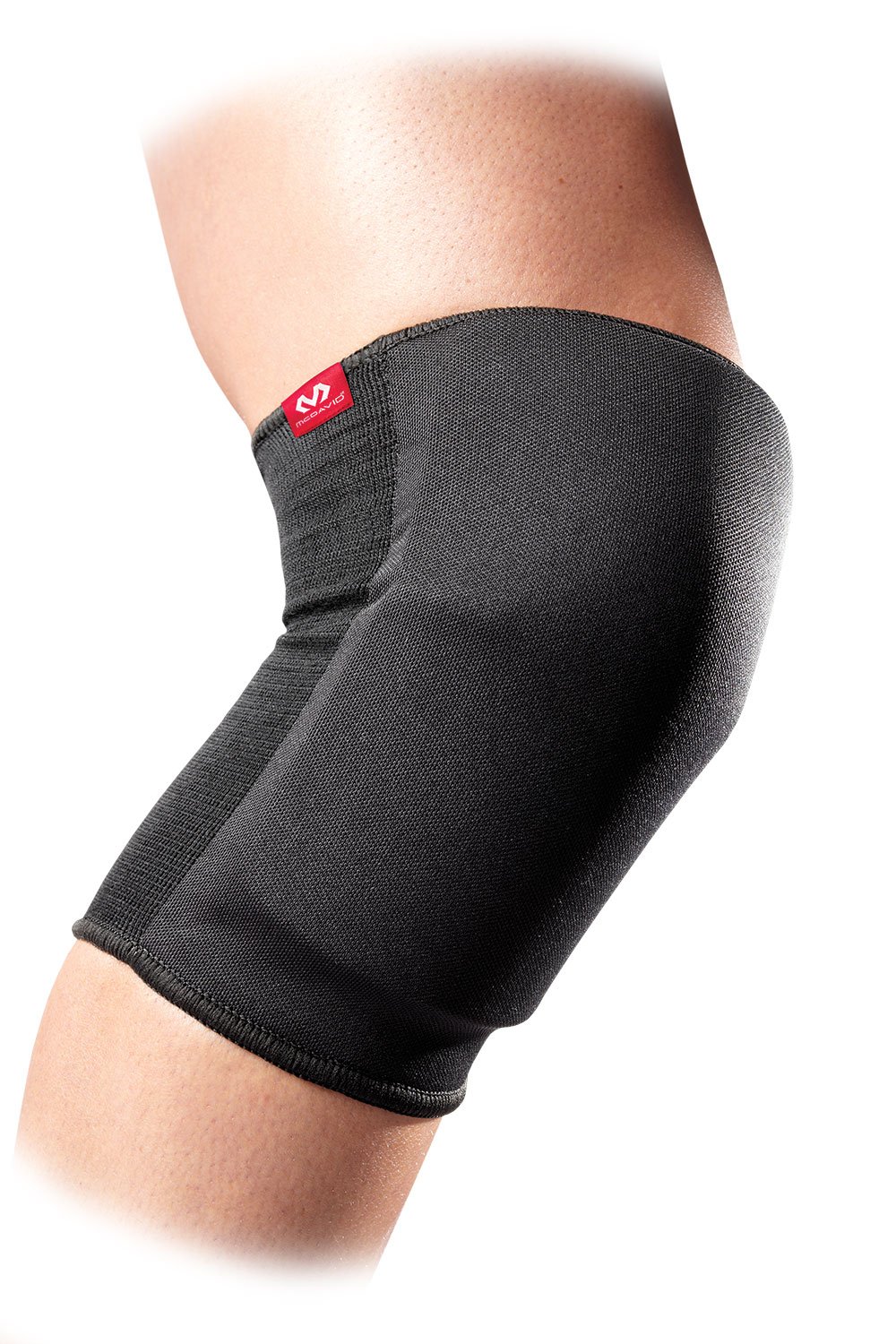 For hobbyists and those who need knee pads occasionally, it is better to go for a more value-packed pick that can compromise on few features but saves money. If you can relate, McDavid Protective Knee Pads is exactly what you need.
Their multi-purpose design means you can use these on arms (elbow) and legs (knee), providing an excellent level of support to all of the important points in your body. They have been designed for body-to-ground court diving and impact resistance.
The material used is breathable and sleeves can be stretched that packs half-inch closed-cell foam padding. It is made of 70% Polyester, 12% of rayon, and 18% foam.
Another cost-effective factor is that they have been designed in ambidextrous design, meaning you can comfortably wear it on both side elbows and knees without feeling awkward. Also, the elastic sleeve makes it easier to take off and on.
Pros
Can be worn on both side limbs and on elbows or knees
Affordable
Good protection and support
Breathable, elastic sleeves
Keeps you protected on bare skin
Cons
Velcro design could have made them easier to wear
Can get sweaty when worn over clothes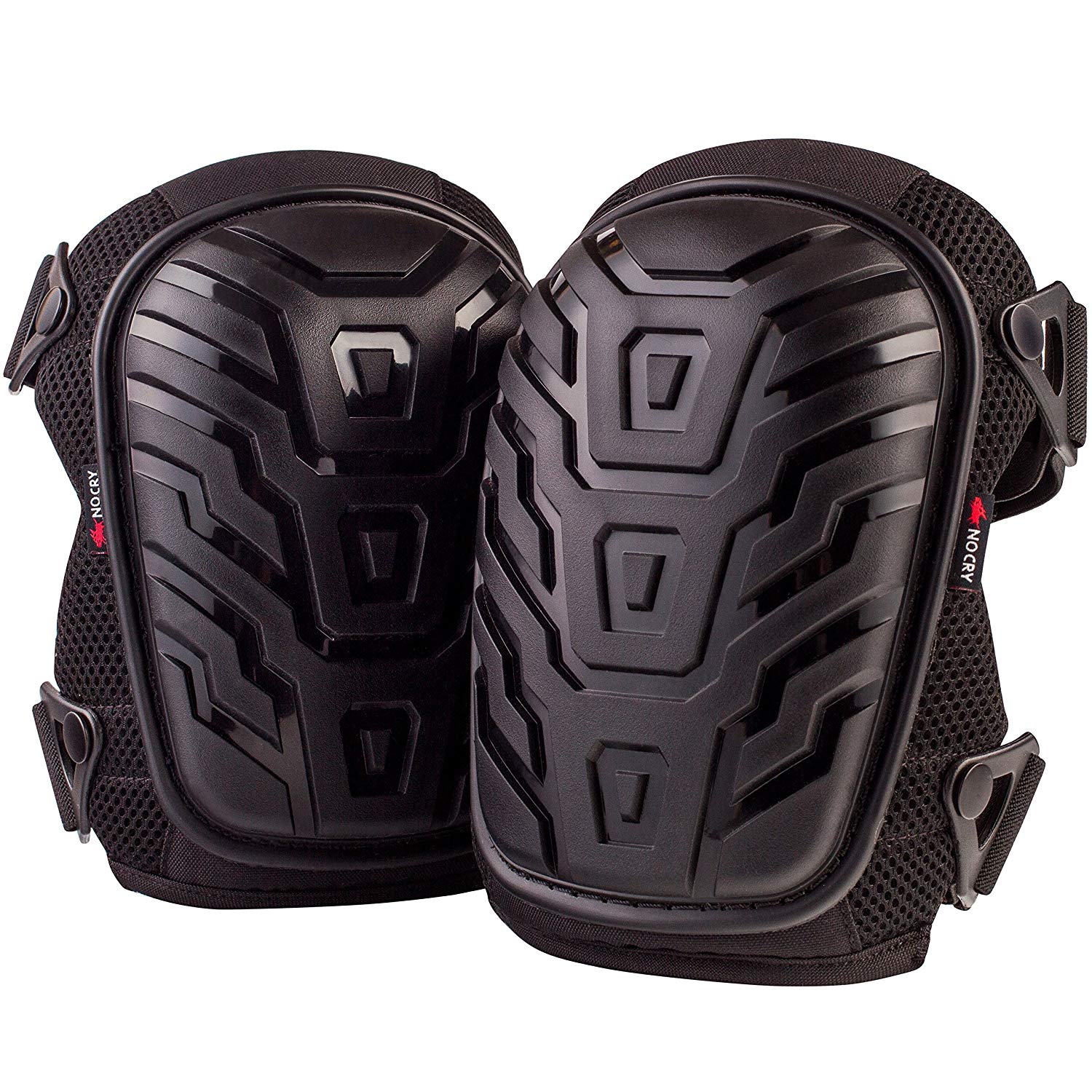 If you've used a knee pad before, you'd be familiar with a frustrating situation. As soon as you get up and start walking, those knee pads will go out of place which makes them uncomfortable to wear and restricting your movements.
That's not the case with NoCry Professional Knee Pads as they've been designed keeping even the slightest situations in mind. It comes with flexible neoprene straps that allow secure and tight-fitting. Also, quick-release slip buckles make them easy to wear on and off.
On the safety front, these are equipped with Soft gel core and durable EVA foam padding which should keep your knees ache-free after hours of usage. Made of rugged poly plastic, these knee pads can last for years without breaking.
Pros
Easier and quicker fitment
Better stability
Neoprene adjustable straps
Great cushioning and comfortable to wear for hours
Cons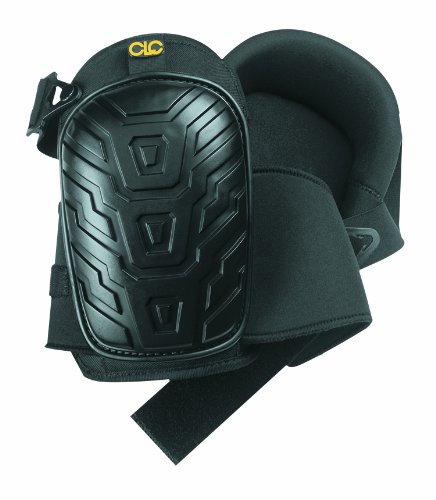 Our last pick for best knee pads is something everyone can use as they've been designed with oversized cap for more coverage. Whether you want a pair for gardening, floor cleaning, or construction, these will serve your needs.
On the front, there's thick ½-inches high-density and closed cell foam to provide adequate cushioning and support. To provide breathable comfort, they come with neoprene straps that also provide great fitting.
The super tough 600D polyester fabric adds toughness and rigidity to these knee pads and makes them durable.
Pros
Ethylene-Vinyl Acetate foam padding
Large caps for versatile usage
Breathable neoprene lower straps
Comfortable and excellent fitting
Cons
Gets out of position when walking
You may find padding to be less for heavy usage
Also, don't forget to check out our article on Best Running Shoes for Flat Feet.